WSJ: U.S. companies are paying increasing attention to the religious affiliation of their employees, and a growing number are including religion in policies aimed at promoting diversity, equity and inclusion.
… "This is the next big thing in diversity," said Brian Grim, president of the foundation, adding that religious affiliation overlaps with other categories of identity such as race or sexual orientation included in policies known as DEI—diversity, equity and inclusion—or more recently, DEIB, to include the value of belonging. "This isn't a battleground issue, it becomes a thing that brings everybody together."  Read the full article.
---
HBR: … "Companies that openly acknowledge and engage religious diversity as an asset, however, can strengthen team cohesion and improve performance. Accenture, for example, is designated as the number one Global 500 "faith and belief friendly company," according to the 2023 Religious Equity Diversity and Inclusion (REDI) Index. Accenture offers inclusive holiday policies and religious literacy training, among other hallmarks. At the first annual Faith & Belief @ Work case competition, held at Brigham Young University in February, Sumreen Ahmad, a global change management lead at Accenture, spoke to the power of engaging religious diversity: "If leaders want to create an environment where people are not only incentivized to come to work but also where they can thrive for the greater good, they need to start by understanding what matters most."
Read the full article here.
---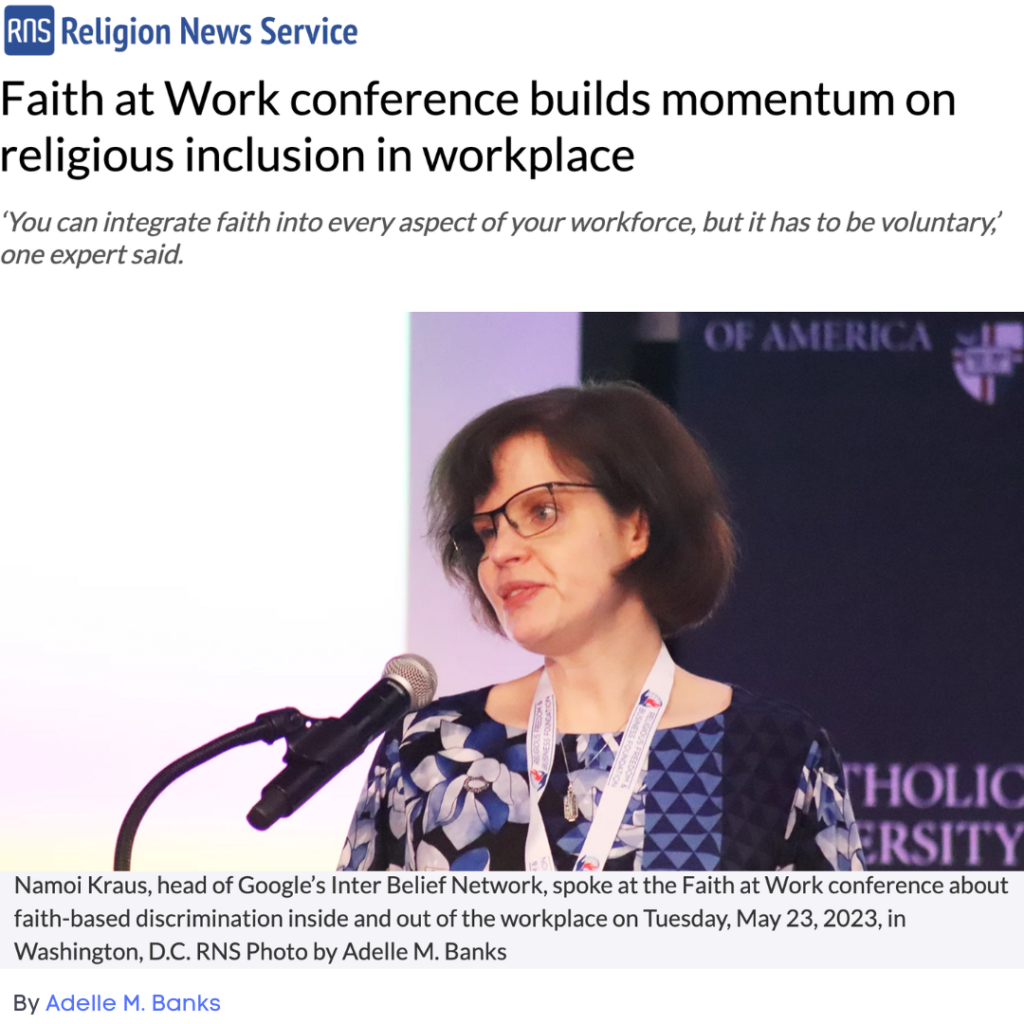 WASHINGTON (RNS) — Naomi Kraus, a senior content strategist for Google, still recalls the childhood experience of seeing a relative coming home from work with his yarmulke not topping his head because he could not reveal his faith at work.
Kraus, now the head of the technology company's Inter Belief Network, said Jews like herself and people of other faiths can face discrimination on and off the job.
But, she said, they also feel greater acceptance through faith-related employee resource groups, or ERGs, that are growing in prominence in Fortune 500 firms and smaller companies. (Read the full story.)
---
Intel Corporation is the most faith-friendly workplace in the country according to this year's ranking of large companies by the Religious Freedom and Business Foundation.
The Corporate Religious Equity, Diversity and Inclusion (REDI) Index uses ten measures to determine a company's ranking. (read more)
---
DE&I efforts have been atop corporate America's to-do list in recent years, and faith is becoming part of that push. While many companies have programs to support women, people of color, and LBGTQ+ employees, some are investing in ways to make the workplace feel faith-friendly.
Intel topped the Religious Freedom & Business Foundation's 2023 Corporate Religious Equity, Diversity & Inclusion (REDI) Index, an annual analysis of faith-friendly corporate workplaces.
---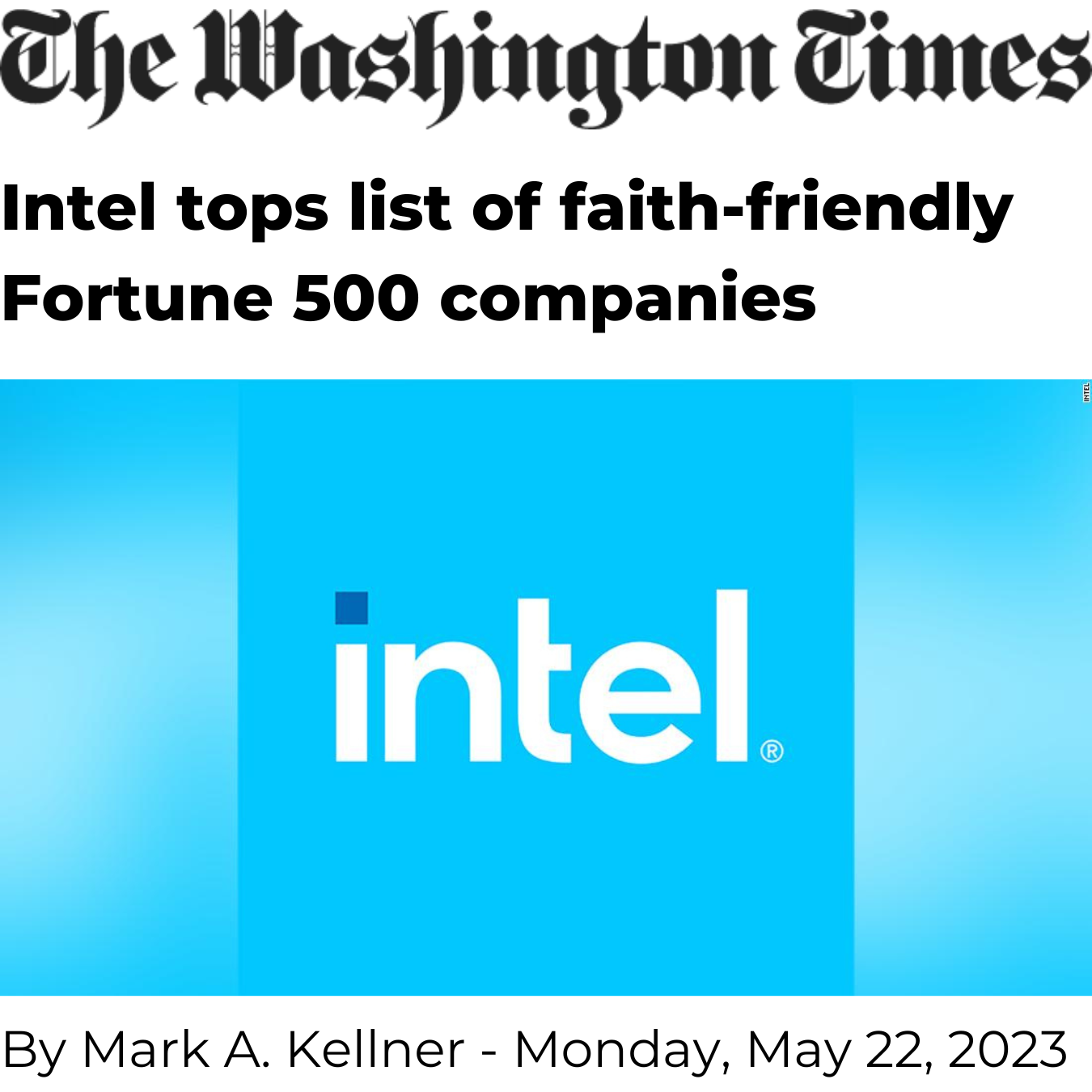 public policy advocacy group has named semiconductor chip maker Intel Corp. as the "most faith-friendly" Fortune 500 company.
The nonprofit Religious Freedom & Business Foundation released its "2023 Corporate Religious Equity, Diversity & Inclusion (REDI) Index" on Monday at the group's annual conference on faith at work. The index tracks "corporate America's inclusion of religion as an integral part of diversity, equity, and inclusion (DEI) initiatives," and ranks companies on their support of employee religious expression. (read more)
---
(RNS) — On Jan. 3, ESPN host Dan Orlovsky stunned viewers when he broke into prayer for Damar Hamlin, the Buffalo Bills player who went into cardiac arrest the night before, on a live broadcast.
"God, we come to you in these moments that we don't understand, that are hard because we believe that you're God and coming to you and praying to you has impact. We're sad. We're angry. And we want answers, but some things are unanswerable," he said. "We just want to pray, truly come to you and pray for strength for Damar, for healing for Damar, for comfort for Damar."
This prayer is emblematic of the kind of religious freedom promoted by the Religious Freedom and Business Foundation, said President Brian Grim. The organization released its 2023 benchmark assessment of corporate America's religious diversity efforts Monday morning (May 22). (read more)
---
The Religious Freedom & Business Foundation is holding its annual conference on faith in the workplace Founder and President Brian Grim joins Inside Sources to discuss why making room for religious diversity and freedom at work is important for the success of the employees and the company as a whole. Listen.
---
U.S. Fortune 500 companies ranked as the most "faith friendly" in a newly released survey share practices such as providing chaplains and spiritual care in the workplace, openly addressing religion in company diversity training and matching worker contributions to religious charities.
Intel Corp., American Airlines and Equinix ranked first, second and third respectively among American corporations in those and numerous other categories measured in the fourth annual Religious Equity, Diversity and Inclusion Index and Monitor produced by the Religious Freedom & Business Foundation. (Read more.)
---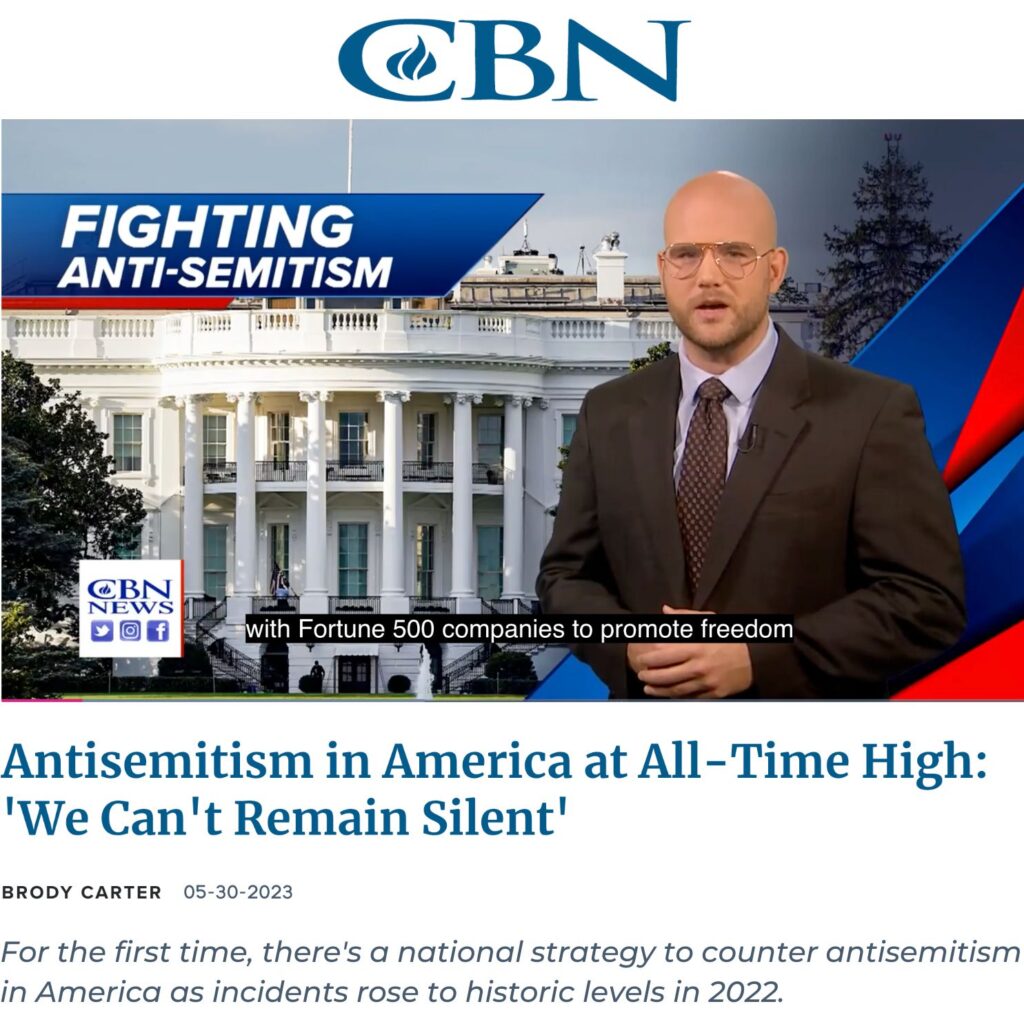 This strategy also seeks to leverage the fight against other forms of hatred – including discrimination and bias against all religious minorities, race, and gender.
Brian Grim, Ph.D and president of the Religious Freedom Business Foundation is Catholic, working closely with the Biden Administration on this. He's teaching Fortune 500 companies how all faiths working in business can build a better world.
"So, by having information that helps people overcome something that they think they know about, but really, it's hard to, unless you put yourself in someone else's shoes, you don't understand how it continues to imply Jews today," said Grim. (Read more.)