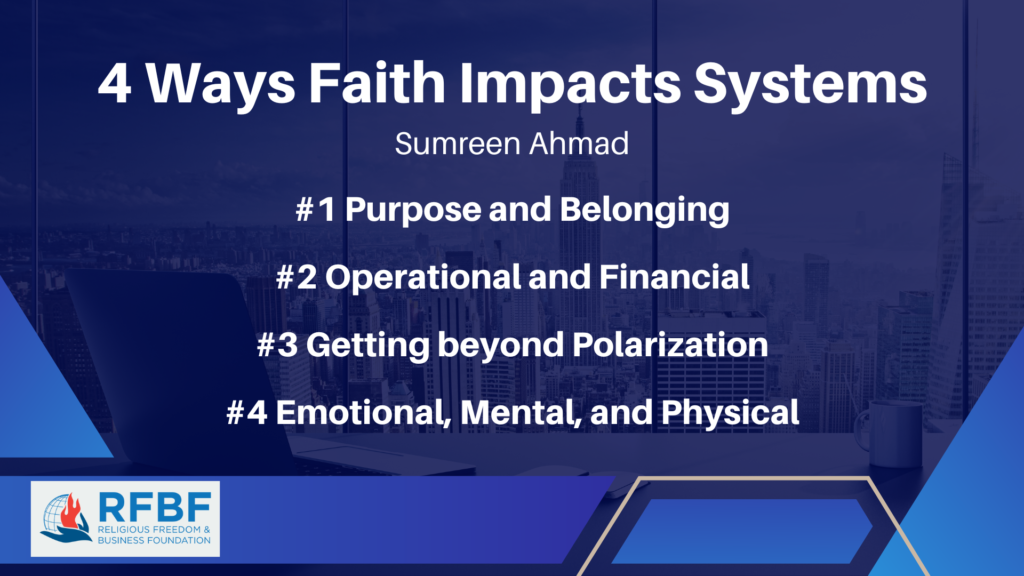 Sumreen Ahmad, Global Change Management Lead, Accenture, delivered the following Keynote Address at the February 17, 2023, BYU MBA Case Competition: Faith and Belief @ Work, at the Brigham Young University's Marriott School of Business in collaboration with the Sorenson Center for Moral & Ethical Leadership. Teams from 11 business schools from across the country participated. The Case Competition was sponsored by American Airlines, Equinix, PayPal, the Religious Freedom & Business Foundation, and Spudnik Donuts. Read Sumreen's full address here.
---
Bismillah Ar Rahman Ni Raheem / Peace and Blessings to you all.
Thank you for the opportunity to be a part of this incredible event and to be in the beautiful state of Utah and your hospitality at BYU. Being here takes me back to my childhood where I lived 4 minutes away from the temple in Edmonton, Alberta and had the privilege of sharing my years as a student creating memories with the large contingency of my Mormon peers. The shared values of family, community, and service served as a mirror to my own influences, experiences, and expectations as a Muslim – making it so much easier to navigate the challenges that come with high school life.
As I stand here to share my thoughts and experiences on this very important topic of Faith at Work, I want to start with the reminder to myself first that I am simple one in a line of many. In his best-selling book, Built to Last, Jim Collins talks about the successful habits of visionary companies that allow for long term sustainability. I would take it one step further to say the work we do should be through the lens of "built to leave". The opportunity to be here – with the next generation of trailblazers is such an incredible privilege in knowing that any small seeds that I have had a part in planting have the potential to flourish as a result of the work that you all go on to do – through sincere intention, prayer, and commitment to something much bigger than any one of us in this room this evening.
So, let's delve deeper into this important topic of why Faith @ work matters – starting with the world as we know it today. … Read the full address here.
---
To see other talks and discussion by Sumreen on faith@work, visit "Religious inclusion is more than an ERG."