Awards 2018
The Global Business & Interfaith Peace Awards recognize business leaders – current or past CEOs – who have demonstrated leadership in championing interfaith understanding and peace. The Awards are a partnership initiative of the Religious Freedom & Business Foundation (RFBF) and the United Nations Global Compact Business for Peace (B4P) platform, with the collaboration of the UN Alliance of Civilizations (UNAOC).
---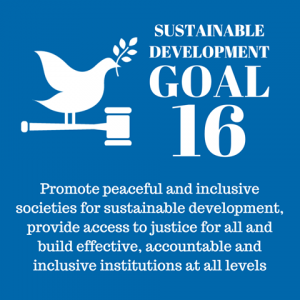 The 2018 Awards will be presented in Seoul, South Korea, timed to coincide with the Winter Paralympic Games in nearby PyeongChang. Award recipients will have the opportunity to present their commitment to interfaith understanding and peace, while contributing to the UN Sustainable Development Goal (SDG) 16: "Promoting peaceful and inclusive societies for sustainable development, providing access to justice for all and building effective, accountable and inclusive institutions at all levels." 
Nominations for the 2018 Awards are now open until 1st October 2017.
The inaugural awards were presented on 6th September 2016, the night before the opening of the Paralympic Games in Rio de Janeiro. The first awards honored business men and women from around the world for their work in interfaith relations. All of the leaders were recognized for using their businesses to bridge cultural and religious divides. From among the top finalists profiled in the video below, seven were awarded with Gold (1), Silver (2) and Bronze (4) medals the first-ever Global Business & Interfaith Peace Awards.
---
The 2018 jury is comprised of a small group of high-level experts, including from the United Nations (H.E. Nassir Abdulaziz Al-Nasser, UN High Representative for the Alliance of Civilizations); the European Union (H.E. Ján Figeľ, Special Envoy for promotion of freedom of religion or belief outside the EU); the NGO religious freedom community (Dr. Katrina Lantos Swett, President of the Lantos Foundation for Human Rights & Justice, and a former head of the US Commission on International Religious Freedom); the business & peace community (Per L. Saxegaard, Business CEO, and Founder and Executive Chairman of the Business for Peace Foundation, Oslo, Norway); and the religion and peace community (Dr. Sunggon Kim (김성곤) Honorary President, Asian Conference of Religions for Peace). Additional input during the judging process was provided by the Tanenbaum Center for Interreligious Understanding and its CEO, Joyce S. Dubensky, Esq.