Cai Shiyin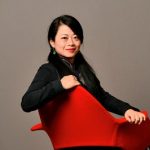 ---
About Dialogue in the Dark: Dialogue in the Dark China has successfully spread from Shanghai to Chengdu, Beijing, Shenzhen and Nanjing and has become one of the first seven accredited social enterprises in China, working towards changing prejudices & discrimination against vulnerable groups in mainland China. Dialogue in the Dark provides exciting, successful and sustainable business opportunities. Dialogue in the Dark is one of the most successful social business phenomena with 27 years of strong track history and over 25 global partners.
---
Global Business & Interfaith Peace Bronze Medalist
Inspired by her own faith and working among the blind in Tibet, Shiyin Cai founded Dialogue in the Dark in China. Through activities such as supporting the first blind runner to complete the Boston Marathon, she is changing society's prejudices against blind/deaf and all other marginalized groups, and providing job opportunities with dignity to the marginalized.
Acceptance Speech
"I grew up during the 30-year economic boom experiencing China going from the absolute material scarcity to wasting resources and blindly worshiping Mammon. I witnessed the gap between rich and poor broadening and people at the bottom of the society having less and less opportunities to change their life. My first 30-year life path was more traditional: going to the best school, getting the highest score, studying in US with scholarship and joining the biggest company. However, The more I have seen the world, the more I realized that our values are not about how much money we make, but how much we can change other people's lives. This is why I accepted my calling and moved back to China after being abroad for 14 years, to dedicate myself to mission work and social work focusing on eliminating injustice and discrimination of marginalized people in my home country because God created all of us equal. I am grateful for this award and it strengthens my faith of carrying this torch forward. What I can do is very limited, but with God all things are possible." (See all medalists here.)
---
Bio
Previously worked as CTO of GE Infrastructure Asia, also worked for Siemens, AIG and Roland Berger in New York, Atlanta, UK, Mexico, Singapore and China. Shiyin was speaker at the TEDx, St. Gallen Symposium, Hamburg Summit and chosen as the BMW Foundation Young Global Leader in 2010 and 2011. Shiyin was awarded as the "Big Ben Award – Top Ten Young Chinese in Germany" and also selected as the "2011 Rising Talents" of the Women's Forum at Deauville. An ordained Christian marketplace missionary and an active Marathon runner Ms. Cai got her MBA with full-scholarship at SUNY and was also educated in Chinese Art at London University, Christian studies at Regent College and President course at HBS. After the encounter with Sabriye Tenberken who founded the blind school in Tibet, Shiyin was inspired and worked as a volunteer. Shiyin was intrigued by the Dialogue in the Dark concept after experiencing the Atlanta exhibition and took the global COO role for Dialogue Social Enterprise in 2010. After almost two years running the global franchising network, Shiyin moved back to China and successfully founded the "Dialogue in the Dark" China which has expanded to Shanghai, Beijing, Chengdu and Shenzhen focusing on changing the stereotype and discrimination against marginalised people, now employing almost 60 blind/deaf employees and over 70000 people from over 280 companies have experienced the "Dialogue" experience in mainland China.
---
More Detail
In a modern world of excessive materialism, can the benevolent spirit of humanity's traditional Dialogue in the Dark (DiD China) is the only authorized licensee of Dialogue Social Enterprise (DSE) from Germany. With experiential learning in complete darkness or silence, DiD opens people's "eyes" in heart to discover the "unseen" within and around us through "Role Switch", changes society's stereotype and discriminations against blind/deaf and all other marginalized groups, and provides job opportunities with dignity to visually/hearing impaired people. "Awareness, Inclusiveness and Empowerment" are the missions of DiD. As the Global COO of DSE, Shiyin Cai brought DiD to China officially in March 2011 and opened the first office and training centre. In Sept 2014, the 1st permanent DiD exhibition was opened in Chengdu. Shenzhen exhibition was opened in Jan 2016 and Shanghai exhibition/flagship store was opened on Jun 1 2017. Total investment in Mainland China is over 1.2 million USD. It has employed over 60 visually impaired or hearing impaired full-/part-time employees. Over 70000 people from more than 280 businesses have experienced the darkness or silence. Plan to break-even by the end of 2017.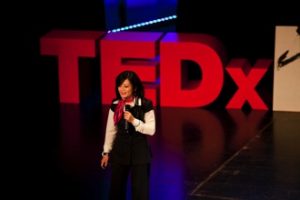 ---
Nominated by:
Ilan Alon
Professor of Strategy and International Marketing, Editor, International Journal of Emerging Markets
University of Agder, School of Business and Law, Norway