Sheikha Lubna al Qassimi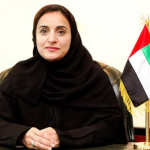 ---
About Zayed University: Zayed University is a national and regional leader in educational innovation. Founded in 1998 and proudly bearing the name of the Founder of the Nation – the late Sheikh Zayed bin Sultan Al Nahyan, this flagship institution has met the President's high expectations. Today, Zayed University has two modern campuses in Dubai and Abu Dhabi that welcome both national and international students.
---
Global Business & Interfaith Peace SILVER Medalist
H.E. Sheikha Lubna Al Qasimi, President of Zayed University and former CEO of Tejari, is a powerful force behind the UAE Pledge of Religious Tolerance adopted by government, civil society and business leaders. She not only works hand-in-hand with local Muslim, Christian, Hindu and Sikhs groups, but also with global political leaders and religious figures such as Pope Francis, helping the UAE become a world leader in interfaith action.
Acceptance Speech
---
Nominated by:
Andrew Thompson
Reverend Canon
Anglican Church, UAE
---
Bio
Her Excellency Sheikha Lubna Al Qasimi is president of Zayed University and former CEO of Tejari. She is also the Deputy Chairman of the Emirates Nuclear Energy Corporation's Board of Directors. H.E. Sheikha Lubna brings a wealth of international knowledge and experience. Her Excellency Sheikha Lubna was perviously Minister of State for Tolerance, in the United Arab Emirates (UAE) Cabinet. In this ministerial position, Her Excellency promoted tolerance, instilling its core principles as a fundamental value in the UAE community and around the globe. In Her Excellency's previous role as Minister of Economy, she was the first woman in the UAE to hold a ministerial position. Her Excellency was Minister of Foreign Trade and then Minister of International Cooperation and Development.Sheikha Lubna also holds several distinguished positions including President of Zayed University, and a Board Member of the Emirates Foundation for Youth Development.Sheikha Lubna Al Qasimi holds a Bachelor Degree in Computer Science from California State University of Chico (USA) , and an Executive Master's Degree in Business Administration from the American University of Sharjah (UAE) . Her Excellency holds Honorary Doctorates in Science from California State University of Chico, in Law from the University of Exeter (UK), and in Economics from the Hankuk University of Foreign Studies (Korea). Her Excellency was recently awarded an Honorary Doctorate in Humane Letters from The Lebanese American University, Beirut (Lebanon).
---
More Detail
Sheikha Lubna introduced the Tolerance Charter into the UAE's business and corporate world in which multiple companies pledged to commit to the values of tolerance and reject discrimination on the grounds of religion, nationality and ethnicity (see Etihad video below). UAE Charter of Tolerance, Coexistence, and Peace, which is a set of agreements related to citizens, residents, teachers, students and employees aimed at promoting tolerance, coexistence and respect for cultural diversity, and the rejection of violence, extremism and racism. She vigorously promotes the anti-discrimination laws passed in the UAE in 2016 and provides a platform for the Hedayat institute which combats extremism.
Sheikha Lubna has led several delegations around the world to meet world leaders, present the UAE as a committed partner to interfaith relations and dialogue and has taken part in a number of initiatives. She attended the National Prayer Breakfast in Washington DC in which the President and Vice President of the USA participated. She led a delegation to meet pope Francis at the Vatican where she invited the Pope to visit the UAE, which should it take place will be the first time in history that a Pope visit an Arabian Gulf country. She led a delegation to Cairo and supported the Egyptian Coptic Orthodox Pope in the wake of terrorist attacks against Egyptian Christians. She took part in an interfaith parliamentary discussion in Denmark. Within the UAE she has a high profile in encouraging interfaith events with the Christian churches, Hindu temples and the Sikh Gurudwara. She regularly attends special events in non-Muslim places of worship as an expression of her friendship and commitment to tolerance. She will be attending a rare ordination of a woman priest in Dubai later this month in support of women's involvement in religious leadership.
The National Tolerance Program, which Shikha Lubna led, is a collaboration with federal and local entities under five main themes: Strengthen government's role as an incubator of tolerance; Consolidate the role of family in nation building; Promote tolerance among young people and prevent them from fanaticism and extremism, Enrich scientific and cultural content, and Integrate international efforts to promote tolerance and highlight the leading role of UAE in this area. The program includes a number of initiatives such as Tolerance Week, which will be observed in the third week of November each year to mark the International Day for Tolerance on November 16. As part of the program, members of various segments of the society will be selected as the 'Voice of Tolerance' to promote tolerance and reject attitudes of racism and hatred through a number of activities and events, and the use of social media, in partnership with various media outlets. The UAE Council of Tolerance will be formed featuring relevant entities and select experts capable of reviewing and approving initiatives and events and developing policies to promote tolerance at the local, region and international levels. The first theme includes Tolerance Responsibility Program for Organizations, the first program of its kind in the world, which will encourage organizations to support tolerance. The program will also launch the UAE Charter of Tolerance. The program will establish the UAE Tolerance Centre, which will work on studies and research promoting the concepts of tolerance and respect for others. The Centre will also provide scientific and cultural content on tolerance and the best practices related to people's daily life.