Silver Prize: 2018 Religious Freedom & Business Film Competition
Global FC
Global FC by Mariya Dostzadah Goodbrake won the Religious Freedom & Business Film Competition Silver Medal.* The film shows that Global FC strengthens Kansas City by using their business to serve the religiously mixed refugee community with a soccer program.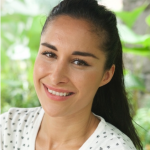 Mariya Dostzadah Goodbrake is the director of Branch Global, delivering intercultural solutions, diversity and inclusion training, and migrant services. Mariya is the Executive Director of Global FC, a non-profit organization based in Kansas City that uses soccer as a vehicle for transformative impact, supporting refugee youth and families with the tools to overcome obstacles to success.
A native from Afghanistan, Mariya was raised in Iran and India, immigrated to Canada with her family, and later to America in 2012. She studied at the University of Toronto in Ontario, Canada in Political Science and International Relations. She is fluent in English, Dari and Farsi. https://globalfutbol.org/
---
The Religious Freedom & Business Foundation (RFBF) and The Middle East Women's Leadership Network (MEWLN) launched the Religious Freedom & Business Film Competition in 2017 to highlight women media producers and support freedom of belief.
The goal of the competition was to create short films that showcase how religious freedom leads to innovation, peace, entrepreneurship and human flourishing in communities. The winning films will screen before world-class CEOs and UN level leaders at the 2018 Global Business & Interfaith Peace Awards in Seoul, South Korea, March 7-8, 2018.