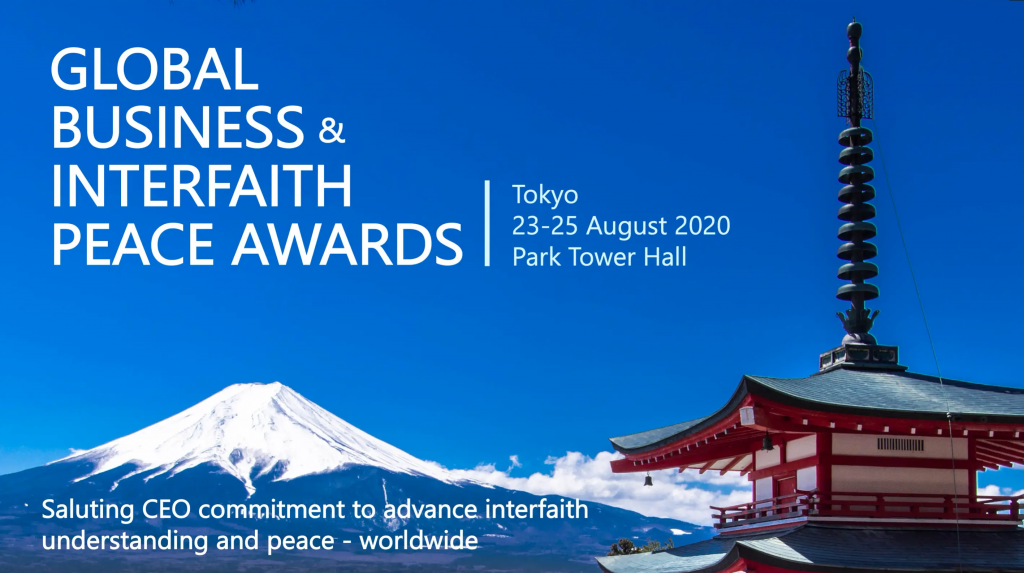 FOR IMMEDIATE RELEASE: December 2, 2019
Contact: nominations@religiousfreedomandbusiness.org
Awards to be Presented at the 3rd Biannual Dare to Overcome Business Festival in Tokyo 
(GENEVA, CH) – In an effort to recognize and support global leaders in business and industry who are taking concrete action to advance interfaith understanding, religious freedom and peace in the workplace and marketplace, the UN Global Compact and the Religious Freedom & Business Foundation announced today the opening of nominations for the 2020 Global Business & Interfaith Peace Awards.
Held in conjunction with Tokyo 2020 Paralympic Games, the Awards highlight current or former CEOs who have demonstrated leadership in championing respect for faith in one of the following four categories: Core Business; Social Investment and Philanthropy; Advocacy and Public Policy Engagement; and Partnerships and Collective Action.
"The Global Business & Interfaith Peace Awards demonstrate the important role business leaders play in fostering interfaith understanding, religious freedom and peace. These leaders are making a difference toward a more tolerant, respectful and peaceful world. Their efforts are an inspiration for other business leaders," said Religious Freedom & Business Foundation President Dr. Brian Grim.
"Religion and business are not contradictory forces. They are an alliance for understanding. Employees who feel their faith is respected in the workplace are more likely to be healthy, productive members of the workforce and society. We look forward to recognizing this year's honorees in Tokyo," Grim stated.
Past award recipients include Ernst & Young UK Chairman Steve Varley (UK), Former Dell Entrepreneur-in-Residence, Ingrid Vanderveldt (US), CEO of Future Pipe Industries H.E. Fouad Makhzoumi (Lebanon), CEO Shinework Media Jonathan Shen Jian (China), Founder and Chairman Iraq Britain Business Council Emma Nicholson, Baroness of Winterbourne (UK and Iraq)  and former CEO of Tejari H.E. Sheikha Lubna Al Qasimi, (UAE), among others.
The 2020 Awards will be held at the Shinjuku Park Tower Hall, Tokyo, on August 25, 2020, coinciding with the opening of the 2020 Summer Paralympic Games. The awards presentations will be part of Dare to Overcome, a global business, arts, and peace festival in support of the Paralympic Movement and people with disabilities.
Deadline for nominations is February 29, 2020.
Video from past award ceremonies and additional information regarding the nominating process can be found at https://religiousfreedomandbusiness.org/awards-2020.
###