FOR IMMEDIATE RELEASE: December 9, 2019
Contacts:
Groundbreaking Discussion Calls Attention to Importance of Faith-Friendly Businesses, Religious Diversity in Region 
(MANAMA, BH) – Gathering together top business executives, government officials and religious leaders from across the region, the inaugural Middle East and North Africa International Religious Freedom Business Roundtable cohosted by the Religious Freedom & Business Foundation and the King Hamad Global Centre for Peaceful Coexistence launched a critical discussion around global peace and understanding through acceptance of religious expression in the workplace.
This groundbreaking discussion – bridging cultural and religious divides across the region –  included dialogue from some of the Middle East's leading business executives, including Future Pipe Industries Board Member May Makhzoumi; Thattai Hundu Merchants Community President Bob Thacker; Menomadin Vice President Aiman Mansour; and Medinol Founder and CEO Dr. Judith Richter. Leaders of major business associations also participated in the forum including the American Chamber of Commerce in Bahrain President Qays H. Zu'bi; Bahrain British Business Forum Chairman Khalid Rashid Al Zayani OBE; Bahrain Entrepreneurs Organization Founder and Chairwoman Feryal Nass, and Bahrain Chamber of Commerce Deputy Chairman Mohamed al Koheji.
U.S. Ambassador Justin H. Siberell, British Ambassador Roddy Drummond, and USAID's Samah Norquist participated as well.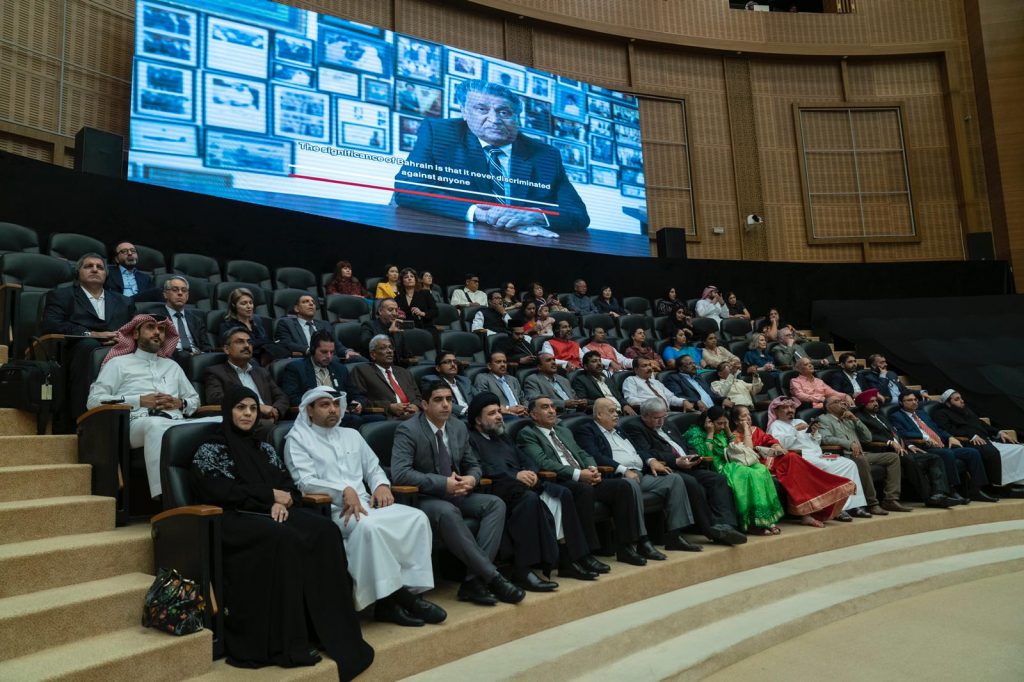 The executives addressed regional challenges and opportunities to advance respect for all faiths in the workplace to counter the rising tide of restrictions on freedom of religion and belief seen in many areas around the world. More than a dozen executives involved in the multi-day summit pledged their commitment to promoting faith-inclusive environments for their workers, through the Religious Freedom & Business Foundation's Corporate Pledge. They also committed to leveraging their broader influence to advance interfaith religious understanding across the region.
In taking the Corporate Pledge, CEOs affirmed that freedom of religion or belief ("FoRB") is a fundamental right. They also recognize that religious freedom promotes sustainable and innovative businesses, contributes to human advancement, and results in more peaceful and stable societies.
"The link between respect for religious expression and the growth and prosperity of business is often ignored. This is particularly true in regions where there is religious tension," said Religious Freedom & Business Foundation President Dr. Brian Grim, who kicked off the discussion. "Businesses that foster a workplace environment where religious identity and expression is respected are happier and more productive. Faith acceptance, regardless of religious identification, can lead to more successful businesses and a unifying force for people, especially in religiously diverse areas like the Middle East and North Africa."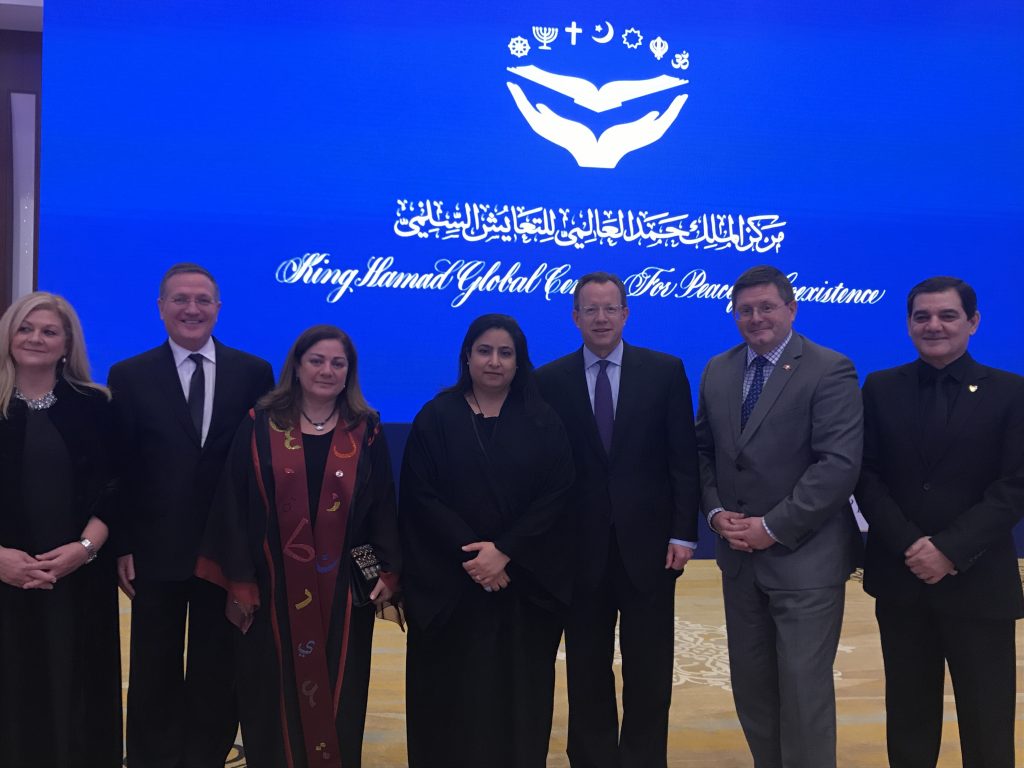 The roundtable was held at the King Hamad Global Centre for Peaceful Coexistence. "The modern Kingdom of Bahrain is also known as the world's leading center for peaceful coexistence and interfaith dialogue, and we are pleased to provide a safe and peaceful platform for all voices to be heard in the spirit of mutual respect and love," said H.E. Dr. Shaikh Khalid bin Khalifa Al Khalifa, Chairman of the King Hamad Global Centre for Peaceful Coexistence, which also hosted an interfaith leadership conference as part of a two-day discussion about addressing the challenges of religious freedom in the greater Middle East.
Coming out of this inaugural event, the Chairman of This Is Bahrain, Betsy Mathieson, who moderated the discussion, announced that two more International Religious Freedom Business Roundtables will be held in Bahrain in the coming year. Religious Freedom & Business Foundation Vice President Greg Clark, who was invited today to meet with Bahrain Crown Prince Salman bin Hamad bin Isa Al Khalifa, also announced that additional roundtables to engage CEOs on religious inclusion in the workplace will be held in other countries in the region in 2020.
Numerous speakers referenced The Kingdom of Bahrain Declaration,  which is highlights that different religious groups have lived harmoniously, side by side, in the Kingdom for hundreds of years.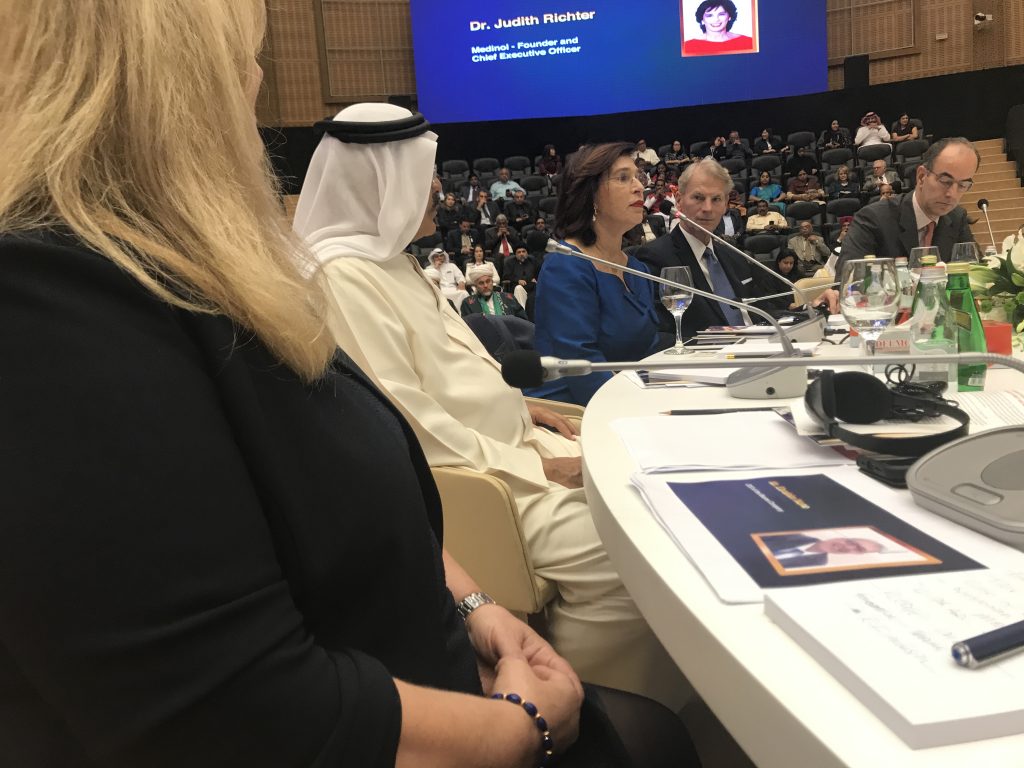 ###
ABOUT THE RELIGIOUS FREEDOM & BUSINESS FOUNDATION
The Religious Freedom & Business Foundation is the preeminent organization dedicated to educating the global business community, policymakers, non-government organizations and consumers about the positive power faith has on business and the economy. RFBF believes that business and religious freedom combine to form a powerful force for a better world. Through groundbreaking expert research, training programs, practical business tools and convening interfaith dialogue, RFBF helps demonstrate the critical link between respect for faith, successful enterprise and dynamic national economies. RFBF's pioneering work serves as a catalyst for executives to promote Freedom of Religion or Belief for all people through employee programing, customer-facing policies, and leveraging their broader societal influence. RFBF is a non-partisan, non-political registered 501(c)3 non-profit organization in the United States. For more information or to get involved visit www.ReligiousFreedomandBusiness.org.