---
---
---
Corporate Sponsors: American Airlines & Tyson Foods

⇒ See the News from the conference (AP, Fox, etc.)
---
CONFERENCE TO EXPLORE GROWING FAITH-FRIENDLY BUSINESS TRENDS AND RELIGIOUS INCLUSION IN THE WORKPLACE 
Religious Freedom & Business Foundation, Busch School of Business at Catholic University to Co-Host Forum in Washington on faith-oriented Employee Resource Groups (ERGs)
(WASHINGTON, DC) – A growing trend in corporate America that is being embraced by some of the largest and most recognizable companies will be the topic of a first-of-its-kind conference in February. From Google to Facebook to Walmart, companies from a range of industries are recognizing that faith-friendly environments mean better workplaces and better businesses.
The Religious Freedom & Business Foundation and the Busch School of Business at Catholic University will hold a groundbreaking conference for employees and executives to discuss the importance of corporate programs that foster religious inclusion. The two-day conference will take place at The Catholic University of America in Washington, D.C., on February 13 and 14, 2020. The event will feature executives and members of faith-oriented Employee Resource Groups (ERGs) sharing best practices, challenges and opportunities.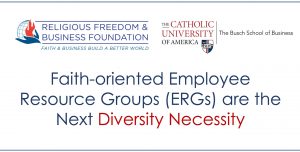 The conference will be keynoted by Sue Warnke, Salesforce Senior Director of Content & Communication Experience and the President of Faithforce San Francisco. Catholic University President John H. Garvey and Busch School Founding Dean Andrew Abela will also address attendees. The Busch School of Business was launched in 2013 with the aim of developing virtuous business leaders and using the resources of the Catholic intellectual tradition to advance a vision of business in service to society and human dignity. A range of corporate speakers will also discuss the importance of faith in business at the conference.
"Corporate America is recognizing that respect for faith expression is vital to recruitment, retention and creating a productive work environment," said Dr. Brian Grim, President of the Religious Freedom & Business Foundation. The Foundation is the leading global authority on issues surrounding how faith and businesses can interact for a more peaceful and prosperous world. "The employees will be sharing their experiences and helping to drive the conversation. That's really exciting."
"While special inclusion programs surrounding race, gender and sexual orientation are the norm, the business community is rapidly realizing that faith expression is critically important. This conference will explore for the first time what's working, challenges and ways businesses can foster a more faith-inclusive environment to lift all boats," said Grim.
"The religious dimension is an essential part of human life, and any vibrant business ought to welcome and support this dimension," said Dean Abela. "At the Busch School of Business, we teach that faith and business aren't mutually exclusive. Employees should not have to check their beliefs at the door."
Sessions at the conference will focus on:
– The Business Case for ERGs: Why Faith-Friendly is Important to Business
– ERGs & Workplace Spirituality
– Overcoming Challenges Faced by Faith-oriented ERGs
– Multiplying the faith-oriented ERG Movement
– Nuts and Bolts of Forming Faith Oriented ERGs
– Workplace Chaplains – Similarities to & Differences from ERGs
– Resources for Corporate Literacy & Accountability on Religious Inclusion
"When implemented thoughtfully, faith ERGs increase morale, improve retention, attract talent, reduce religious bias, and brand your company as a diversity leader. The benefits simply vastly outweigh the risks. Building a faith diversity strategy for your employees is a business imperative," said Salesforce's Sue Warnke.
Faith-oriented ERGs have grown in acceptance in recent years, with name-brand businesses like American Express, Coca-Cola, Key Bank, Target and Toyota among nearly 50 different corporations to offer some type of faith-oriented ERG. The trend is also growing across the technology sector, with Salesforce's Faithforce being one of the fastest growing ERGs nationwide, and companies alike Apple, Facebook, Google, Intel and Dell all offering faith-oriented ERGs to employees.
Earlier this year, Texas Instruments hosted a forum on religious diversity and inclusion at its global headquarters in Dallas, attracting participants from more than 30 different companies. Walmart, the nation's largest company, launched its first ever interfaith ERG this fall.
–> Register
ERGs, employees and companies wishing to attend or sponsor can contact contact@religiousfreedomandbusiness.org.