Melissa E. Grim, J.D., M.T.S., Senior Research Fellow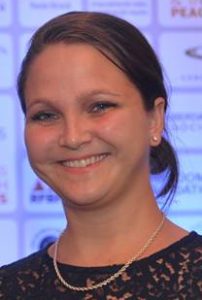 Tel. 410-268-7809
melissa@religiousfreedomandbusiness.org
Melissa Grim is a Religious Freedom & Business Foundation Senior Research Fellow, assisting with global research, case studies, and press relations. Melissa is the chief author of a groundbreaking publication – BUSINESS: A Powerful Force for Interfaith Understanding and Peace. UN Secretary-General Ban Ki-moon gave the keynote address at the launch of this new, groundbreaking publication at the UNAOC annual meeting in Bali, Indonesia, during a business and private sector event organized by the Indonesia Global Compact Network (IGCN).
Melissa is also the primary author and producer of twelve case studies that show how business leaders from across the global are advancing interfaith understanding, religious freedom and peace through their core business, social investment and philanthropy, advocacy and public policy engagement, and partnerships and collective action. The religious, geographic and business-type diversity of these businesses and leaders shows that the values of interfaith understanding, religious freedom and peace have universal appeal.
And, she is co-author of the ground-breaking study on the value of faith to the U.S. economy. Religion annually contributes nearly $1.2 trillion of socio-economic value to the U.S. economy, according to the September 2016 study she co-authored with Brian Grim and published in the Interdisciplinary Journal of Research on Religion.
Additional Case Studies
Book Review
Melissa completed a degree in law (J.D.) at DePaul University's College of Law, Chicago. She received a Masters in Theological Studies (MTS) from Boston University in 2010 and a B.A. degree in Philosophy from Penn State University in 2007. Prior to this, she studied classical ballet at the University of Oklahoma and earned a certificate of ballet pedagogy from the Royal Academy of Dance, London.
Melissa has extensive research experience, including legal research and a global analysis of constitutions at the Becket Fund for Religious Freedom, a non-profit law firm in Washington DC. She also managed the Becket Fund's daily domestic and international religious freedom news analyses. She also worked extensively on global religious freedom research projects at Penn State University's Association of Religion Data Archives.
Beyond her legal, social scientific and academic research skills, Melissa has extensive workplace and customer service skills. While at the Becket Fund, she was in charge of all computer and technical issues for the summer of 2008. And from 2010 until 2012, Melissa was the Administrative Assistant to the Dean of the School of Philosophy at Catholic University. She was in charge of assisting the Dean with maintaining professor and student academic schedules, which required interfacing and negotiating with numerous departments, and problem-solving when schedule clashes occurred. She also managed budgeting and account management for the School of Philosophy and was in charge of managing and hosting its fall lecture series. This included arranging visiting professor's travel plans and housing during the lecture, greeting the visiting professors upon arrival, and managing event logistics.
Melissa was born and raised overseas, which provided her a rich religious and cultural experience. She was born in China when the government had just begun to allow US citizens back to work in the country following the Cultural Revolution. She also lived in Kazakhstan, where she was a childhood celebrity, in part for being the first American to study in a Kazakh elementary school. She also lived and went to local schools in Germany, Saudi Arabia, Malta and the United Arab Emirates, through which she learned to appreciate religious and cultural diversity. It is through the lens of this unique upbringing that she approaches every task ahead of her.