July 17, 2014 – Melissa E. Grim, Religious Freedom & Business Foundation Case Study*
In Indonesia, businesses are at the forefront of efforts to promote interfaith understanding. For instance, EXPRESS Taxi, with a fleet of more than 7,000 taxis in Jakarta, promotes a faith-friendly workplace by setting up prayer rooms and facilitating Muslim and Christian observances as well as celebrations of Chinese New Year. Such efforts not only foster interfaith understanding but also increase worker productivity and satisfaction.
In addition to accommodating religious practice in the workplace, Indonesian businesses also help meet the social and religious needs of employees outside of work, while at the same time increasing safety and employee retention. For instance, PT Kereta API Indonesia, an Indonesian railway company, provides free freight transportation for its Muslim workers to return home to celebrate Eid. This is important because many would choose the more affordable but dangerous option of riding a motorcycle home. In addition to being safer, it relieves congestion across the island of Java and lowers overall accident rates.
PT XL-Axiata, a mobile telephone company, also arranges free transportation home for religious observance. In cooperation with Giant Hypermarket, the company last year helped nearly 20,000 employees and customers return home for Eid.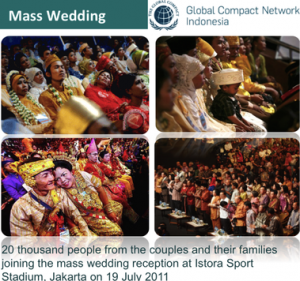 In addition to offering logistical help with their employees' religious observances, businesses in Indonesia have worked to fix large, seemingly intractable social problems. For instance, companies in Jakarta, along with civil society groups and the government, helped 4,541 poor couples in interfaith marriages to receive the proper marriage licenses. Up to that point, these couples, for financial or legal reasons, could not obtain marriage certificates, preventing them from receiving birth certificates for their children. Without ID cards, marriage certificates and birth certificates, the families often did not have access to national health care, public education, legal rights and employment.
Having the necessary certificates, the businesses can further help them with the education scholarship, skills training and job opportunities.
The House of Love Foundation, in collaboration with the Jakarta Municipal Government as well as other groups, established and ran the marriage initiative. The initiative was also supported by Indonesia Global Compact Network and a variety of businesses, including  Rajawali's B Channel (now Rajawali TV), Coca-Cola, Sari Roti, So Nice Sausage, Kopi Kamu, Papa Ron and religious organizations. Muslim, Christian, Catholic, Buddhist, Hindu and Confucius couples from across the capital took part. This initiative also promotes intercultural and interfaith understanding within the community.
---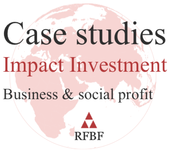 * This is the fifth in a series of case studies highlighting how companies – in their core business activities – can help reduce religious and cultural tensions, increase social understanding, and promote peace. This case study does not imply an endorsement of any company profiled. The Religious Freedom & Business Foundation has no tie to any of the companies profiled.
To stay up to date, subscribe to our newsletter.