In Nigeria, businesses and economic development NGOs are working to stop widespread religious violence between Christians and Muslims, which has already taken hundreds of lives and threatens to thrust parts of the country into civil war.
For instance, in Adamawa State in northeast Nigeria, groups like the Yola Innovation Machine are helping a new generation of entrepreneurs create businesses. The need is great. Young adults in many of Adamawa's poor rural and marginalized communities lack the necessary entrepreneurial skills they need to break out of the poverty trap that often feeds violent extremism. The majority of youth in the area have no employment. In Adamawa, and throughout Nigeria, the population doubles every 30-35 years, so assisting people to create their own jobs is perhaps the most immediate solution to unemployment.
The Yola Innovation Machine and others are working in this direction. For instance, they helped create and nurture a new business called Yola EcoSentials (YES), which recycles discarded materials into sellable goods such as purses, mats, handbags and wristlets. The goods are made from "plarn," a yarn spun from recycled plastic grocery bags. The venture results in multiple social goods because every item sold by Yola EcoSentials generates much needed income and employment, and at the same time helps protect the deteriorating ecological environment.
In the Plateau State in the country's center, Muslim and Christian business people are cooperating to work around religious violence. In Jos, Plateau's capital, there is an unwritten rule that when religious tensions flare up, Christians and Muslims should not cross certain city boundaries. But this can be devastating for the fresh produce vendors and other businesses, which serve people on both sides of the divide.
In response, Muslim and Christian business people have taken it upon themselves to work around these limitations, risking their lives and not just their livelihoods to keep business moving across the religious divide. For example, Madam Ngozi, a vegetable seller and widow raising seven children on her own, often cannot go to the market to restock her supply of vegetables due to religious violence or warnings of possible violence. However, a cell phone call to her Muslim supplier, Mallam Yahaya, can solve the problem. They find a discrete place to meet, agree on a price, and make the transaction.
Still, many are skeptical that businesses can ultimately make much of a real difference in Nigeria. "On what basis could it work?" asks Clement Nwankwo, a political analyst who heads the Policy and Legal Advocacy Centre in Abuja. "There is no peace in the northeast. Can any construction company go in there to work?"
But U.S.-trained Nigerian economist Soji Adelaja argues that business can be an important part of the long-term solution to violent religious extremism currently exploding in northeast Nigeria today. Mr. Adelaja, born in Lagos, recently returned to his homeland after 34 years in the United States to help put together what the government calls a "Marshall Plan" to counter the extremist violence and bring prosperity. The concept being put forward is that an improved economy and more opportunity could be an effective tool in countering the advances of groups like Boko Haram, the radical Islamic organization that recently made headlines around the world when it kidnapped 200 girls.
Picture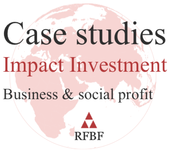 * This is the third in a series of case studies highlighting how companies – in their core business activities – can help reduce religious and cultural tensions, increase social understanding, and promote peace. This case study does not imply an endorsement of any company profiled. The Religious Freedom & Business Foundation has no tie to any of the companies profiled.