Case Studies
The Religious Freedom & Business Foundation studies freedom of religion & belief (FoRB) and its connection to society, business and the economy.
These twelve case studies show business leaders are advancing interfaith understanding, FoRB and peace. They are doing this through their core business, social investment and philanthropy, advocacy and public policy engagement, and partnerships and collective action. The religious, geographic and business-type diversity of these businesses and leaders shows that the values of interfaith understanding, religious freedom and peace have universal appeal.
The case studies were prepared by Melissa Grim, J.D., M.T.S., a senior research fellow with the Religious Freedom & Business Foundation, and Brian Grim, Ph.D., president of the foundation. The case studies are made possible through a generous grant by the Templeton Religion Trust.
The following short film, also scripted by Melissa Grim, summarizes the case studies. It was produced by the Religious Freedom & Business Foundation and premiered at the inaugural Global Business & Interfaith Peace Awards which were held in Rio de Janeiro on Tuesday, Sept. 6, a day before the Opening Ceremony of the 2016 Paralympic Games.
* The Global Business & Interfaith Peace Awards recognize business leaders – current or past CEOs – who have demonstrated leadership in championing interfaith understanding and peace. The Awards are a partnership initiative of the Religious Freedom & Business Foundation (RFBF), and the United Nations Global Compact Business for Peace (B4P) platform, with collaboration from the United Nations Alliance of Civilizations. The next awards will be given in Tokyo, Japan, on the eve of the 2020 Paralympic Games.
---
Categories of Action
The case studies fall into one or more of the following categories of action. They are grouped by their main type of action.
1. Core business
Championing interfaith understanding and peace through a company's core business operations, including internal procedures, human resources hiring practices, training, product/service development, sourcing policies, supply chains, as well as the development of products and services that promote interfaith understanding and peace.
2. Social investment and philanthropy
Financial and in-kind contributions, and strategic social investment support for NGOs, UN and/or multilateral agencies or directly to affected communities and/or contribution of functional expertise through volunteering efforts.
3. Advocacy and public policy engagement
Fostering social cohesion and inter-group dialogue and relationship-building in the workplace, marketplace and local community.
4. Partnership and collective action
Joining forces with Governments, UN entities, civil society organizations and/or other businesses to act collectively to promote interfaith understanding and peace and forge long-term partnerships for local or regional economic and sustainable development.
---
1. Core business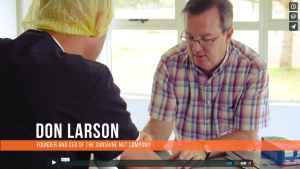 While it used to be a worldwide leader in cashew production, Mozambique is now one of the world's poorest nations. Banking policies and civil war led to extreme poverty across religious and cultural lines, leaving many widowed mothers and over 1.6 million orphans throughout the country.
Don Larson, a former Vice President at The Hershey Company and founder and CEO of the Sunshine Nut Company, is working to revive Mozambique's economy and reverse the trend in broken families. Inspired by his faith and the belief that companies can have a profound impact,
Don is working with people of all faiths to transform lives by helping provide jobs for over 50,000 people and by donating 90% of his profits to support orphans, empower farmers, and strengthen the local infrastructure, helping to bring interfaith understanding and peace.
---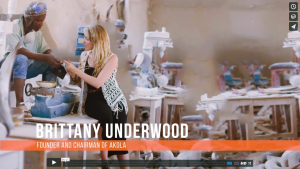 Conflict in Uganda has left many women and children as widows and orphans. Violence lead to widows without a means to care for their families and homeless children wandering the streets.
Brittany Underwood is Founder and Chairman of Akola, a mission-driven enterprise that empowers women to become agents of transformation in their families and communities through economic development.
Akola promotes gender equality, human rights and religious freedom by training and employing women, providing them and their children a means of existence and a better quality of life.
On the sales end, Brittany markets and distributes through Akola's Texas operation, which also employ women who have been rescued from human trafficking.
---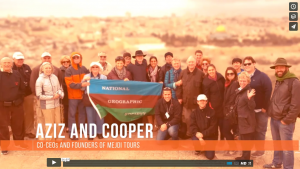 In many Middle Eastern countries, social and political tensions have spurred violence and unrest along religious and cultural lines.
Each group within this struggle has a different narrative and understanding of what has led to current culture and conflict.
Aziz Abu Sarah and Scott Cooper, co-CEOs and Founders of MEJDI Tours, recognize that allowing people tell their story is a first step in fostering peace and cultural understanding.
In Israel, for example, their "Dual Narrative" approach allows Israeli and Palestinian tour guides to offer varying perspectives on culture, religion, and politics at each location.
---
In western society, Muslim women are often largely misunderstood.
They have been viewed as an oppressed "non-entity" or an exotic "other," with little understanding of their real situation. Even among their own communities, Muslim women are not often given a public voice or recognition for their business acumen and talent.
Tayyibah Taylor (1952-2014), founder and CEO of Wow Publishing, Inc. (Aziza Magazine), was a Muslim business entrepreneur who, through her magazine and advocacy efforts, helped people of all faiths to broaden their perceptions of the lives and accomplishments of Muslim women.
She was a tireless voice for Muslim women everywhere, visiting six continents as an advocate for peace and constructive interfaith relations.
---
Immigrants sometimes face prejudice because of their religious and cultural identities when they relocate to Brazil.
Jonathan Berezovsky is founder and CEO of Migraflix, which helps to empower immigrants and refugees economically, and to integrate them into society. It does this through workshops and events that show how new cultures can enrich Brazil, such as through new ways of cooking.
Migraflix spreads a message of tolerance towards immigrants, regardless of nationality or religion.
The company aims to show the world that Jews, Muslims and Christians, some of whom have immigrated to Brazil from conflict areas in the Middle East, can come together and understand each other through music, such as the interfaith Majeez band founded by Jonathan.
---
2. Social investment and philanthropy
Fouad M. Makhzoumi | Executive Chairman-CEO, Future Pipe Industries Group Limited, UAE & Lebanon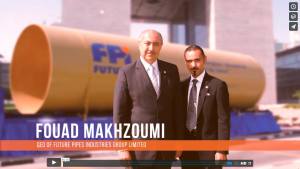 During a 15 year civil war, many youth in Lebanon forewent their education as they became increasingly involved with religious fundamentalism, leading to unemployment and economic stagnation.
Fouad Makhzoumi, CEO of Future Pipes Industries Group Limited, witnessed how his late son's youthful energy and cross-cultural savvy triggered exponential growth as his son provided a positive vision for productive and socially responsible business.
Makhzoumi and his foundation have helped empower thousands by harnessing this same youthful enthusiasm for entrepreneurship and religious freedom. His microcredit training for Lebanese people of all faiths has helped over 10,000 individuals set up sustainable businesses, and hundreds of thousands more are receiving vocational training.
---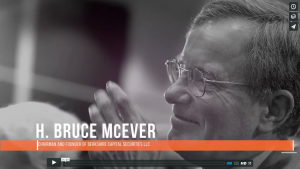 Business leaders often underestimate the positive influence of faith in the workplace and society in general, especially in the way that religious freedom promotes peace and stability.
H. Bruce McEver, Chairman and Founder of Berkshire Capital Securities LLC, created with the late Prof. Ron Thiemann of Harvard Divinity School, The Foundation for Religious Literacy. The foundation promotes religious understanding by bringing together business professionals along with outstanding academics and practitioners. The Foundation cultivates inter-religious understanding and practical skills through collaboration with partners such as the regional Harvard Business School Clubs via its Business Across Religious Traditions seminars.
Through its Faith Ethics and Leadership seminars, leaders in business and other professions, the foundation also advocates values and ethics derived from religious and secular traditions, fostering a healthy pluralist and peaceful democracy through respect for differences.
---
Many immigrants to Canada experience difficulties in adapting to their new home.
At the root of these challenges is often a lack of marketable skills, cultural or religious misunderstandings, and the inability to communicate effectively.
Abdo Ibrahim El Tassi, President and CEO of Peerless Garments LP, has dedicated himself to building bridges that promote tolerance and harmony between these new arrivals and their surrogate home. His company employs people of all faiths, providing training and development opportunities for newcomers to learn marketable skills and improve their English.
El Tassi has also provided $1.7 million in interest-free loans to cover business startups, mortgages, and university tuition for immigrants to Canada.
---
3. Advocacy and public policy engagement
Religious discrimination and oppression are disintegrating opportunities for stability and freedom in the Middle East. This is made worse where community leaders and government officials fail to appreciate the socio-economic benefits of inter-faith understanding and religious freedom.
Kathy Ireland, Founder and President of kathy ireland Worldwide, supports the extraordinary efforts of Hardwired, a women-led initiative that empowers community and national leaders to advance freedom and dignity in the face of religious oppression. Hardwired trains indigenous leaders in countries experiencing religious conflict to advance human dignity and the freedom of conscience for everyone. They defend the legal principal of freedom of thought, conscience, religion or belief for every person without distinction.
Beyond her support for Hardwired, Kathy engages personally. In one case, she hosted an event for Yazidi women escaping oppression, which included an appeal to Congress to take immediate action to stop ISIS atrocities against the Yazidi.
---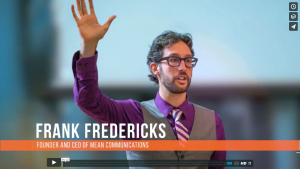 Many religious and cultural communities face "otherism" due to differences in education and underlying economic issues that often spur violence from perceived differences.
Frank Fredericks, Founder and CEO of Mean Communications, led his organization in a coalition with the United Nations Alliance of Civilizations, UNESCO, and other partners to produce a coordinated social media effort to spread awareness for the worldwide campaign "Do One Thing for Diversity and Inclusion."
His efforts prompted individuals on Facebook, Twitter, and Instagram to participate in specific endeavors that support inclusion and cultural diversity and to show how their engagement in these actions helped overcome religious and cultural differences in their communities.
---
4. Partnership and collective action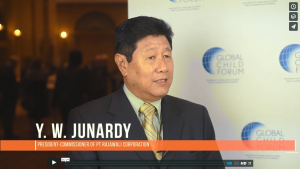 Indonesia is a religiously diverse country where cultural tensions are all-too-often exacerbated by local poverty.
At the root of this dilemma is the problem that many parents can't afford the cost of marriage licenses leaving their children without legal status, hindering their opportunities for education, future employment, and even healthcare.
Y. W. Junardy, President-Commissioner of PT Rajawali Corporation, has used his business know-how to address the problem. Collaborating with business, government and religions institutions, he facilitates mass weddings, which are presided over by ministers of each faith.
Through his efforts, thousands of couples and their children have gained immediate legal status and a renewed hope for the future.
---
Driven by religious intolerance and radical fundamentalism, ISIS (Daesh) has decimated the economies of both the Syrian and Iraqi nations, displaced millions from their homes, and acted as the hateful catalyst behind the genocide of Yazidis and other religious minorities.
Violence from ISIS has left many survivors in need of medical care, shelter, and other common necessities.
Baroness Nicholson, head of the Iraq Britain Business Council and the AMAR Foundation, oversees trade, investment, training and the transfer of technology to Iraq. With the support of local governments, Baroness Nicholson has led the cause of helping displaced Iraqi women, regardless of faith or ethnicity, to cope with the horrendous atrocities of war, providing mental and physical health treatment and offering resources for recreation, education, and vocational training.