Abdo Ibrahim El Tassi | President & CEO, Peerless Garments LP, Canada
Case Study Outline
→ Abdo Ibrahim El Tassi Video (above)
→ Learning Objectives
→ Main Category of Action
→ El Tassi's Story
→ Summary of Case
→ Introduction to Canada
     – Demographics and Economy
     – Religious Demographics
     – Conflict and Violence related to Religion
→ More About Abdo Ibrahim El Tassi
→ Discussion Questions
→ Media and Added Resources
---
---
Learning Objectives
Mr. El Tassi's goal as a businessman and a member of the Arab community in Canada has been to build a better life for his family, his employees and newcomers to Canada. He has dedicated himself to building bridges to promote tolerance and harmony between and among our multicultural and Multifaith communities. With the general collapse of an indigenous Canadian garment industry, Mr. El Tassi has striven not only to maintain but to expand a proudly Canadian company, in no small measure through the diversity and dignity of his hiring and retention policies..
The learning objectives for this case study include:
1. The experience of being an immigrant can be highly motivating – both for business and philanthropy.
2. Immigrants often become highly invested in the success of their newfound land and in others coming as immigrants.
3. Philanthropy and its priorities can be informed by the personal experiences of the philanthropist.
4. Some business philanthropists have wide-ranging interests in how to engage with their community.
---
MAIN CATEGORY OF ACTION
Social investment and philanthropy
Financial and in-kind contributions, and strategic social investment support for NGOs, UN and/or multilateral agencies or directly to affected communities and/or contribution of functional expertise through volunteering efforts.
---
Abdo Ibrahim El Tassi's Story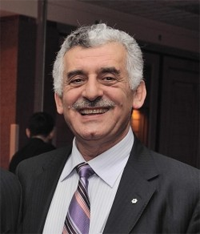 Abdo Ibrahim El Tassi was born on a farm in Lebanon, a long way, both culturally and in terms of climate, from Winnipeg, Canada. After college, his brother and sisters who had already immigrated to Manitoba, persuaded him to join them, promising to support him through a Canadian college.
But El Tassi had other ideas. "I didn't want them to pay for me," he told a Winnipeg newspaper in 2012. "I figured I'd work for a year and go back to school."
El Tassi emigrated in 1969. His older brother had a job at Peerless Garments, a major provider of military uniforms, and got him a job there too. Within six months he went from "bundle boy" to managing the company's leather division, and in 2006, he became president and chief executive officer.
The adjustment to Canada was difficult. For one, it was freezing cold, nothing like the temperate valleys of Lebanon. For another, the Muslim community — the ummah — consisted of 10 families, had no permanent mosque or halal grocery and often had to improvise.
Today, all of that — except the weather — has changed. There are more than 15,000 Muslims in the province of Manitoba and four mosques — one of them built with El Tassi's assistance. He also helped build Manitoba's first Islamic school. Winnipeg has a thriving Muslim ummah, much of it due to El Tassi's work and generosity.
But El Tassi says things have changed for today's immigrants. Many come from conflict regions such as Somalia, Afghanistan and Iraq, and many are traumatized by what they experienced there. There is more for the local Muslim community to do to assist newcomers than there was when he and his family came.
So El Tassi has personally sponsored 50 Muslim immigrants to the region — something not permitted in the United States. He has also provided $1.7 million in interest-free micro loans to help new immigrants start their own businesses, and he has organized sewing and language classes to give them skills they will need to integrate and succeed.
Many of the immigrants find work through Peerless, which has an official policy of hiring people of all faiths and cultures.
El Tassi has said that caring for others, regardless of their culture or religion, is his duty as a Muslim. He links his philanthropy to the Muslim idea of zakat — of giving to others.
"My mother used to say that when you give, God will give back to you," he has said.
But there is more to zakat than handouts. "Everybody has different problems," he said. "We try to do the best we can. We're trying to build bridges."
He is also building good business. Since he took the top spot at Peerless in 2006, it has grown its business from $3 million to $45 million in annual revenue.
In 2015, El Tassi was awarded the Order of Manitoba. In his introduction at the ceremony, legislative assemblyman Bidhu ShekharJha spoke for a grateful province.
"Thank you, Mr. El Tassi," he said as other members applauded. "You have made our country better by your dedication to integrate us all as part of the larger family of humanity and build a better world."
---
Summary of Case
Many immigrants to Canada experience difficulties in adapting to their new home. At the root of these challenges is often a lack of marketable skills, cultural or religious misunderstandings, and the inability to communicate effectively.
Abdo Ibrahim El Tassi, President and CEO of Peerless Garments LP, has dedicated himself to building bridges that promote tolerance and harmony between these new arrivals and their surrogate home. His company employs people of all faiths, providing training and development opportunities for newcomers to learn marketable skills and improve their English.
El Tassi has also provided $1.7 million in interest-free loans to cover business startups, mortgages, and university tuition for immigrants to Canada.
---
Introduction to Canada
Demographics and Economy*
A land of vast distances and rich natural resources, Canada became a self-governing dominion in 1867, while retaining ties to the British crown. Economically and technologically, the nation has developed in parallel with the US, its neighbor to the south across the world's longest international border. Canada faces the political challenges of meeting public demands for quality improvements in health care, education, social services, and economic competitiveness, as well as responding to the particular concerns of predominantly francophone Quebec. Canada also aims to develop its diverse energy resources while maintaining its commitment to the environment.
As a high-tech industrial society in the trillion-dollar class, Canada resembles the US in its market-oriented economic system, pattern of production, and high living standards. Since World War II, the impressive growth of the manufacturing, mining, and service sectors has transformed the nation from a largely rural economy into one primarily industrial and urban. In addition, the country's petroleum sector is rapidly expanding, because Alberta's oil sands significantly boosted Canada's proven oil reserves. Canada now ranks third in the world in proved oil reserves behind Venezuela and Saudi Arabia and is the world's fifth-largest oil producer.
The 1989 US-Canada Free Trade Agreement and the 1994 North American Free Trade Agreement (which includes Mexico) touched off a dramatic increase in trade and economic integration with the US, its principal trading partner. Canada enjoys a substantial trade surplus with the US, which absorbs about three-fourths of Canadian merchandise exports each year. Canada is the US's largest foreign supplier of energy, including oil, gas, and electric power, and a top source of US uranium imports.
Given its abundant natural resources, highly skilled labor force, and modern capital plant, Canada enjoyed solid economic growth from 1993 through 2007. Buffeted by the global economic crisis, the economy dropped into a sharp recession in the final months of 2008, and Ottawa posted its first fiscal deficit in 2009 after 12 years of surplus. Canada's major banks, however, emerged from the financial crisis of 2008-09 among the strongest in the world, owing to the early intervention by the Bank of Canada and the financial sector's tradition of conservative lending practices and strong capitalization. Canada achieved marginal growth in 2010-15, despite the recent drop in oil prices.
Canadians are comprised of various heritage, including: Canadian 32.2%, English 19.8%, French 15.5%, Scottish 14.4%, Irish 13.8%, German 9.8%, Italian 4.5%, Chinese 4.5%, North American Indian 4.2%, other 50.9%.
* CIA Factbook
Religious Demographics
According to the Pew Research Center, approximately 70% of Canadians identify as Christian, with nearly 24% identifying as unaffiliated. 2.1% of Canadians identify as Muslims, with 1.4% Hindus, 1.2% as folk religions, and 1% as Jews, as shown in the chart.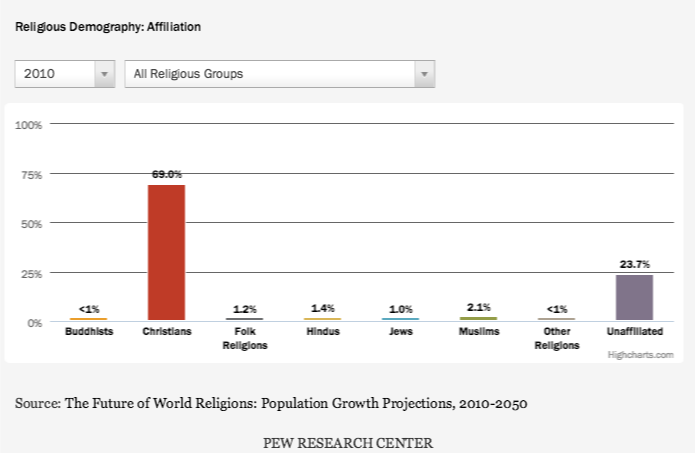 According to the Pew Research Center, out of a population of 34,020,000, Canada had 23,470,000 citizens that identified in as Christian in 2010, which is projected to climb to 24,730,000 in 2030. In 2010, 8,050,000 citizens identified as unaffiliated, with an expected growth to 9,760,000 in 2030. Finally, in the same years, 710,000 citizens identified as Muslim, with an expected growth to 1,400,000.
Conflict and Violence Related to Religion
According to the 2015 U.S. State Department International Religious Freedom Report, some social hostilities involving religion exist in Canada: Reports suggest there was an increase in activity against religious groups, in particular anti-Semitic and anti-Muslim activity, including incidents of vandalism at places of worship and on private property, hate speech, harassment, and violence against persons on the basis of their ethnicity and religion. Some of the incidents reported, and being investigated as hate crimes, included two youths attempting to remove forcibly a hijab from a woman in Montreal, as well as hateful graffiti sprayed on the walls of a synagogue and a Sikh temple in Edmonton.
Compared to tensions elsewhere, these are relatively limited. With a Pew Research Center social hostilities index score of 1.2, Canada has low social hostility against religious freedom, compare to a global mean of 2.4. Similarly, with a government restrictions index score of 1.2, Canada has low governmental restrictions on religious freedom, compared to a median score of 3.1.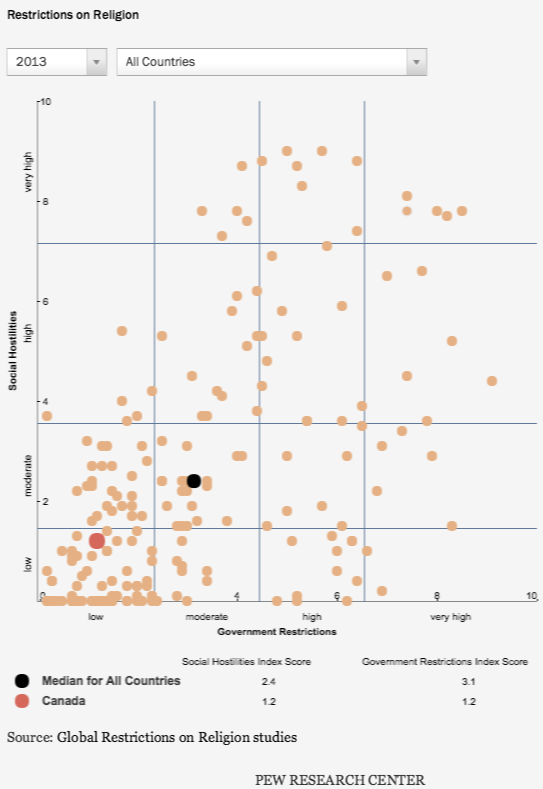 ---
More About Abdo El Tassi
§ Mr. El Tassi has helped and sponsored as many as 50 immigrants to Canada, including refugees from war-torn countries such as Vietnam and the Middle East.
§ He has acted as liaison for numerous immigrants and refugees seeking a new and better life in Canada.
§ One of his proudest moments came when he was instrumental in reuniting a mother with her two sons. At the request of then Secretary of State for External Affairs, the Honourable Joe Clark, Mr. El Tassi travelled to Lebanon and ensured the safe return of the boys to their mother by providing immediate financing for their trip after intervening with the family and gaining permission to bring the boys home to Winnipeg, Manitoba.
§ The Raza Family spent 18 months from August 2006 to February 2008 in Sanctuary at the Crescent Fort Rouge United Church to avoid deportation under fear of sectarian violence in Pakistan. Through the efforts of many in the community, the family achieved Permanent Resident Status. Wife and mother, Kausar Raza was accepted into the Manitoba's Provincial Nominee Program thanks to the efforts of Mr. El Tassi and came to work at Peerless Garments to help support her family.
§ In 2005, Mr. El Tassi was introduced to a young refugee from Iran. Alone in Canada with serious heart problems, she asked for help. Unable to go on Social Assistance because it could jeopardize sponsorship of her husband, she came to Mr. El Tassi in desperation and he responded immediately. Since 2005 he has continued to provide her with monthly support for basic necessities, food and shelter. This is an example of only one family, there have been numerous families over the years who have benefitted from Albert's generosity.
§ He has adopted as foster children numerous overseas children in both Afghanistan and Central America.
§ His sponsorship and financial support have enabled those he helps become productive and selfsupporting members of society. Many have gone from social assistance to business ownership – fully self-supporting members of the community.
§ Over the years, Mr. El Tassi has provided interest free loans totalling in excess of $1.7 million dollars to cover business start-ups, mortgages, university tuition etc. to help those in need to build a better life in Canada. Often the loans are "forgiven" in whole or in part keep business momentum going or to alleviate further hardship on the family.
§ Since 1975, he has generously donated to various Canadian charities such as UNICEF, the Sick Kids Foundation, SOS Children's Villages Canada, the Manitoba Islamic Association (MIA), many schools throughout Winnipeg, the Canadian Red Cross, Human Concern International, and the Canadian Diabetes Association, World of Vision, United Way and many others. Albert has always continued to give throughout his lifetime and as his success increases, so do his numerous contributions. In the last 5 years alone, Mr. El Tassi has donated in excess of 1.6 million dollars to Canadian charities.
§ When the Prime Minister's Office called after the December 26, 2004 Tsunami devastated Indonesia and Thailand, urging Mr. El Tassi to canvas the community for aid relief – he not only raised money from the community at large, he matched the total dollar value of the funds raised personally ($40,000.00) – which total was in turn matched by the Government of Canada.
§ After the Earthquake in Haiti in January 2010 – Mr. El Tassi personally contributed $22,000.00 to the Canadian Red Cross for aid relief, matching the total contributions of City of Winnipeg Councillors.
§ During the 2011 Drought in East Africa, Mr. El Tassi matched and donated dollar for dollar money raised within the community.
§ The Military Family Fund providing much needed support to the families of the Canadian Armed Forces has been the recipient of Mr. El Tassi's generous financial support. Due to the close relationships he has cultivated with the various branches of the Army, Navy and Air Force, it has been his honour and privilege to contribute to the Fund. He was the largest personal contributor to the Fund ($100,000.00) when approached by General Hillier for his help in starting up the fund, and continues to contribute to the fund annually.
§ The Military Family Resource Centre (MFRC) is also an annual recipient of Mr. El Tassi's support. It has been his privilege to be able to extend help and comfort to the families of the Armed Forces of Canada.
§ Mr. El Tassi as CEO and Director of Peerless Garments also supports the efforts of various projects for the Armed Forces – "Pillows for Troops", "Operation Santa" , the "Airport Lounge" service for armed forces personnel and many others.
§ As well, Winnipeg benefits from yearly donations to: St. Boniface Research Foundation ($200,000.00 towards the purchase of a High Speed CT Scanner), Health Sciences Centre Foundation, Children Hospital Foundation, Concordia Hospital Foundation, Islamic Social Services Association, The United Way of Winnipeg, University of Winnipeg Foundation, Winnipeg Symphony Orchestra and many others.
§ Programs in Winnipeg which focus on caring and feeding the needy and the hungry children of the community such as Winnipeg Harvest, Siloam Mission and Agape Table have all benefitted from Mr. El Tassi's support throughout the years.
§ In 2007 he personally pledged $100,000.00 to the Canadian Human Rights Museum being built in Winnipeg with Federal and private funding.
§ He continues to work within the community as a conciliator, a mentor to new entrepreneurs, and as a supporter of Muslim students in pursuit of a higher education.
§ Mr. El Tassi launched a Public Awareness Campaign highlighting the contributions of Muslims in Manitoba. A project funded by Manitoba Labour and Immigration, Citizenship and Immigration Canada's "Welcoming Communities Initiative". The objective is to promote and strengthen the participation of new immigrants and to foster a more inclusive and welcoming community for new immigrants.
§ He was one of the founders of the Islamic Social Services Association (ISSA) of Manitoba and has been active within ISSA in many capacities since 1975. His work was recognized and applauded by ISSA in December 2007 with a special award of appreciation for his contributions to the Muslim community.
§ One of the largest financial contributors ($75,000.00) towards the establishment of the Mosque of Thompson, Manitoba – the only Mosque outside the city of Winnipeg serving the Muslim community in the north of the province. He continues today to be a major supporter of this project.
§ He participates in a variety of discussions and projects centering on the welfare of children around the world, especially in war-torn countries. He provides support, both moral and financially, to the world-wide effort of Landmine removal from war torn countries. Mr. Tassi received a letter of appreciation from the President of Lebanon, recognizing his contributions to this cause.
§ In 1996 Mr. El Tassi was one of the founders and largest contributors of Alhijra Islamic School to meet the needs of the Islamic community in Winnipeg. Alhijra Islamic School is funded provincially and privately. Any shortfalls in funding are personally covered by Mr. El Tassi to keep the school operating at its maximum potential to provide the students with a quality education and an atmosphere conducive to learning.
§ In September 2004, the Alhijra Islamic School opened its doors to a new 20,000 square foot fully remodelled building to accommodate increased enrolment. The renovations cost $600,000.00 which Mr. El Tassi + Family contributed $550,00.00 In order to provide a modern, fully functional school for the children of the Islamic community from established Winnipeg families and the children of refugees who have come to Canada – no child is turned away. Mr. El Tassi's contributions continue to fund the many programs, scholarships and bursaries the school has available for its students.
§ Mr. El Tassi's relationship with the Embassy of Lebanon in Canada is greatly valued by both the Embassy and Mr. El Tassi. He is extremely proud to be Lebanese and is honoured to provide whatever services and support to Lebanon within his capacity.
§ In the 2006 War on Lebanon, he contributed heavily to both the Lebanese Red Cross and to Human Concern to provide medical aid, medicine and other support as needed in his home country. His commitment to his native country has never wavered. Over the last 30 years he has continued to support the Education in public schools and universities, Mosques, town needs, ie Hydro, etc. as well as recreational facilities.
Discussion Questions
1. In what ways can the experience of being an immigrant can be highly motivating – both for business and philanthropy?
2. Why might some immigrants become highly invested in the success of their newfound land and in others coming as immigrants, but others not?
3. In what ways is philanthropy and its priorities informed by the personal experiences of the philanthropist?
4. Why might some business philanthropists have wide-ranging interests in how to engage with their community?
---
Media and Added Resources
---
This case study was prepared by Melissa Grim, J.D., M.T.S., a senior research fellow with the Religious Freedom & Business Foundation, and Brian Grim, Ph.D., president of the foundation. It is made possible by a generous grant from the Templeton Religion Trust.