Let us know how we can help!
– Training on religiously inclusive & thriving workplaces
– Fortune 500 Insights | Research | Annual Conference
Across America and the world, companies are making employees feel free to bring their faiths and beliefs with them to work, creating more inclusive, productive and profitable environments. We'd love to work with your company in this exciting journey! This page gives a taste of the resources and information we have to help. Please be in touch!

Brian J. Grim, Ph.D.
– President and Founder
Paul W. Lambert, M.A.
– Senior Business Fellow and Trainer
Kent Johnson, J.D.
– Senior Corporate Advisor
Ambassador Dr. Susan Johnson Cook; Deborah Paul; Christy Anastas
– Trainers

The Religious Freedom & Business Foundation is the leading global authority on how faith-and-belief friendly workplaces contribute to business and economic success.
The Challenge
Many business leaders receive little to no education about the significance of religious equity, diversity and inclusion in the workplace and how it impacts the bottom line. It opens new market opportunities, increases employee morale and retention, and reduces lawsuits.
The Solution
Through our Executive Seminars, Training offerings, and Certification Program, developed by our expert faculty in consultation with top businesses, participants will learn how to increase the bottom line through faith-and-belief friendly policies and strategies.
Fortune 100 Companies Leading the Way
Something amazing is happening in American corporations. They're becoming more faith friendly. It's been decades in the making for some, like Texas Instruments, American Airlines, American Express, Intel and Tyson Foods. For others, like Salesforce, Google, Apple, Dell and facebook, it's new and rapidly growing. Learn more.
---
Religion is a National Asset
Religion annually contributes nearly $1.2 trillion of socio-economic value to the U.S. economy. It's more than the annual revenues of Apple, Amazon and Google combined. And it's also more than 50% larger than that of the annual global revenues of America's 6 largest oil and gas companies. Learn more.
---
The Business Case for Religious Freedom
Religious literacy — knowledge about how religion impacts the workplace and the marketplace, our coworkers and partners as well as our customers and clients is important. Data can help us with this. First, religion is not in decline. Demographers project that our planet will have 2.3 billion more religiously affiliated people by 2050 compared with just 0.1 billion more religiously unaffiliated people. That's like religion "winning" 23-to-1. What does this mean for business? Learn more.
---
Annual Faith@Work Conference
American Airlines and Tyson Foods sponsored the first annual national Faith@Work ERG conference in 2020. Join us in 2021 at the Busch School of Business in Washington DC for the second conference.
Keynote
Ellen Barker, Senior Vice President and CIO at Texas Instruments (TI), makes the case for how a faith-friendly workplace benefits business.
---
Comments from Corporate Sponsors
American Airlines
Corporate sponsor American Airlines shared their reactions on receiving the REDI Awards, and the pivotal role their faith-oriented Employee Business Resource Groups (EBRGs) play in the company's ethos of Caring for People on Life's Journey.
Tyson Foods
Corporate sponsor Tyson Foods, also top scorer on the Corporate Religious Equity, Diversity & Inclusion (REDI) Index, hires full-time chaplains to minister to the needs of employees of all faiths and beliefs. And, as we heard, that yields a real Return on Investment.
Insights from 2019 Conference at TI
With the Religious Freedom & Business Foundation, TI co-hosted the 2019 Faith@Work conference at their corporate HQ in Dallas.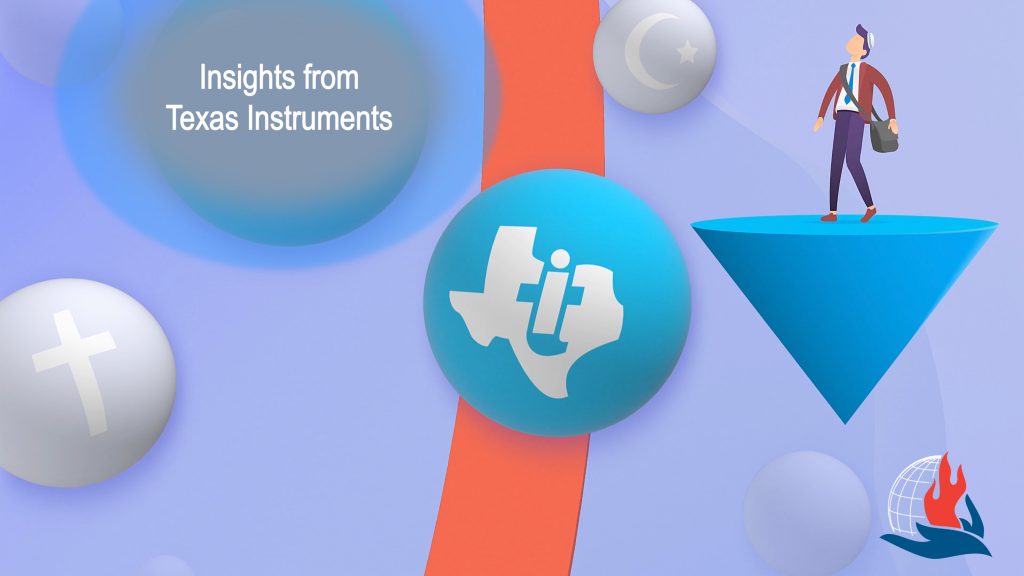 To keep updated on the latest news and information on religious freedom and business in the US and world, please sign up for our free newsletter.
---