An Interview between Brian Grim and Michael Feder
Brian Grim (BG), President of the Religious Freedom & Business Foundation, interviews Michael Feder (MF), Founder of PrayerSpark, the worlds first and only place designed for interfaith, real-time blessing and affirmation, with the aim of bringing this support to addiction recovery and stress management with clinical mobile apps.
BG: Michael, have a very interesting business background, ranging from working with Isaac Tigrett, founder of Hard Rock Café and House of Blues, to co-founding Waiting Room Theater, a media company providing content programming for over 3,000 dental offices in the United States. What are your current business initiatives?
MF:  I have devoted the 2nd act of my career to only working on projects with a strong charitable component, or a strong human wellness focus. I am involved in licensing with FameFarm.com, and work only with clients who have charitable focused initiatives. With the Liberace Foundation, the money went to scholarships in the visual and performing arts. With Tony Curtis, funds went to Shiloh Horse Rescue. I am currently helping a pet wellness group.  I am also on the board of a mobile health business, working to streamline virus approval technology. Of course, with PrayerSpark, my "main" job, we are trying to bring comfort to the vulnerable, and resources to the needy.
BG: Is there anything that ties such diverse business interests together?
MF:  As I mentioned, my goal is to be involved in social good companies. With PrayerSpark, we are able to do good on both sides of the transaction-  both for the people being prayed for, and for the Spiritual Leaders saying prayers, to whom we direct revenues.
BG: Say a little bit more about PrayerSpark. Do people really send prayers across the internet, and more importantly, do they get answered?
MF:  Yes! PrayerSpark is unique in that the recipient of prayer is not alerted until the Spiritual Leader actually says the prayer for him/her.
BG: While prayer is free, connecting prayer seekers with prayer warriors isn't. Do you think that the project is economically sustainable?
MF:  Our model is B2B.  We are a B2B SaaS (Software as a Service) company in the healthcare space, with key channel partners in place (Addiction Recovery and Hospice) for our clinical apps, and PTSD, Occupational Therapy, Corporate Stress Reduction, and more, coming soon. Uniquely, we are bringing interfaith and non-religious spiritual support, as well as stress reduction, and private communication silos, to these areas. Our clinical partners for our customer-branded apps pay us a branding fee, and a per-seat fee. These funds are the core revenue stream for the company.
http://www.lasvegasnow.com/news/new-app-to-offer-prayer-support-to-people-in-need
Killer team, MVP of site up, 2.0 build almost complete, apps to be deployed into silo partners in just 2 or 3 months. Key team members- myself, my co-founder Dr. Daniel Saurborn (Harvard-trained MD and leading telemedicine physician and app builder), Dr. Frank Kaufmann (Interfaith peace expert),  Christina Aldan (Head of Marketing and TEDx speaker), James Stoup (Chief Software Architect), Justin Holman (App development), and Mark Genest (designer).
Tackling the giant growing problem of addiction, and the 92% relapse rate, is a project that takes a village.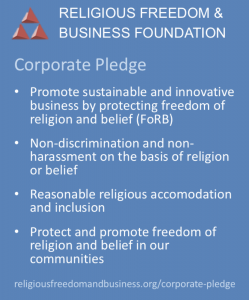 BG: You recently signed the corporate pledge on freedom of religion or belief. The pledge commits to promoting sustainable and innovative business through protecting freedom of religion or belief, practicing non-discrimination and non-harassment on the basis of religion or belief, practicing religious accommodation and inclusion, and protecting and promoting freedom of religion or belief in the broader community. What prompted you to sign the pledge?
MF:   Frankly, the pledge represents both our core business model, and our core personal beliefs. Signing the pledge is simply a public way of stating what is already going on over here at PrayerSpark.
BG: Being in the praying business, do you think the corporate pledge has a prayer getting widespread buy-in? For instance, do you know any other CEOs who would be willing to sign the pledge? What about Issac Tigrett as head of his new business, Bozo's Bar-B-Q, or maybe Hard Rock Café's current CEO, Hamish Dodds?
MF:  Isaac is in India, and no longer actively pursuing Bozo's. He has devoted his life now to his spirituality and spiritual beliefs, and he is writing a book. We are very fortunate to have Isaac involved in PrayerSpark, and I can tell you that the pledge totally represents what Isaac believes. And while I cannot speak for other corporate founders, I can say that the pledge is a beautiful thing, and that if I can in any way help to spread awareness, I'd be very honored to do so.
BG: Michael, thanks so much for spending a bit of time with us today.