Case study*
There is something delightfully different about Sunshine Nut Cashews — the story behind the nuts. As Founder & CEO, Don Larson says, "The Sunshine Approach™ is founded on the basis that companies can have profound positive impact on people's lives."
These cashews are transforming lives in Mozambique through bringing opportunity, dignity, and fairness to everyone beginning with the grower. The roasting facility in Mozambique allows them to deliver the freshest product while training and employing adult orphans.
Sunshine Nut profits are re-invested in Mozambican communities with a total of 90% of proceeds going to transformative initiatives. Of their proceeds, 30% goes to supporting farming communities through 'hand-up' assistance, 30% to caring for orphans and vulnerable children, and 30% to creating new food companies. Don and his team believe the Sunshine Approach™ Philosophy has the potential to do great things.
Don Larson tells the story in a new TEDx Talk. He says, "Find an idea that you're willing to die for…and then start to really live." After selling his possessions and moving to Mozambique to open a cashew company with a strong social mission, Don almost lost his life. The event galvanized him to be even more resolute in building a company that helps transform the lives of his workers and those in his community.
The Start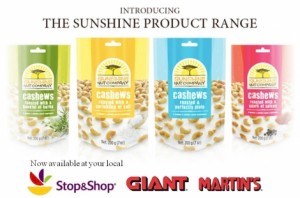 Sunshine Nut Company was founded in 2011 in Matola, Mozambique, where Don purchased a small existing factory. Over the next several months they renovated the factory and installed new roasting equipment.
In the fall of 2013, they held a job fair at one of the local children's center and hired our first production team. Many of the Sunshine Nut team members are adult orphans that grew up at the children's center. In February of 2014, after several years of preparation, they delivered their first ever batch of cashews to South Africa's Pick 'n' Pay stores.
In September 2014 Sunshine Nuts launched in the U.S. at Giant, Stop&Shop, and Martins. In December of 2014 they launched in Whole Foods in the Northeast, South, Midwest, South Pacific, and Rocky Mountain regions. Today, they are actively expanding, "spreading Sunshine all across our beautiful planet," as they say.
Why Mozambique?
At the time of independence in 1975, Mozambique was the leading cashew producing country. Cashew processing was a major industry and an employer for many. Independence was followed by sixteen years of violent civil war in which over one million lives were lost. To make matters worse, orchards were ravaged by rampant disease causing the industry to collapse, leaving thousands destitute.
Mozambique is ready to regain the status it once had. Sunshine Nut Company believes in Mozambique and is playing an active part in reestablishing the industry.
Founder & CEO Don Larson Traces Roots Back to Hershey
My first trip to Africa happened in 2004. I was then director of Cocoa Operations for The Hershey Company and one of the world's largest buyers of cocoa. Our trip focus was to survey the African bush of Ghana for cocoa purchasing potential.
As we sat in the airport lounge waiting for our flight home, a conversation which had started with a group of college graduates turned uncomfortable when they discovered that I was one of the largest cocoa buyers in the world. Looks of warmth and welcoming turned to looks of disgust as they remarked the people that were in poverty because of the prices Hershey was paying for the cocoa.
Wait a minute…we were buying all that cocoa from these poor farmers. Our company was providing income for millions of families. I thought I was part of the solution, not the problem.
This trip and conversation kept me unsettled because I believed we could create a better business model to eradicate poverty. It was not long before the idea was planted into my head to "build food factories in developing nations to bring lasting economic transformation".
At first I did not want to do it – certainly not Africa, and definitely not food processing. From 2005 to 2007, I built a cocoa processing plant for a group of private investors. It was a draining experience that left me determined to never work in the food industry again.
Somehow all of these seemingly big details did not matter – this was my calling and purpose.
In 2011 our family left our lifestyle of abundance and material wealth for one of purpose. We sold nearly everything we owned, our big house with a swimming pool, luxury cars, a hot air balloon, and moved to Africa. My wife Terri and our youngest son moved with us as we relocated away from our daughter in college and son in his last year of high school. I could not be more grateful to the support and sacrifice of my family. They have shared in the mission and been incredible companions on our remarkable journey.
The Sunshine Approach™ is founded on the basis that companies can have profound positive impact on people's lives. While at The Hershey Company, I was inspired by the company's commitment to caring for orphans. Milton Hershey opened a school for orphaned boys in 1909 and upon his passing in 1945 left his fortune to the school. The school has transitioned many children into a successful life, including my father-in-law who graduated 1955.
It is our objective to demonstrate a model that will successfully transform poor farming communities in a way that provides fairness, opportunity, and empowerment from within. We strive to bring people together around a vision that truly transforms communities.
The success of our company and the impact we create is all thanks to you! We appreciate the support of our fans and for believing that providing hope has never tasted so good! – Don Larson
* This and other case studies by the Religious Freedom & Business  Foundation do not imply an endorsement of any company profiled. The Religious Freedom & Business Foundation has no tie to any of the companies studied.