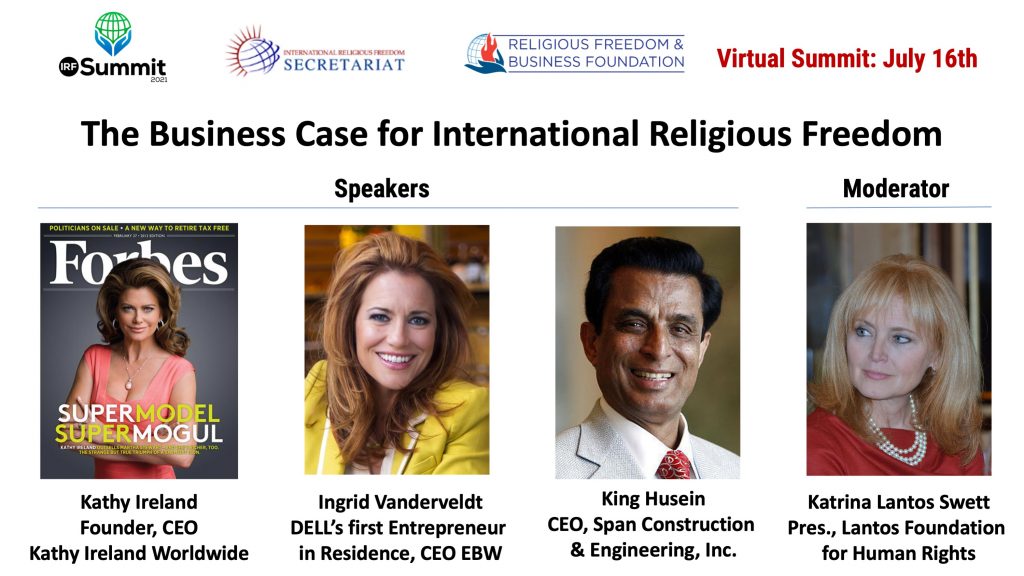 IMMEDIATE RELEASE: Washington DC
Three top business leaders will address the virtual IRF Summit on July 16th, in a plenary presentation. They will discuss how and why religious freedom is not only a benefit to business and economies, but also how business itself is a place where religious freedom is built as people from different faiths and beliefs work together for common goals.
The virtual IRF Summit is free and open to all. Registration is required.
This virtual event will have special panels exploring both the workings of IRF Roundtables and IRF Business Roundtables around the world as well as launch new global initiatives in support of freedom of religion or belief (FORB).
This event will also include selected sessions from the IRF Summit* that show how religious freedom is for everyone, everywhere, all the time, as stated in Article 18 of the UDHR.
Speakers include Kathy Ireland, Founder, CEO Kathy Ireland Worldwide; Ingrid Vanderveldt, DELL's first Entrepreneur in Residence, and CEO of EBW; and King Husein, CEO, Span Construction & Engineering, Inc. The discussion is moderated by Dr. Katrina Lantos Swett, President of the Lantos Foundation for Human Rights.

---
* The IRF Summit 2021 takes place July 13-15 in Washington, DC. The inaugural IRF Summit aims to expand the coalition for religious freedom in a wide variety of countries, connect resources with religious freedom advocates, highlight the stories of those who are persecuted for their beliefs, and build political support for the global religious freedom movement.