Brian J. Grim, Ph.D., President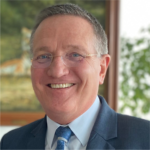 brian@religiousfreedomandbusiness.org
Brian is founding president of the Religious Freedom & Business Foundation and global chairman Dare to Overcome, a corporate diversity initiative that promotes mutual respect and engagement among differing groups in the workplace. Brian is the world's leading expert on the relationship between economic sustainability and freedom of religion or belief for all (including those without a religious faith).
Brian holds a doctorate in quantitative sociology from Penn State and is author of scores of academic articles and books. He is former chair of the World Economic Forum's global council on the role of faith and a speaker at Davos. Brian was previously a senior researcher and director of international data at the Pew Research Center in Washington, DC. He lived and worked in China, Central Asia, Europe, the Middle East and the former USSR, where he was instrumental in setting up the first western-style business school in the Soviet Union.
Brian's work centers on "building" religious freedom for all (including those without a religious faith) as opposed to advocating for religious freedom. Read what a builder's approach is here.
Brian's recent widely reported research finds that religion contributes $1.2 trillion to the U.S. economy annually, more than the combined revenues of the top 10 technology U.S. companies including Apple, Amazon and Google.
Brian is also global chairman of Dare to Overcome. Dare to Overcome's signature event is the Global Business & Intercultural Peace Award. Held first in Rio de Janeiro (2016) with the support of Brazilian President Michel Temer, followed by South Korea (2018) under UN Secretary-General Ban Ki-moon's patronage, Tokyo (2021) with former Japanese Prime Minister Yukio Hatoyama's active support, and Washington DC (2022) with American Airlines, the world's largest carrier, becoming our partner. In setting up the awards, Brian worked closely with the "Business for Peace" platform of the United Nations Global Compact.
Brian is a global expert on international religious demography and the socio-economic impact of restrictions on religious freedom. He is on the advisory board of Notre Dame University Law School's Religious Liberty Initiative and the advisory board for Brandeis University's Chaplaincy Innovation Lab.
He is also a research associate at Boston University's Institute on Culture, Religion & World Affairs (CURA) and a Non-Resident Scholar at the Institute for the Studies of Religion (ISR) at Baylor University. Brian was previously an advisor for the religion & geopolitics project of the Tony Blair Faith Foundation and an associate scholar at the Religious Liberty Project at Georgetown University. He was a speaker at the first-ever TEDx event at the Vatican.
Prior to becoming the Foundation's founding president in 2014, Brian directed the largest social science effort to collect and analyze global data on religion at the Pew Research Center. His books include The Price of Freedom Denied (Cambridge Univ. Press), The World Religion Database (Brill), The World's Religions in Figures (Wiley) and The Yearbook of International Religious Demography (Brill).
He and his wife, Julia Beth, are co-authors of Grims' New Fairy Tales of Love Overcoming Evil, parents of four and grandparents of 16.
Brian has appeared as an expert on global religion on numerous media outlets, including CNN, BBC, Fox, CBS, C-SPAN, and regularly presents to high level audiences throughout the world including the White House, State Department, European Parliament, the Vatican, and various the United Nations bodies including the Human Rights Council, and the UN Alliance of Civilizations and the UN Global Compact.
Brian is recipient of many academic and civic awards, including:
– 2018 World Peace Award
– 2017 Korean Peninsula Peace Prize
– 2017 Pontifical University Religious Freedom Award
– 2016 Distinguished Article Award from the American Sociological Association
– 2016 Religious Freedom Award, from the North American Religious Liberty Association
– 2012 European Population Association Research Award
– 2010 World Association for Public Opinion Research outstanding research article award
– 2009 Distinguished Article Award from the American Sociological Association
Selected Media
Personal Reflection on Supporting Workplaces That Welcome All Faiths & Beliefs
Corporate Religious Equity, Diversity & Inclusion (REDI) Index 2020
Faith & Recovery
Award-winning video on Economic Value of Religion to U.S. society ($1.2 trillion/year)
The Business Case for Religious Diversity & Inclusion
TEDx Talk on Global Restrictions on Religious Freedom
Comments on purpose of the Global Business & Interfaith Peace Awards
Interview on connection between religious freedom and business