Corporate America is including religion in diversity, equity and inclusion (DEI) initiatives through faith-oriented Employee Resource Groups (ERGs)
By Greg Clark
For many years, Corporate America's DEI initiatives have mostly focused on race, gender or sexual orientation, but that is changing because for many their core identity (who they really are) is rooted in their faith.
Understanding the business imperative of allowing people to bring their "whole selves" to work, including their faith, has led America's best companies to expand their DEI initiatives to include faith-oriented ERGs and other faith-friendly initiatives. Such companies include American Airlines, American Express, Texas Instruments, Intel, Target, Tyson Foods, Google, Apple, Salesforce, Accenture, PayPal and Walmart.
The rationale for fostering these faith-oriented ERGs is summarized by an Intel executive: it positively impacts the three "Rs" of business: recruiting, retention and revenue – the ability to attract and retain diverse talent, get that talent fully engaged, which leads to enhanced innovation & productivity.
As companies globalize, having employees who understand how faith and belief are manifest in private and public life helps avoid costly missteps and helps better tailor products and services to customer needs, which is core to being competitive in a global economy where religious populations are outgrowing nonreligious populations 23-to-1, according to Pew Research.
To be competitive in today's and tomorrow's marketplaces, companies need tap into the full identity, strength and potential of their employees by including religion as a full-fledged part of their DEI commitments.
---
To learn more, join us for the 2nd National Faith@Work ERG Conference!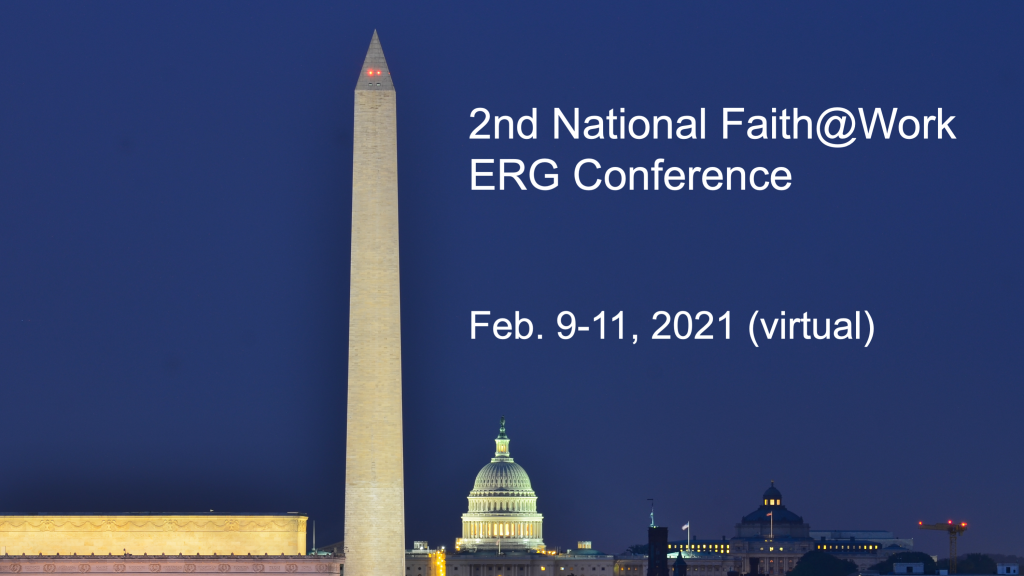 Join us Feb. 9-11, 2021, as we bring together representatives of Fortune 500 companies who are members of faith-and-belief employees resource groups (ERGs). The conference supports the growing movement of top companies that are making their workplaces religiously inclusive.
It also is a national convening point for workplace chaplain and those interested in ethics and technology/AI.
The Faith@Work ERG Conference hosted by the Religious Freedom & Business Foundation and the Busch School of Business at The Catholic University of America in Washington, DC, will be live, but held virtually.
The 2021 Faith@Work program is being continually updated and builds on the 2020 Faith@Work conference at Catholic University's Busch School of Business in Washington, DC, cosponsored by American Airlines and Tyson Foods, and the 2019 Faith@Work conference at the corporate HQ of Texas Instruments in Dallas, TX, all cosponsored with the Religious Freedom & Business Foundation.
Save 25% using the Early Bird registration code: EB2020