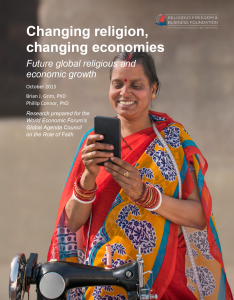 IMMEDIATE RELEASE – October 21, 2015
---
Religious populations are projected to outgrow religiously unaffiliated populations worldwide by a factor of 23 between 2010 and 2050. This will increase religious diversity and alter the distribution of wealth, according to new study by the Religious Freedom & Business Foundation, Changing religion, changing economies.*
This growing religious diversity can be an economic strength if national and business leaders promote interfaith understanding, protect minority groups' human rights, and advance freedom of religion or belief, thereby ensuring sustainable and peaceful development for all.
Among the report's main finds are that the rising economic fortunes of Hindus and the rising numbers of Muslims in particular will produce a more economically and religiously diverse planet, while the relative position of Christian populations will be weakened overall.
At the same time the growth of the global religiously unaffiliated population is slowing at a much faster rate than global population growth although their economic growth is expected to track global trends in the years ahead. Although population growth among Buddhists is expected to stagnate, economic growth is also expected to be on par with global economic growth, largely due to China's economic rise where half of all Buddhists live and two-thirds of all religiously unaffiliated people live.
Economic growth among the global Jewish population is expected to increase, but be significantly less than economic growth in the world as a whole as Jewish population growth is slowing more quickly than the world as a whole.
The number of people belonging to other religions in the world is expected to grow by about 30 million people between 2010 and 2050 but decrease as a share of the world's population. The largest share of the world's other religious populations lived in the Asia-Pacific region (notably China). Despite its slow population growth, economic growth among these faiths is expected to outpace global economic growth, largely due to China's projected economic growth.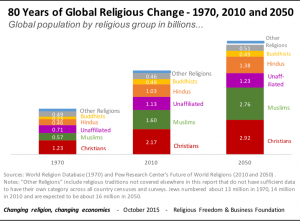 * Changing religion, changing economies – authored by Brian Grim and Phillip Connor – is part of a "toolkit" being developed by members of the Global Agenda Council on the Role of Faith to increase "religious literacy" in our complex world.
The study provides insights into the global marketplace's growing religious diversity by linking the best available demographic and economic data from sources including the Pew Research Center, the World Religion Database, the International Monetary Fund, the OECD, the United Nations, and various country-specific census and survey datasets.
It is important to note that the study does not aim to provide a direct causal link between religious behavior and economic practices. Instead, it seeks to connect selfidentified religious affiliation with economic environments around the world. In this way, religion and religious change is neither analyzed as a causal force leading to economic change nor is economic change analyzed as a causal force in religious change. Instead, the analysis provides a global perspective of how the relative size and economic power of religious groups occur today and how these dynamics are expected to change in the near- and long-term future.
---
Economic Growth Among Hindu Populations
Hindu populations are expected to experience the sharpest increase in economic strength of all major faith groups between 2010 and 2020, based on a global analysis of census and survey data. Though economic forecasts to 2050 are notoriously weak, those that exists from the Organization of Co-operation and Economic Development (OECD) see this trend continuing.
The economic gains for Hindu populations are largely driven by the rising fortunes of India. Yet Hindus in the United States also contribute significantly to the global economic resources available to Hindus, according to the study. For instance, the size of the Hindu-American population has nearly doubled since 2008 to more than 2 million, according to Pew Research, and on average, they are among the wealthiest Americans.
The economic power of Hindus and other Indians was on display during Indian Prime Minister Narend Modi's recent visit to California's Silicon Valley, where he was met not only by CEOs such as Microsoft's Satya Nadella and Adobe's Shantanu Narayen – both Hindus – but also by an Indian diaspora that filled an 18,000-seat stadium. And next month during Modi's visit to the UK, he is expected to fill Wembley, the country's largest soccer stadium with some of the 1.5 million million people of Indian origin in the UK.
Previously, Modi – a Hindu nationalist – was banned from even entering the United States due to alleged complicity in anti-Muslim riots in Gujarat, India's westernmost state directly south of Sindh, Pakistan. And all eyes are on how he will manage India's economy, a question that has a direct bearing on the global fortunes of Muslims.
Muslim Populations
Globally, economic growth among the Muslim population is expected to significantly outpace global economic growth, in large part because the number of Muslims in the world is expected to nearly double between 2010 and 2050. Indeed, Muslims are expected to lead the world in population growth compared with other religious groups, despite global trends among Muslim populations for lower fertility. For instance, in Iran today, the total fertility rate has dropped below replacement level of 2.1 children per woman.
The largest share of the world's Muslims lived in the Asia-Pacific region as of 2010 and will continue to live in this region in the decades ahead, making this region the engine of economic growth for Muslim populations.
To some extent, a part of global Muslim economic advance will also ride on India's economic coattails. India is expected to have the world's largest Muslim population by 2050, surpassing Indonesia. This, along with the growing economies of countries like Indonesia, will make Asia the Muslim world's center of economic power. The study finds that more than half of the economic influence associated with Muslim populations will come from the Asia-Pacific region in the decades ahead.
Other Populations
Aside from Hindu and Muslim populations, the demographic and economic forecasts for other large religious blocks is mixed.
Christian populations are expected to increase in size and economic power, but slower than the demographic and economic growth of the world as a whole. This is in part because the growth of the global Christian population is projected to be about the same rate as overall global population growth between 2010-2050. And much of the growth of Christianity will occur in Africa, which is projected to grow economically, but not commensurate with the demographic growth. Half of the world's demographic growth will occur in Africa, but a significantly smaller share of the world's economic growth will occur there.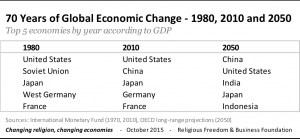 By 2050, only one of the five leading economies is projected to have a majority Christian population – the United States. The other mega economies in 2050 are projected to include, as mentioned, India (Hindu majority), as well as Indonesia (Muslim majority), and China and Japan countries with high levels of religious diversity.
China
China's religious landscape, in particular, present a clear picture of the importance of successfully navigating religious diversity. Aside from India, China has more religious believers than any other country – some 600 million.
Almost one-in-two people in China follow a faith. This includes about 300 million practicing folk religions, 244 million separately following Buddhism (half of all on the planet), 68 million Christians (the world's seventh-largest population), and approximately 25 million Muslims, constitute the world's 17th largest Muslim population, right after Saudi Arabia and before Yemen. Certainly, China's economic success would not have been possible had the country kept religion and other forms of identity completely suppressed. And its future success requires the un-coerced buy-in of all these groups.
The globe's growing religious diversity might be one of the 21st century's most important developments, especially as it is backed up by growing and shifting wealth. This could be very good for innovation and sustainable development – if accompanied by increases in human rights and interfaith understanding.
If not, social hostilities involving religion ranging from discrimination and hate crimes to terrorism and conflict may continue to rise, as documented by an ongoing Pew Research study.