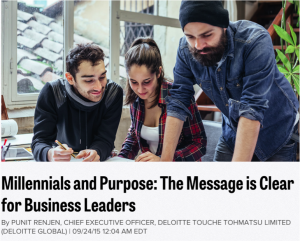 New survey results described by Punit Renjen, CEO of Deloitte Global, find that Millennials are motivated by purpose-driven leadership, not just financial success.
Renjen notes that in addition to all things digital, Millennials want to see social justice, the environment protected, and work and personal lives balanced. To gain a better understanding of Millennials' goals and aspirations and learn more about their views on business, leadership and their own careers, Deloitte began surveying Millennials annually four years ago. According to Deloitte's 2015 survey of more than 7,800 Millennials in 29 countries, "the majority believe that business needs to reset its purpose – 75 percent say businesses are too focused on their own agendas and not focused enough on improving society."
In order to engage Millennial talent, businesses that equate purpose with business excellence are best positioned to get the brightest and most energetic of the next generation.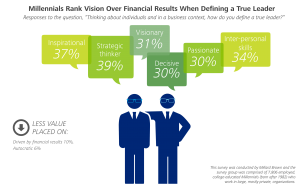 The survey found that "60% of the Millennials surveyed say a "sense of purpose" is part of the reason they chose to work for their current employer. Among the "super-connected" Millennials – those who are relatively major users of social networking tools – that number increases to 77 percent, compared to just 46 percent of those who are the least connected. And, in businesses where Millennials say there is a strong sense of purpose, there is significantly greater financial and recruitment success and higher employee satisfaction."
Renjen concludes: "The bottom line is that Millennials have strong opinions that will influence how we develop our business strategies and define and articulate our organization's core purpose. For Millennials, conducting business with a purpose that goes beyond making profits is critically important in determining the kind of company they want to work for – and the kind of company with whom they are willing to do business."