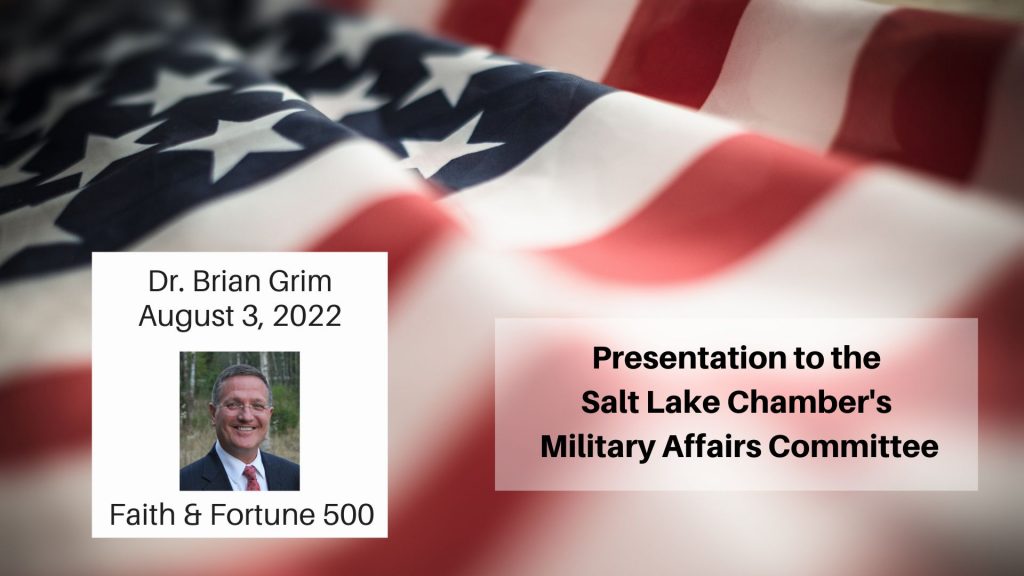 On August 3, 2022, Brian Grim shared with the Salt Lake Chamber Military Affairs Committee* about the faith-and-belief-friendly movement among Fortune 500 companies and how veterans are playing a part in the movement.
Grim's examples included how a former US Army command chaplain, Karen Diefendorf, became chief of chaplains at Tyson Foods (see more).
Grim also shared how the 16th Chaplain of the US Marine Corps, Rev. Dr. Alan T. "Blues" Baker, Rear Admiral (ret.), U.S. Navy, has started the corporate chaplaincy initiative ChaplainCare with retired military chaplains. Their aim is to help corporations provide the same quality of spiritual care for their members as the military does.
Grim also shared about a panel discussion he moderated with Senator James Lankford (R-OK) & Senator Chris Coons (D-DE) on why businesses should include religion as part of their diversity initiatives. (Hint: It involved a major global corporation first taking the step to include veterans as part of their diversity initiative.)
Grim began the presentation with a summary of Google's journey to religious inclusion, spotlighting their groundbreaking video introducing their Inter Belief Network (IBN).
---
* The Salt Lake Chamber Military Affairs Committee focuses on building relationships between military installation units and businesses by increasing awareness through monthly briefings and tours. The committee began in 1999. It was started because it was recognized that the Top Of Utah MAC usually provided support to the Active duty units at Hill AFB, but no one was really assisting the Reserve and Guard units located in Salt Lake City area.