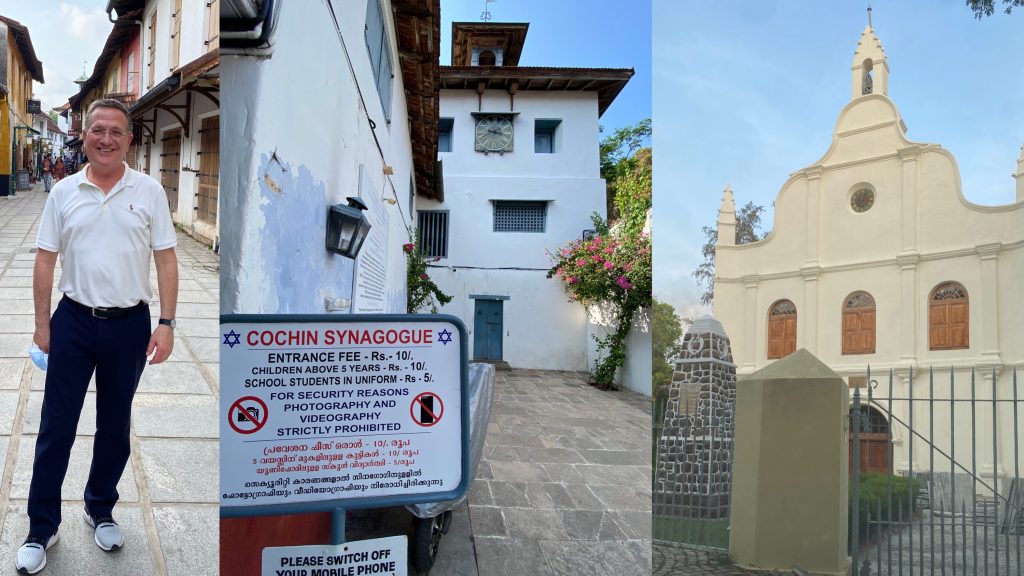 by Brian Grim
I'm in the final three days of my 18-day trip to India, preparing for Dare to Overcome 2023, which will be held in New Delhi in tandem with the G20 meetings hosted by India.
Yesterday I visited Kochi, Kerala, on India's southwest coast. I visited the Paradesi Synagogue, which was established hundreds of years before, and shares a wall with a Hindu temple. In fact, some Jewish communities in India trace their lineage back to the time of King Solomon. Kochi is also where the Apostle Thomas came soon after the time of Christ in outreach to these Jewish communities. Indeed, the synagogue is very close to several of the most important Catholic churches in Kerala, with communities dating back to the time of Christ.
A recent Pew Research Center survey found that most people (84%) say that to be "truly Indian," it is very important to respect all religions (see chart). Indians also are united in the view that respecting other religions is a very important part of what it means to be a member of their own religious community (80%). People in all six major religious groups overwhelmingly say they are very free to practice their faiths, and vast majority (91%) say that people of other faiths also are very free to practice their own religion.
Seeing the ancient heritage of such communities in India, helps understand the findings from a recent Pew Research Center poll (see below), which found that a number of religious beliefs and practices are share across religious groups in India.