Studies demonstrate that employees who can bring their "whole selves" to the workplace perform better in many bottom line key indicator areas. Bringing one's whole self includes religious identity. Many companies, however, are struggling to navigate religion and beliefs at work.
In fact, 36 percent of American workers — approximately 50 million people — have experienced or witnessed religious discrimination in the workplace, with religious majorities, minorities and non-religious employees all reporting this experience. This has direct impact on employee and company performance. Additionally, while companies have rightly paid significant attention to discrimination on the basis of sexual orientation, workplace religious discrimination complaints to the Equal Employment Opportunity Commission (EEOC) outnumber sexual orientation complaints two-to-one.
Addressing religion and belief in the workplace is the next big focus. Join us Wednesday, Feb. 13 for an in-depth discussion of workplace religion and beliefs and an introduction to resources to help organizations large and small design successful policies and procedures for honoring religion in the workplace.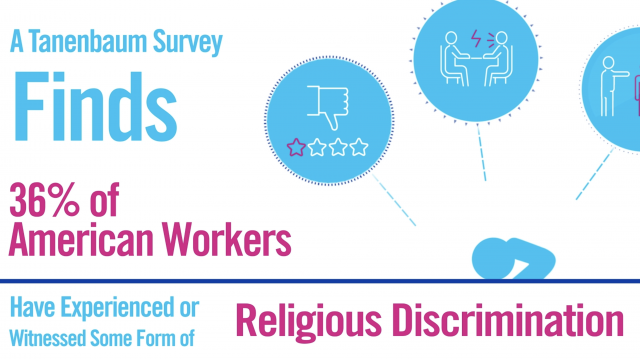 Business Success in a Religiously Diverse World: Corporate Religious Diversity and Inclusion Training
This panel discussion will include top business leaders speaking in support of workplace religious diversity and inclusion (RDI). Leaders will provide a business case for why RDI helps bottom lines and outline best practices being implemented in workplaces to facilitate religious expression and engagement at work.
Panelists:
Sumreen Ahmad, global change management lead and interfaith lead, Accenture
Mark E. Fowler, deputy CEO, Tanenbaum
Kent Johnson, senior corporate advisor of the Religious Freedom & Business Foundation (RFBF) and former senior counsel at Texas Instruments
Paul Lambert, assistant dean, McDonough School of Business, Georgetown University
Olivia Lang, director of Workforce Initiatives for CVS Health
Moderator: Dr. Brian Grim, president, Religious Freedom & Business Foundation
The program will also feature the soft launch of the Corporate Religious Diversity Assessment, an internal, qualitative assessment tool created in partnership by Tanenbaum and the RFBF. Until now, there has been no public tool for companies to specifically measure the success of their diversity, equity and inclusion efforts as they relate to religion. Inspired by the framework of the RFBF's Corporate Pledge, the CRDA provides a solid framework for businesses and organizations to evaluate their religious DEI efforts on a global scale, and then identify and initiate next steps in their DEI journey.
9 a.m.–12 p.m.
Knight TV Studio
Newseum
555 Pennsylvania Ave., N.W.
Washington, D.C. 20001
Register
---
Business Case for Workplace religious D&I