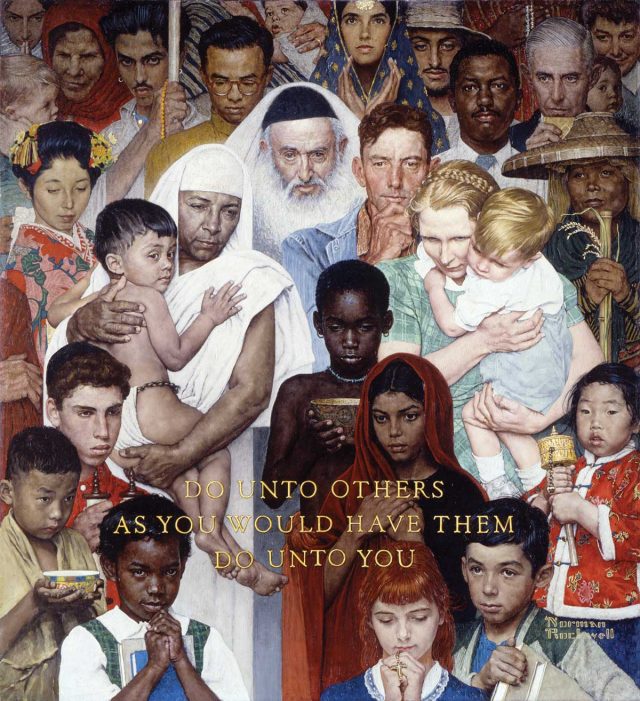 by Brian Grim
What's Thanksgiving got to do with religious freedom? For Americans, they recall the story of Pilgrim's escaping persecution and surviving the first harsh winter thanks to Native Americans. In what seemed like a desolation, the Pilgrims experienced a great consolation as the indigenous people put the Golden Rule to practice, "Do unto others as you would have them do unto you."
This Thursday, my wife and I mark Thanksgiving day at a lunch in Tokyo with people of different faiths discussing how to advance religious freedom in Asia and the world. This seems quite an appropriate way to spend the day, because looking back on my own work this past year there are many reasons for gratitude.
In religious freedom work, where stories of persecution tend to be the default narrative, I truly believe that by focusing on the good that is being done is critical to seeing the hand of God at work. In that spirit, meet some of the people I have the honor to work with worldwide who make gratitude an important part of religious freedom advocacy:
---
Netherlands
Mr. Mark Woerde, Founder Havas Lemz and LetsHeal.org, believes he can make the world a better place through advertising. This year his team advanced interfaith understanding and peace in a global campaign featuring the world's most prominent religious leaders – from Pope Francis to Ayatollahs, Chief Rabbis and Hindu Swamis – making a joint appeal to "Make Friends Across Religions." Mark with his team received a gold medal at the 2018 Global Business & Interfaith Peace Awards for this work.
---
Dallas, Texas
We welcome Kent Johnson as RFBF's Senior Corporate Advisor. Read Kent's interview "How to Help Employees Engage with Passion," with Bill Fox, Co-founder at Exploring Forward-Thinking Workplaces, and see link below for the recent event he led in Dallas. Kent Johnson says that if companies truly want to unleash employee passion and energy in the workplace, then we must allow people to work in accordance with their deeply held beliefs.
---
Manchester, U.K.
Hinna Parvez Maluch, RFBF's coordinator in Manchester, U.K., reaches out to refugees and asylum seekers to facilitate an interfaith initiative helping people apply faith as part of attaining job search skills. The latest course was delivered to a group of participants at the Cornerstone Day Centre for Refugees, a project of Caritas of the Catholic diocese of Salford. The group comprised of Catholic and Muslim participants. The group was coordinated by Amir Raki (Caritas staff) and Hinna Maluch (RFBF's Empowerment+ Coordinator), and facilitated by a couple from The Church of Jesus Christ of Latter-day Saints, Alan and Janeth Dudley.
---
Hollywood, CA
Shirin Taber is Iranian-American and the author of Muslims Next Door (Zondervan) and Wanting All the Right Things (Relevant). The Los Angeles Times, Detroit Free Press, Fox News Christianity Today and NewYorkTimes.com have featured her writing and work among Muslims and Christians alike. She served with Cru, Inspirational Films and the Christian Broadcasting Network. Shirin is passionate about helping women become world-class leaders by creating media for their mission. Partnering with various United Nations, NGOs and faith-based agencies, she helps leaders develop media strategies to expand their visibility and outreach platforms. She is coordinating the film competition in partnership with RFBF.
Washington, DC
Paul Lambert serves as Secretary/Treasurer and Senior Business Fellow at the Religious Freedom & Business Foundation. He is helping to develop the foundation's in-company and campus-based executive education seminars on religious diversity & inclusion in the workplace. He has been spearheading this joint training initiative with the Religious Freedom Center of the Freedom Forum Institute, including meeting with companies and producing training materials like the video below.
---
Davos, World Economic Forum
What 
faith-based narratives have the potential to emphasize the value of pluralism while promoting a sense of belonging and unity?
---
This session was live-streamed from Davos on Jan. 26, 2018, as part of the formal program of the 2018 annual meeting of the World Economic Forum. It is available on TopLink and the Forum website.
---
Start of Paralympic Games, South Korea
The 2018 Global Business & Interfaith Peace Awards were presented at a ceremony held at the Grand Hilton Hotel in Seoul. This is the second Global Business & Interfaith Peace Awards. The inaugural awards were given the day before the opening of the Rio Paralympics in 2016. The 2018 Awardees and Symposium delegates held high level meetings at the Korean National Assembly (Parliament), the Presidential Blue House, and with the Mayor of Seoul. Delegates from the conference were also welcomed by senior politicians at the Korean National Assembly, where RFBF President Brian Grim was awarded the Main Prize at the World Peace Prize Ceremony.
---
Philadelphia, PA
In April of this year, RFBF Board member, Chris Seiple, wrote a short piece for the World Economic Forum about how faithful patriotism helps defeat religious nationalism. This article led to an October invitation from Philadelphia's Foreign Policy Research Institute to give the 22nd Annual Templeton Lecture on Religion and World Affairs. Chris has been doing a lot of thinking about beyond the diversity of side-by-side tolerance, to a mutually respectful engagement of each other, rooted in liberty of conscience.