by Brian Grim
May 4, Washington, DC: Who can imagine Corporate America pausing today for the U.S. National Day of Prayer? After all, the business of America is business. And yet, a major food supplier – one of Fortune's "Most Admired Companies" in 2017, employing more than 100,000 in the U.S. – does just that as a matter of course.
Tyson Foods, one of the world's largest food companies and a recognized leader in protein, employs a force of 98 dedicated chaplains to provide compassionate pastoral care to their workforce and their families, no matter what their religious affiliation or beliefs might be. This includes prayer, not just on the National Day set aside for it, but when people face issues of life that a spiritual perspective can help address.
U.S. law requires the President to issue annually a proclamation designating the first Thursday in May as a National Day of Prayer. The law envisions prayers in places of worship, in groups and by individuals, but it makes no mention of prayers in the workplace. In fact, the non-profit National Day of Prayer Task Force's guidance on the matter is to pray for business, apparently not expecting businesses to join in.
Including and recognizing faith is part of other diversity and inclusion commitments. In 2017, Tom Hayes, President and CEO of Tyson Foods, Inc., also joined the CEO Action for Diversity & Inclusion group of more than 250 CEOs. "As part of our core values, we strive to treat each other with dignity and respect every day," said Hayes. "Signing this pledge is another visible demonstration of our ongoing commitment to fostering a culture of diversity and inclusion, which we believe makes us a stronger, better team."
Many Companies Engaging
Tyson Foods isn't the only major global company adding religion as part of diversity and inclusion programs. Recently, EY created an online program, Religious Literacy for Organizations, winning EY UK Chairman Steve Varley a Global Business & Interfaith Peace Award at a March 2018 gala keynoted by former UN Secretary-General Ban Ki-moon, with the collaboration of the UN Global Compact.
Bloomberg, DTCC and The Walt Disney Company are sponsoring the 3rd Annual Tanenbaum Religious Diversity Leadership Summit on May 10 at Bloomberg headquarters in New York. At the summit I will discuss the global traction of the Corporate Pledge on Religious Diversity & Inclusion, which has a growing number of signatories including the CEOs of Hyundai Elevator, Berkshire Capital, The Edmond de Rothschild Foundations, Yuhan-Kimberly and the Mizan Group, Indonesia's largest Muslim publisher.
Such corporate diversity and inclusion initiatives are tapping into a couple of current trends. First, workplace religious diversity is increasing as people have more job mobility. Second, religious switching in the United States and elsewhere has increased the number of people who identify as spiritual but not religious. Within this increasingly fluid religious marketplace, it is natural that the workplace becomes part of the environment where religious identities are lived and shaped, especially because that is where so many of us spend so much time.
Underlying religious diversity and inclusion initiatives is the need for freedom of religion and belief in the workplace. Workplaces adopting these values send two clear messages to current and prospective employees: (1) you can work here without changing who you are; and (2) the company respects all employees and will not discriminate on the basis of religion or belief. And that's good for the business of all.
Religion Animates Business People
Religion, not just religious diversity and inclusion, also animates business leaders. Next week, at the annual Horasis Global Meeting of business and world leaders, five CEOs will share with their peers how their faith inspires and animates their work in business. And faith is a consistent topic at the annual World Economic Forum meeting in Davos, ranging from special sessions on the power of faith to informal events like the Davos Shabbat initiated by the late Israeli President and Prime Minister Shimon Peres.
We live in a world where religious populations will dramatically outgrow religiously unaffiliated populations. According to the Pew Research Center, the global religiously affiliated population is projected to grow by 2.3 billion between 2015 and 2060 compared with almost no growth in the religiously unaffiliated population (less than 0.1 billion). This is more than a 23-fold difference in favor of religious populations.
Given these workplace, religious and demographic trends, it will not be surprising if more companies join in the National Day of Prayer in 2019.
---
More on the Tyson Foods Chaplaincy
Related: Tyson Foods Appoints Karen Diefendorf as Director of Chaplain Services. Karen is a former military chaplain with more than 33 years of experience in ministry has been named director of chaplain services at Tyson Foods. Full press release. See video on Tyson Foods' Chaplaincy program below.
---
Exec Ed: Workplace Religious Freedom
If your business or organization wants training on successfully navigating religious diversity and inclusion in the workplace, please contact Brian Grim, RFBF President.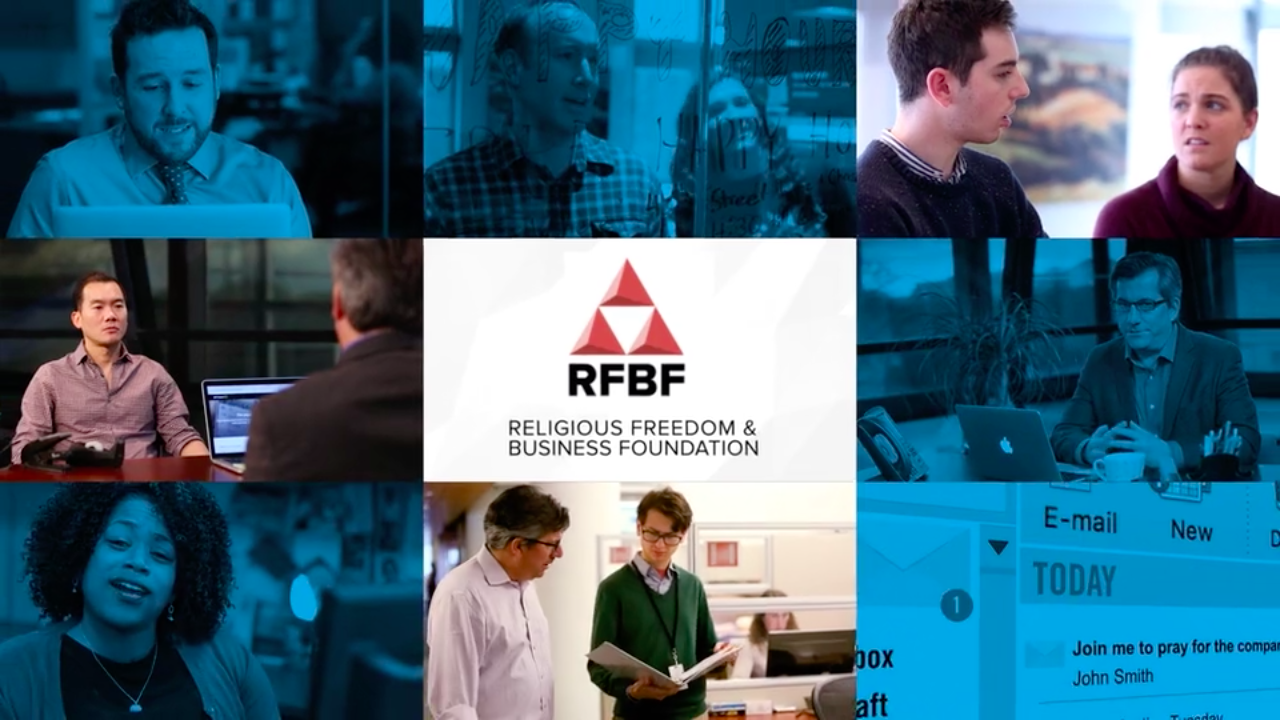 ---
---