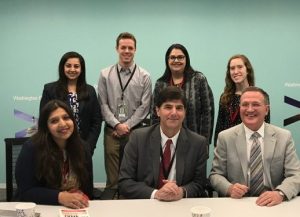 by Brian Grim
Over the past month I've had the opportunity to participate in a nation-wide webinar for Accenture employees on the case for being able to bring your whole self, faith and all, to work. Also, together with the Religious Freedom Center of the Newseum Institute, we provide in-house training for Accenture managers in New York.
Nationwide Webinar: "Religious Literacy 101 – What does it mean to have an accommodation mindset"
Date/Time April 20th, 2018 – 11am -12pm EST, Conducted via Skype Meeting
Speakers:
In-House Training
The Religious Freedom & Business Foundation and the Religious Freedom Center of the Newseum Institute jointly provided a half-day training at Accenture's NYC HQ for managers and executives.
Participants became religiously literate, that is, they become conversant about how religion impacts the workplace and the marketplace, their coworkers and partners as well as customers and clients.
Participants gained an understanding of the empirical evidence on the value that religious liberty, religious diversity, and religious inclusion and their roles in business strategy, corporate policy and economic growth.
This training provided Accenture managers frameworks that will help them lead effectively in a world of growing religious diversity.
The curriculum was grounded in the Religious Freedom & Business Foundation's Corporate Pledge on Religious Diversity & Inclusion. As companies employ this framework, they send two clear messages to current and prospective employees: (1) you can work here without changing who you are; and (2) the company respects all employees and will not favor certain employees over others, and that's good for the business of all.