---
United Religions Initiative's (URI) Executive Director, The Rev. Victor H. Kazanjian, Jr., and Religious Freedom & Business Foundation's  (RFBF) President, Brian Grim, have signed a memorandum of understanding to work together to strengthen each organization's efforts to create cultures of peace through interfaith cooperation and understanding. The two organizations were introduced by Ambassador Mussie Hailu, URI Global Envoy, Continental Director for URI-Africa and URI Representative to the United Nations.
With U.S. offices in San Francisco, California, URI is the largest grassroots interfaith peacebuilding network in the world, cultivating peace and justice by engaging people to bridge religious and cultural differences and work together for the good of their communities and the world. URI implements its mission through local and global initiatives that build the capacity of its member groups (called Cooperation Circles) in 104 countries to engage in community action such as conflict resolution and reconciliation, environmental sustainability, education, women's empowerment, youth leadership  programs, and advocacy for human rights.
Headquartered in Annapolis, Maryland, RFBF educates the global business community about how religious freedom is good for business and engages the business community in joining forces with government and non-government organizations in promoting respect for freedom of religion or belief. RFBF envisions a global future of innovative and sustainable economies, where freedom of religion or belief and diversity are respected. It accomplishes its work through its Empowerment Plus initiative, research, global awards, world forums, and education on how freedom of religion or belief is in the strategic interests of businesses and societies.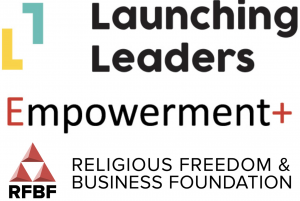 URI and RFBF will initiate their combined efforts by rolling out Empowerment Plus in conjunction with Launching Leaders Worldwide in URI's East Africa Region under the leadership of URI's Mussie Hailu. Empowerment Plus is an interfaith action program teaching young adults how to apply spiritual principles in their personal and professional lives, helping them develop a faith-centered framework with a focus on giving back. The interfaith Launching Leaders course is the cornerstone of Empowerment Plus. The course is packed with state-of-the-art videos and interactive exercises that help young adults answer important life questions and make plans for their lives. As an integral part of Empowerment Plus, young adults from different faith groups partner together to carry out practical interfaith action projects ranging from jobs programs to service projects.