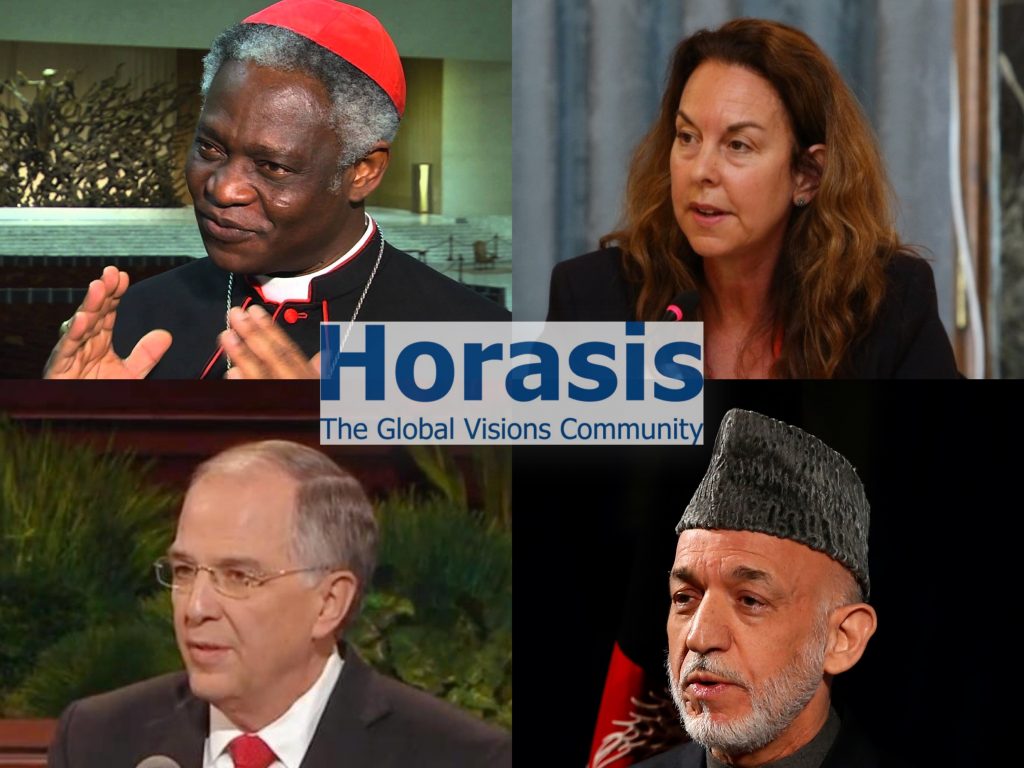 Leaders often promise much yet fail to deliver, sometimes because of global events beyond their control. The people often become disillusioned, without hope. How may we develop trust, faith and togetherness to enable progress that can absorb economic, political and spiritual surprises originating locally or globally?
Join Brian Grim, president of the Religious Freedom & Business Foundation, at a plenary presentation of the 2017 Horasis Global Meeting (28-29 May), Cascais, Portugal to see how several top leaders answer this question at an audience composed of some of the world's leading thinkers and business leaders. This is the second time Grim has led a panel at the Horasis Global Meeting, the first being in Liverpool in 2016.
Manuel Caldeira Cabral, Minister of Economy, Portugal Horasis will convene the 2017 Horasis Global Meeting in Cascais, Portugal on 28-29 May. The annual Horasis Global Meeting is one of the world's foremost gatherings of business leaders who interact with key government officials and eminent thought leaders. The Horasis community of more than 300 selected world leaders from 70 countries will gather for an unparalleled experience advancing solutions to the most critical challenges facing corporations and societies today.
Speakers (pictured above, clockwise from top left) on the "Developing Trust" panel with Brian Grim include:
• Cardinal Peter K.A. Turkson | Prefect, Dicastery for Promoting Integral Human Development, and Past President, Pontifical Council for Justice and Peace, Vatican City
• Canon Sarah Snyder | Archbishop of Canterbury's Adviser for Reconciliation, United Kingdom
• Hamid Karzai | Former President of Afghanistan, Afghanistan
• Elder Neil L. Andersen | Member of the Quorum of the Twelve Apostles, The Church of Jesus Christ of Latter-day Saints, USA
Participants will share insights and innovations on how to best navigate the future. Under the theme 'Building Togetherness', participants will share insights on the current state of the world which seems to become more fragile and fractious. Citizens around the world are less trusting of their governments, institutions and neighbours. We need to build a new togetherness, to raise our belief in our inventiveness and in our ability to overcome oppression. This meeting shall devise novel ideas to sustain and nurture our development in the future.
Cascais is conveniently located 20min from Lisbon Airport and – with its enchanting location right on the Atlantic – is one of Europe's truly legendary resorts. The 2017 Horasis Global Meeting is already the third Horasis leadership event held in Cascais, after the 2015 Horasis China Meeting and the 2016 Horasis India Meeting. The 2017 Horasis Global Meeting is held in partnership with the City of Cascais, the Portuguese Government and the Estoril Conferences, a biannual series of events held in Cascais to discuss the challenges of globalization. The co-chairs are:
– Princess Basmah Bint Saud Al-Saud, Chairwoman, GURA – Global United Centre for Research and Analysis, Saudi Arabia
– Issam Alzahid, Chairman, Alzahid Group Holding, Saudi Arabia
– Barbara Barrett, Chairman, Aerospace Corporation, USA
– Vijay Eswaran, Chairman, QI Group, Malaysia
– CP Gurnani, Chief Executive Officer, Tech Mahindra, India
– Alan Hassenfeld, Chairman, Hasbro, USA
– Pansy Ho, Chairperson, Shun Tak Holdings, Hong Kong
– Werner Hoyer, President, European Investment Bank, Luxembourg
– Kevin G. Lynch, Vice Chairman, BMO Financial Group, Canada
– Strive Masiwia, Founder and Chairman, Econet Wireless, South Africa
– António Mexia, Chief Executive Officer, EDP, Portugal
– Kenneth S. Rogoff, Professor of Economics, Harvard University, USA
– Shirley Yeung, Founder & Managing Partner, Dragonrise Capital, China
–  William Y. Zhang, Chairman, EU-China Municipal Development Commission, China
About Horasis: Horasis – a global visions community committed to enact visions for a sustainable future – provides a unique platform for companies from emerging and developed markets to globalize their organisations. In addition to the Horasis Global Meeting, Horasis hosts summits with a focus on China, India, South East Asia, Russia and the Arab world. About the Estoril Conferences: The Estoril Conferences are a one-week series of events held in Cascais in May 2017. Held since 2009, the conferences are a meeting place of thinkers and other renowned personalities to discuss the most pressing issues related to globalization. The 2017 Horasis Global Meeting marks the inaugural event of the conference week.