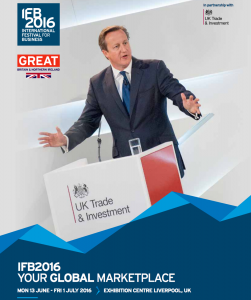 "Britain is open for business, so for anyone involved in enterprise, the International Festival for Business is the place to be," so says British Prime Minister David Cameron.
So, why does religion merit a plenary session this month at the world's largest international business festival, which is attracting 30,000 leaders from 100 nations to Liverpool?
"The answer is simple," says Brian Grim, President of the Religious Freedom & Business Foundation. "For 85% of the world's people, faith is a core part how they define themselves. Research shows that businesses need to understand religious demographics and faith values if they hope to effectively serve, employ, market and sustainably grow in today's world."
Grim will chair a plenary panel on the role of faith at the inaugural Horasis Global Meeting in Liverpool over 13-14 June. The event is part of the International Festival of Business, a series of global business events held in Liverpool to celebrate entrepreneurship and economic growth.
The Plenary will explore how faith positively impacts society and economy through ethos and engagement. Panelists will discuss how to foster shared global values to achieve peace – both inner harmonies as well as reconciliation with potential foes. It will also look at how can faith help business and government leaders to reach their goals.
Joining Grim on the panel are Paul Bayes, Bishop, Anglican Diocese of Liverpool; Imam Irfan Chishti, Executive Imam, Manchester Central Mosque; and Sri Sri Ravi Shankar, Founder, The Art of Living Foundation of India.
---
The Horasis Global Meeting aims to be the world's foremost gathering of business leaders who interact with heads of governments and key ministers as well as nobel laureates and other thought leaders. The meeting's purpose is to advance solutions to the most critical challenges facing corporations today. Participants share a common interest in mapping our global economies.
The Horasis Global Meeting unites the world's major stakeholders for an open debate on the future. Participants will monitor trends from the past and create forecasts for the upcoming 1-5 years, proposing innovative and transformative actions. The main questions that will be asked will be:
What topics are at the top of the global agenda?
Which issues do businesses and governments need to deal with urgently?
How to form private-public partnerships to ensure economic growth, societal well-being and sustainable development?
The Horasis Global Meeting provides an unparalleled opportunity for the world's leaders to develop the solutions to respond to the challenges and opportunities of the future.
The co-chairs are:
| | |
| --- | --- |
| | Bo Inge Andersson, Chief Executive Officer, Bo Group Enterprises, Sweden |
| | Carla Cico, Member of the Supervisory Board, Alcatel-Lucent, France |
| | Stuart Gulliver, Group Chief Executive, HSBC Holdings, United Kingdom |
| | John Holland-Kaye, Chief Executive Officer, Heathrow Airport, United Kingdom |
| | Naveen Jain, Co-founder and Chairman, Moon Express, USA |
| | Shaikha Al Maskari, Chairwomen, Al Maskari Holding, UAE |
| | Martin Richenhagen, Chairman, AGCO Corporation, USA |
| | Dhruv M. Sawhney, Chairman, Triveni Engineering & Industries, India |
| | Takumi Shibata, Chief Executive Officer, Nikko Asset Management Co., Japan |
| | Jaan Tallinn, Co-founder, Skype, Estonia |
| | Shirley Yeung, Founder & Managing Partner, Dragonrise Capital, China/USA |
| | William Zhang, Chairman, Europe-China Culture and Economy Commission, China |
---
About Horasis:
Horasis – a global visions community committed to enact visions for a sustainable future – provides a unique platform for companies from emerging and developed markets to globalize their organisations. In addition to the Horasis Global Meeting, Horasis hosts summits with a focus on China, India, Russia and the Arab world.
About the International Festival of Business:
The International Festival of Business is a 3-weeks business festival hosted in Liverpool during June-July 2016. Comprising over 100 world-class events, the festival is a key part of the UK government's ambition to promote economic growth. Backed by the UK government, the festival will cast a light on the spheres of commercial endeavour that are transforming the world's business landscapes.