Short Film Competition: Religious Freedom is Good for Business
A new ad by Amazon filmed in the UK sees Christian priest and a Muslim Imam meet for a cup of tea and discover they share a problem. Brian Grim, President of the Religious Freedom & Business Foundation, notes that "such ads indeed show that business is good for interfaith understanding, religious freedom and peace." Grim goes on to say that "business is at the crossroads of culture, commerce and creativity. This means businesses have the resources to make the world more peaceful as well as the incentive to do so." (see RFBF blog).
---
The Middle East Women's Leadership Network (MEWLN) and the Religious Freedom & Business Foundation (RFBF) are pleased to collaborate on a film competition encouraging women filmmakers to showcase the benefits of religious freedom in the workplace and how this contributes to better business, economic growth and human flourishing.
The competition begins in March 2017, with the grand prize winner receiving $5000 and a trip to present her work at the 2018 Global Business & Interfaith Peace Awards in Seoul, South Korea, on March 8, the night before the opening of the Winter Paralympics.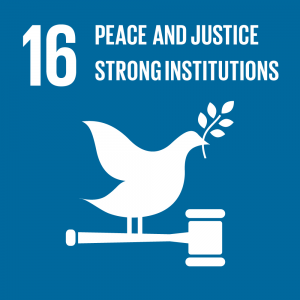 Strategically, these films will help to show that a commitment to religious freedom and interfaith understanding is a means to fulfilling the UN Strategic Development Goal 16: "Promoting peaceful and inclusive societies for sustainable development, providing access to justice for all and building effective, accountable and inclusive institutions at all levels." 
---
Need
Denials of religious freedom are associated with poorer economic performance and lower global competitiveness, according to a study by researchers at Georgetown University and Brigham Young University. And other studies show that religious freedom promotes peace, which is particularly important for business because where stability exists, there is more opportunity to invest and conduct normal and predictable business operations, especially in emerging and new markets.
---
Vision
In our age of media, we must engage women as media advocates, believing visual narratives will encourage indigenous leaders in countries experiencing religious conflict to advance human dignity and the freedom of conscience for everyone. We believe women can create short videos that advance the legal principal of freedom of thought, conscience, religion or belief for every person without distinction.
---
Why Women Filmmakers Should Submit to this Competition
— Women are having an extraordinary influence around the world, and their impact will increase as they develop appropriate media tools during this competition.
— Women will be given a platform to share their message with wider audiences.
— Women will be given practical steps to launch their religious freedom outreach.
— Women filmmakers will become role models who can guide others in promoting religious freedom.
Short Film Competition: General Guidelines
In collaboration with the Religious Freedom & Business Foundation, the Middle East Women's Leadership Network (MEWLN) will organize a Short Film Competition. The 1-to-3 minute short dramas can explore how cultural diversity and religious freedom are good for business.
The short dramas or documentaries may also illustrate the benefits of religious freedom being accepted and promoted in the workplace or economy. They might also focus on exploring the concrete actions business leaders take to promote interfaith understanding and peace in the workplace or their communities, harnessing religious freedom for economic and societal advancement.
Ideally, the films should showcase how religious freedom leads to innovation, peace, security and entrepreneurship in communities.
Finally, this project challenges women to send two clear messages to current and prospective employees: (1) You can work here without changing who you are; and (2) the company respects all employees and will not favor certain employees over others … and that's good for the business of all.
Participants can submit their videos until October 1, 2017. For more information on the guidelines, contact Shirin Taber, MEWLN Director, at shirin@visualstory.org or www.mideastwomen.org/filmcompetition.
---
Examples
#EatTogether is a Canadian business campaign to bring people and cultures and faith together by eating together. Below is the short video for Canada's 150th anniversary President's Choice Canada Day Award that launched a movement:
As another example of the power of business to advance cultural and interfaith understanding, religious freedom and peace, Coke brought some laughter and joy to one of the most volatile and dangerous regions on earth, when it installed two Small World Machines in New Delhi, India, and Lahore, Pakistan (also see RFBF blog).
---
The video stories of the 12 finalists for the 2016 Global Business & Interfaith Peace Awards provide examples which can inspire the competition's film makers.
---

Shirin Taber, MEWLN Director
Shirin Taber is Iranian-American and the author of Muslims Next Door (Zondervan/Harper Collins). She was raised by an Iranian Muslim father and an American Christian mother, and has lived in the United States, Europe and the Middle East. With a background in media, direct ministry, and cross-cultural training, Shirin assists multiple organizations in media-based initiatives.
The Los Angeles Times, Detroit Free Press and Fox News have featured her writing and work among Muslims and Christians alike. Previously, Shirin served with Cru, Inspirational Films, the Visual Story Network, and CBN. She helped produce the Magdalena film, which has been viewed by tens of millions in the MENA region. Additionally, she serves as a mentor for George W. Bush Institute's Women's Initiative for the country of Tunisia. She is a graduate of the University of Washington and is fluent in English, French and Farsi.
---
Middle East Women's Leadership Network
The Religious Freedom & Business Foundation (RFBF) is excited to work with The Middle East Women's Leadership Network in this film competition. MEWLN helps women become world-class leaders by creating media for their mission. They gather women for training, networking and mentoring purposes, building relationships to leverage their resources and media platforms. MEWLN explores important trends, exchanges expertise, and encourages innovative media. Their strategic sectors include: Gender Equality, Religious Freedom, Trauma Counseling, Peace and Security, and Faith-based Initiatives. MEWLN's  collective efforts contribute to the larger movement of developing female leaders and reaching millions in the Middle East.
---
More from MEWLN