Global
The Religious Freedom & Business Foundation engages globally through interfaith business forums, global awards competitions, participation in international organizations, networking and partnership projects.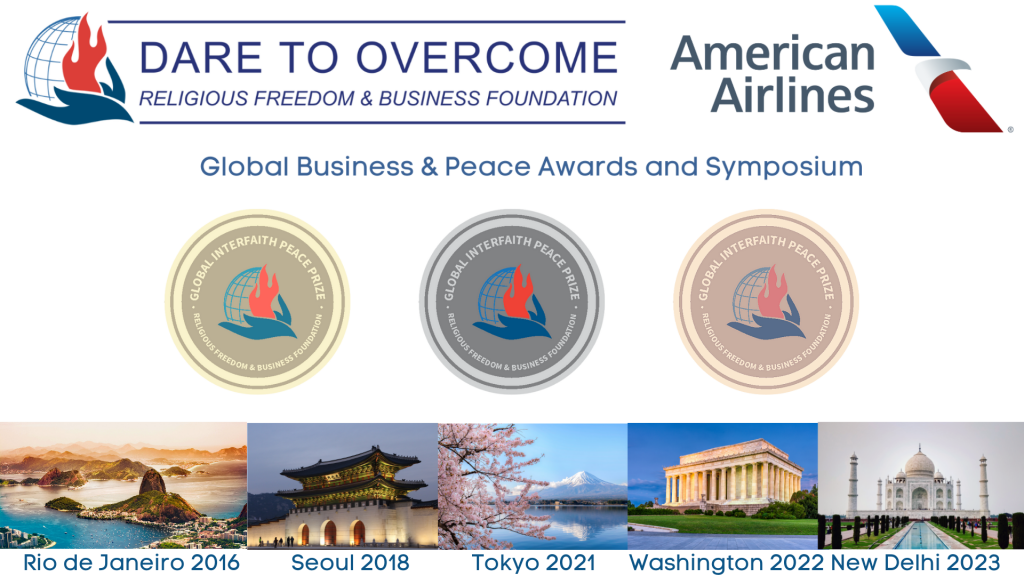 2022 Survey
---
HISTORY:
This is the Religious Freedom & Business Foundation's third annual REDI Index. However, this edition is the first time to be offered as an opt-in survey. In previous years, the research staff of the Religious Freedom & Business Foundation scored companies only in three areas:
(1) content analysis of the company's main diversity landing page for religion-related content,
(2) acknowledgement on company websites of faith-oriented ERGs, and
(3) verified external training efforts/workshops in which companies share their best practices related to faith-oriented ERGs with other companies.
2022 Version: The REDI Index now offers companies an alternative: they may complete this straightforward self-report questionnaire. There are 10 questions, each worth 10 points, for a total of 100 points. Scoring for each point will be based on both (a) answering in the affirmative with some evidence (5 points), and (b) demonstrating that the efforts are praiseworthy (up to 5 additional points). Overview of the questions can be seen here.
For example, Question 3 asks: "Has your company described its practices related to faith-oriented ERGs or other faith-oriented activities to other companies through individual consultations, diversity conferences or otherwise in the past 12 months? ○ If yes, please describe the topics, participants, impact, etc." The more detail of the impact provided in the description, the more chance to earn the additional 5 points. This will not be a fine-tooth assessment, but one where a point is added if some meaningful information is provided, up to three added if there is evidence of real impact, and all 5 points if the impact is extensive.
The questionnaire also has an optional 11th question, which can add up to an additional 10 bonus points: "Please add any other information about how your company promotes and supports religious diversity, equity and inclusion in your workplace and/or communities, including such things as how your faith ERGs or activities are allies of others. Additional information can contribute to your score." The 11th question also recognizes that companies may be doing other religiously inclusive activities that are not covered in the survey and worthy of recognition.
Companies participating in the index will be recognized at Dare to Overcome, May 23-25, 2022, at the Busch School of Business in Washington, DC. At Dare to Overcome, Fortune 500 faith-and-belief employee resource groups (ERGs) and corporate chaplains come together as allies of others, including those with disabilities, to share best practices and build stronger networks among the faith-and-belief ERG community in the U.S. and worldwide.
BENEFITS: Doing well on the REDI Index provides companies with a competitive advantage in recruiting new staff, and arguably in retaining them once on board because the items on the REDI Index measure best practices for creating a workplace that is inclusive of all faiths and beliefs and is at the same time nurturing and supportive of teammates in this important area.
Dare to Overcome's 2022 theme is "Better Together," reflecting an emphasis being strong allies of others and the critical value of face-to-face meetings coming out of the pandemic. American Airlines is the global partner and official airline of Dare to Overcome, and numerous other Fortune 100 companies are sponsors, including American Airlines, Tyson Foods, PayPal, Ford, Equinix, etc. Registration for Dare to Overcome (which is not required to submit a REDI Index entry) is open now.
The deadline for completion was March 15, 2022.