Short Film Competition 2020

Empower Women Media and the Religious Freedom & Business Foundation honor women who artfully and compellingly explore through short films the impact of freedom of religion and belief (FoRB) in their workplaces and communities. 2020 finalists hailed from Afghanistan, Canada, India, Iran, Jordan, Lebanon, Tunisia, United Arab Emirates, and the US. Below are the thrilling 2020 results. ** Also, watch the film festival featuring top films (watch). ** Also see 2018 and 2019 results. (MEDIA: Press Release & Contacts)
---
Grand Prize Winners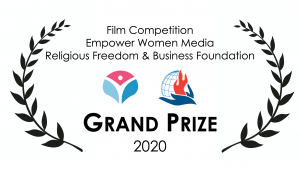 Long Road to Freedom by Mariya Dostzadah Goodbrake (Afghanistan and US) took the grand prize for the best live action short film. District 18 by Maral Karee (Iran and Canada) claimed grand prize for the best animated short film.
---
Grand Prize – Live Action
by Mariya Dostzadah Goodbrake (Afghanistan and US)
In Long Road to Freedom, Mariya shares her story of immigration from Afghanistan to Canada and then the US.
Thanks to the religious freedom she now has, Mariya and her team – in collaboration with local businesses – empower refugees and promote freedom of belief in Kansas City through Global FC. Global FC is a football/mentoring program that bridges diverse cultures to come together, forming just communities where all are free to be fully-known and fully-loved in pursuit of their God-given purpose and potential.
---
by Maral Karaee (Iran and Canada)
District 18 is the story of a young woman living in a society where diversity is shunned, but she longs for freedom of belief. She finds it in a land where Article 18 of the Universal Declaration of Human Rights is celebrated.
Article 18: Everyone has the right to freedom of thought, conscience and religion; this right includes freedom to change his religion or belief, and freedom, either alone or in community with others and in public or private, to manifest his religion or belief in teaching, practice, worship and observance.
---
Runners Up
The runners up are Her Factor by Ruba Abbassi, Together as One by Sarina Faizy, and Freedom to Succeed by Lydia Sunberg and Sage Taber.
by Ruba Abbassi (Jordan) 
Jordanians share how women's freedom of expression can promote economic prosperity in the Middle East and North Africa. In the region, tradition prevents many women from entering the workforce, resulting in lost economic opportunities.
---
by Sarina Faizy (Afghanistan)
Sarina Faizy tells her women's empowerment and freedom of belief story under Taliban rule. She become the first woman elected to a local government council, and an advocate for women's education in Afghanistan.
---
by Lydia Sunberg (Hungary ) and Sage Taber (US)
Lydia and Sage demonstrate why immigrants and refugees need the freedom to contribute economically to their new society. They go beyond the facts and figures to reveal the personal strengths and abilities immigrants offer their new homelands.
---
About
This is the third annual short film competition sponsored by Empower Women Media and the Religious Freedom & Business Foundation. Results are based on independent assessments of 17 highly respected judges to review the films for storytelling and advocacy impact (see Press Release). For more information, email Shirin Taber, Director of Empower Women Media.
The first competition was held at the start of the 2018 Paralympic Games in Korea where Love Has No Borders by Deborah Paul and Christy Anastas took grand prize. In 2019, the grand prize went to A Different Way, a film by Ambassador 'Sujay' Suzan Johnson Cook and Lauren Merkley. The Religious Freedom & Business Foundation has awarded each 2020 Grand Prize winner $5,000 and a trip to Tokyo to present their short films at the 2021 Global Business & Interfaith Peace Awards prior to the Paralympic Games.
---
Other Finalists
Feminine Champion (Iran), by Terri Marie and Elham Heidari, reveals an Iranian female's quest to empower women through sports.
---
DJ Academy for Girls (Tunisia), by Olfa Arfaoui, challenges gender stereotypes that prevent innovative business opportunities.
---
Live What You Believe (US), by Nancy Schraeder, asks whether we are ready to support everyone's right to freedom of religion.
---
Enough is Enough, by Tina Ramirez (US) shows how Lebanese teachers transform lives and communities through diversity training.
---
Peace for a Palestinian, by Lauren Merkley & Lauren Laws (US), shows how a Palestinian found freedom through faith.
---
Yes, I Can!, by Karen Schenk & Ambassador Suzan Johnson Cooke (US), challenges ethno-religious oppression while equipping individuals to fulfill their purpose.
---
Let Her Dream, by Sharon Angel (India & US), shows an Indian woman's overcoming cultural and religious barriers to fulfill her vocational dreams.
Honorable Mentions
Free Mind, Free Conscience (Bess Blackburn, US)
---
More than a Mom (Sharon Angel, India)
---
Nazareno: Muslims at a Catholic Festival (Amal Bahloul, UAE)
---
Holy Lands (Hiba Sarrouj, Lebanon).
---