Alex Oldroyd, Previous Research Assistant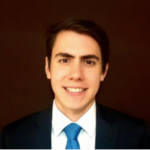 Alex was previously a Religious Freedom & Business Foundation Research Assistant working on the Empowerment+ initiative, and a student at Brigham Young University.
Alex was born in Payson, Utah, and raised in Austin, Texas which he considers home. The second oldest of six, he grew up reading, writing, and playing the piano, saxophone, and cello. He began his freshman year at BYU on scholarship as a music major, but after being exposed to the difficulties faced by developing countries during a two-year mission to Nicaragua he decided to change his major to English with a minor in International Development. Alex hopes to one day serve in the Peace Corps with his current fiancée and pursue work in fields that help advance the causes of self-reliance and poverty alleviation through social responsible businesses.