Akkan Suver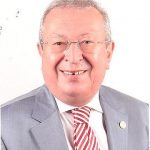 ---
About Marmara Group: The Mission of Marmara Group Strategic and Social Research Foundation is to think about and discuss Turkey's problems such as economy, democracy and security and to share ideas with public opinion by finding rational and scientific solutions. In this direction, Marmara Group Foundation conducts researches and implements projects with Middle East, Balkans, Eurasian Countries, national and international think-tanks.
---
Nomination in Brief
Akkan Suver is Founder of the Eurasian Economic Summit. This year's theme, "Humanity at a Crossroads," brought presidents, ministers, academicians and religious leaders together to look not only for solutions to economic issues, but explore how religions contribute to peace and overcome the terrorism and extremism, for instance analyzing connections between migration and terrorism.
Read Akkan Suver 2018 Nomination form (Word Doc)
---
Bio
Dr. Akkan Suver, who was appointed to the Honorary Consul General of Montenegro on May 26, 2008, is the President of Marmara Group Foundation, which is the most prestigious NGO of Turkey. Dr. Akkan Suver is the founder of Eurasian Economic Summit, which has been continuously organized since 1998. Dr. Suver received Honorary Causa Doctorate from Azerbaijan Tefekkür University (2001) and Honorary Causa Professorship from Kyrgyzstan Bishkek University (2010), Honorary Doctorate from Romania Constanza Maritime University (2013).Dr. Suver; who received Pontificate Medal from Pope Benedict XVI due to his works on intercultural dialogue first in Turkey and then in international area, also Dostlug Orden and Terraki Medal from Azerbaijan, Genghis Khan Medal, Silver Star Medal and Polar Star Medal from Mongolia and 15th Year Medal, 20th Year Medal and Independence Medal from Moldova – Gagauzia. Dr. Akkan Suver, recognized by his endeavours in the area of Intercultural Dialogue, received Balkan Charter of Peace from Balkan Club of Peace on February 14, 2013.Dr. Akkan Suver was awarded with Jubile Medal by the organization of BSCSIF on 9th March 2014 in Bucharest.The most prestigious award "The Certificate for Decoration of Land of Gagauzia" presented to Dr. Akkan Suver in Moldova Gagauzia on 14th of October, 2014.Dr. Akkan Suver was given Romanian State Special Medal regarding the 25th Anniversary of fall of Communism, in Bucharest by the Prime Minister H.E. Victor Pota on November 20, 2014.Dr. Akkan Suver was rewarded by former Chancellor H.E. Dr. Erhard Busek '' Strategic Partner Award' at Vienna Economic Forum on November 23, 2014.Dr. Akkan Suver was presented the 'Turkish – Romanian Relations Award' by the Romanian Ambassador to Ankara H.E. Radu Onofrei, on December 17, 2014.By the Ministry of Energy of the Republic of Azerbaijan, Dr. Suver hold in high honor with the "Honorary Worker of Energy" Decoration. Also, Dr.Suver was granted a Diploma of "Ambassador of Knowledge" by a Ljubljana based organization, the Life Learning Academy in 2016.At the various platforms taking place in the same year, Dr. Suver conveyed the views of the Turkish Civil Society during his participation at the various international meetings in Azerbaijan, the Peoples Republic of China, Romania, Austria, Moldova, Gagauzia, Uzbekistan, Macedonia, Montenegro, Bulgaria and Albania.In 2017, Dr. Suver organized and lead to the 20th Eurasian Economic Summit. On June 9, 2017, the State of Albania awarded Dr. Akkan Suver with the "Medal for Special Civil Merit" through President Bujar Nishani.Dr. Akkan Suver, deemed worthy for the titles like journalist of the year, civil society leader of the years from many national and international institutions.Dr. Akkan Suver, for the sake of Civil Society, again took part in the Elections happened in Azerbaijan, Uzbekistan, Bulgaria, Kyrgyzstan and Georgia, as an Observer Statute'.Dr. Suver is a well-known journalist and writer in Turkey. The books of Dr. Akkan Suver has been published in Turkish, English, Montenegrin and Azerbaijani languages. He is currently writing in the Gözlem Newspaper published in Izmir.
---
More Detail
In the thirty-second year that we have left behind Dr. Akkan Suver and the Marmara Group Foundation have created alternative solutions to the problems experienced in the economy, democracy and security issues without leaving the light of mind and science. He has developed projects in this direction and put forth enlightening works for the purpose of informing the public. The "EURASIAN ECONOMIC SUMMIT" is an example of these activities that help Dr. Akkan Suver and the Marmara Group Foundation gain a good reputation both at home and abroad. Every year in April, Eurasian Economic Summits have been bringing senior statesmen, economists, academics, religious functionaries, public and private sector representatives and think tanks of at least forty countries in Istanbul for twenty years continuously. The 20th Eurasian Economic Summit was held on April 4-6, 2017 in Istanbul with the participation of more than 300 guests including presidents, ministers, academicians, religious functionaries. The issues that were held during the Summit are "Challenges that European Union Faces with and Its Future Concerns", "The Status of Supply and Demand Equilibrium within Sustainable Energy, Telecommunication, Transportation and Economic Development; Actors and Figurants" and "Contributions of the Religions to Peace in Order to Overcome the Environment of Violence and Terror and the Association between Migration and Terrorism". The main idea of the Summit, which was held on April 4-6, 2017, was "Humanity at a Crossroads". During that summit Statesmen, Academicians, Thinkers and Religious Functionaries were gathered together.
---
Nominated by:
Doğan Bermek
President
Alevi Philosophy Center Association