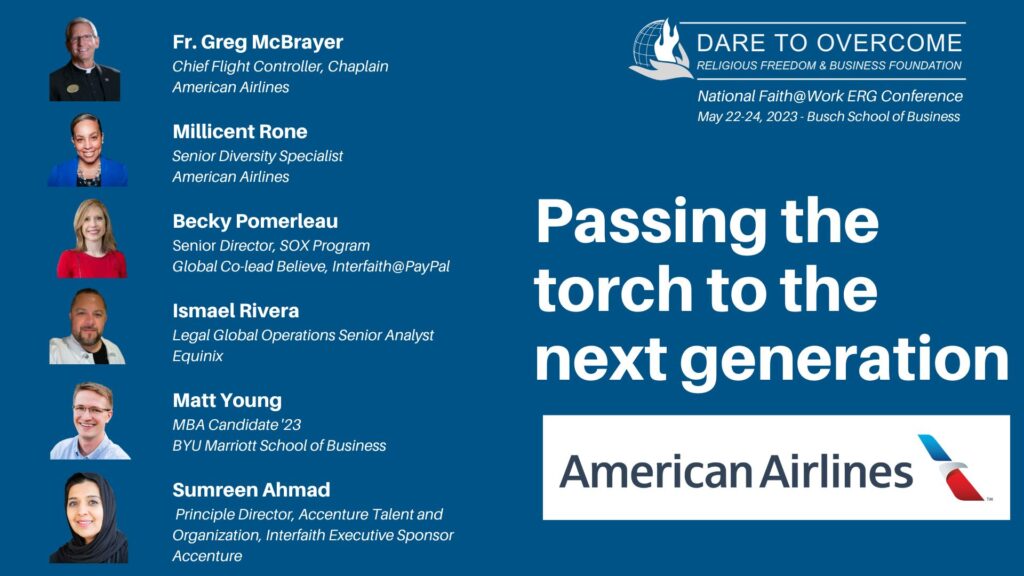 How will your ERG and company involve the next generation in faith@work?
This multi-company panel will share their experiences at a recent nation-wide Case Competition held at BYU for MBA students from across the country competing to provide the best solution for making interfaith initiatives at work sustainable. See their PPT presentations here.
This American Airlines organized panel will describe their roles and responsibilities as ERG leaders to help equip, encourage, and empower the next generation. There will also be a student representative from the BYU case completion on the panel to reflect on its impact from an MBA student's perspective.
Fr. Greg McBrayer
Chief Flight Controller, Chaplain
American Airlines
Millicent Rone
Senior Diversity Specialist
American Airlines
Becky Pomerleau
Senior Director, SOX Program
Global Co-lead Believe, Interfaith@PayPal
Ismael Rivera
Legal Global Operations Senior Analyst
Equinix
Sumreen Ahmad
Principle Director, Accenture Talent and Organization
Interfaith Executive Sponsor
Accenture
Matt Young
MBA Candidate '23
BYU Marriott School of Business


See more about the pan-ERG initiative spearheaded by DELL's interfaith ERG here.