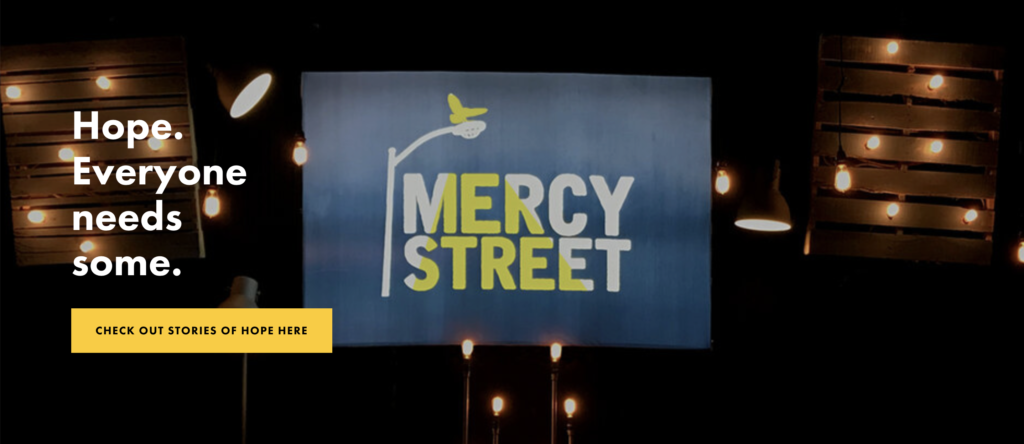 By Rev. Melissa Maher and David Roland, Houston, Texas | Guest Post reacting to research by the Religious Freedom & Business Foundation. This is part of our Blog Series, Authenticity & Connection.
---
"Thank God we don't all lose hope on the same day." This gratitude prayer echoes across the room every week. As hope dealers (yes, an intentional play on words because some congregants once dealt other things), we who have received hope share it freely with all.  Hope. Everyone needs some.
Since the late 1990's, Mercy Street, a church community in Houston, Texas, stands as a public witness to the messy and transformative work of practicing spirituality AND recovery.  About 60% of us work a 12-step program in the traditions of Al-Anon, AA, SLAA or CA. Yet 100% of us are in recovery from life. We are a safe harbor to bring your whole story—the light and shadows. Faith and doubt.
If you attended our church on a Saturday night, you'd be sitting next to a miracle: either a CEO who kicked workaholism to the curb to discover a wealth of real relationships or a woman with an ankle monitor and a PO (parole officer) searching for an employer sympathetic to her past and attentive to her present.
Mercy Street reveals at a micro level the macro trends outlined in the 2019 research by father-daughter team Brian and Melissa Grim, Belief, Behavior, and Belonging: How Faith is Indispensable in Preventing and Recovering from Substance Abuse. Their research amplified the influence and economic contribution 130,000 faith communities have by working alongside treatment providers and the 12-step community to address the growing epidemic of addiction and mental illness.
Deaths from opioid overdoses topped 100,000 Americans in 2021, nearly double the number of deaths from 2018.  How do we change the tide? One of the primary ways to reduce addiction is by shattering the stigma and bringing to light the struggles we each encounter. We are only as sick as our secrets, and what is hidden often grows in the dark.
Now is a time we need faith communities, clergy, healthcare providers and employers to recognize the fragile ground on which we stand and the practical tools we have within arm's reach.  As an ordained pastor, I've intentionally learned the language of addiction and how best to connect with treatment and recovery resources in Houston. At a national level, Mercy Street is working with a growing inter-faith network to address substance use disorders. It is also a time for business leaders and companies to provide resources to their employees to seek help before a crisis erupts.
For one of our congregants, his life experience and participation in Mercy Street has enriched his 35-year legal career. David writes,
     My wife and I have been active members of Mercy Street for over 10 years. For the last 18 years, I have been employed as a senior executive and chief legal officer of two NYSE-listed companies. My faith has made me a more effective business leader, manager and lawyer, and I also believe my experiences as an executive, manager and lawyer have greatly enriched my faith journey.
     I could give numerous examples of why I believe this to be true, but perhaps the best example is how my faith informs and influences my performance as a manager. My faith enables me to be more empathetic, forgiving and patient toward employees, less prone to over-reactions and more able to view developments with a broader perspective.
     I've gained a broader perspective because of my participation in the Mercy Street community. Becoming close friends and being church with a former homeless person, a drug addict or survivor of human trafficking provide an unexpected and immeasurable perspective. 
     When I am interviewing a person, I focus on their experience and qualifications, but my hiring decision is always more influenced by the whole person – their presence, personality, maturity, character, even their sense of humor. My experience is that the most effective professionals (especially lawyers) also possess intangible traits that result in a level of wisdom and discernment which is far less common.
     Because I strive to hire the entire person, the employee must be willing to apply their whole, authentic self to their job. My job as a manager is to foster an environment where an employee is willing to be vulnerable and bring their whole self to work. The last thing I want is for an employee to leave those intangibles, including their faith, at home. I try to be open with employees about my personal and family life, including our struggles, and I encourage employees to freely talk about their home life. I reference my faith, and, perhaps most importantly, I repeatedly remind employees while it is important to devote our time and effort to our jobs, our work is not our most important function on this earth. Our ultimate reason for existing is greater than any "to do" list.
     After working with exceptional professionals over a 35-year legal career, I have discovered those uncommon intangibles almost always include a strong faith in a higher power, regardless of whether it is defined by any one religion.
Mercy Street is just one example of the impact faith communities can have in developing a thriving society. Even as church membership and worship attendance decline nationwide, we believe there are pockets of hope. The essentials for us are show up to God and show up for one another. Be where our feet are because Jesus is there too. Swim in the ocean of God's radical grace because we're living proof our worst days won't be our last days.
There is hope, and if you run out, you can borrow some of ours.
Here's Cecilia's Story: