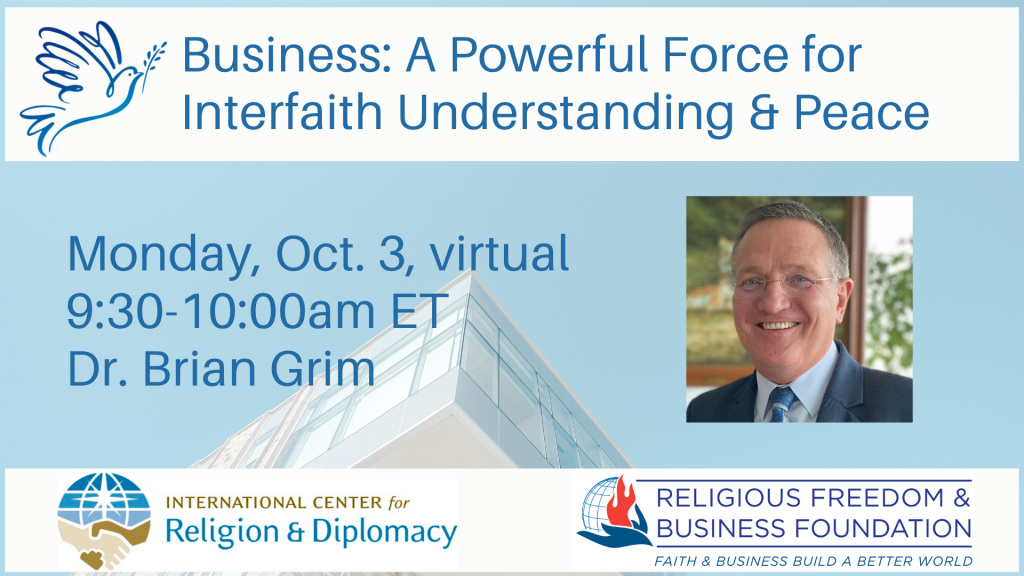 Day of Nonviolence Webinar
The International Center for Religion & Diplomacy is hosting a three-day webinar to celebrate the International Day of Nonviolence, with a celebrated lineup of Speakers!
Dr. Brian Grim, president of the Religious Freedom & Business Foundation, will speak on how business is a powerful force for interfaith understanding & peace.
When? Monday, October 3, at 9:30am ET. Registration required (free)

The virtual event will take place on Zoom and host a lineup of speakers ranging from industry professionals, grassroots advocates, religious leaders, academics, and more! Speakers will discuss topics of nonviolence, tolerance, and peacebuilding.
The Webinar will include interactive activities to encourage collaboration and innovation across fields and disciplines in order to advance nonviolence efforts when addressing conflict. There will be a lunch or happy hour session included each day to allow Speakers and Guests to network and connect as well.
The Webinar dates and times are:
– Sunday, October 2nd: 1–3:30pm ET.
– Monday, October 3rd: 9–12pm ET.
– Tuesday, October 4th: 9–12pm ET.
See related publication: