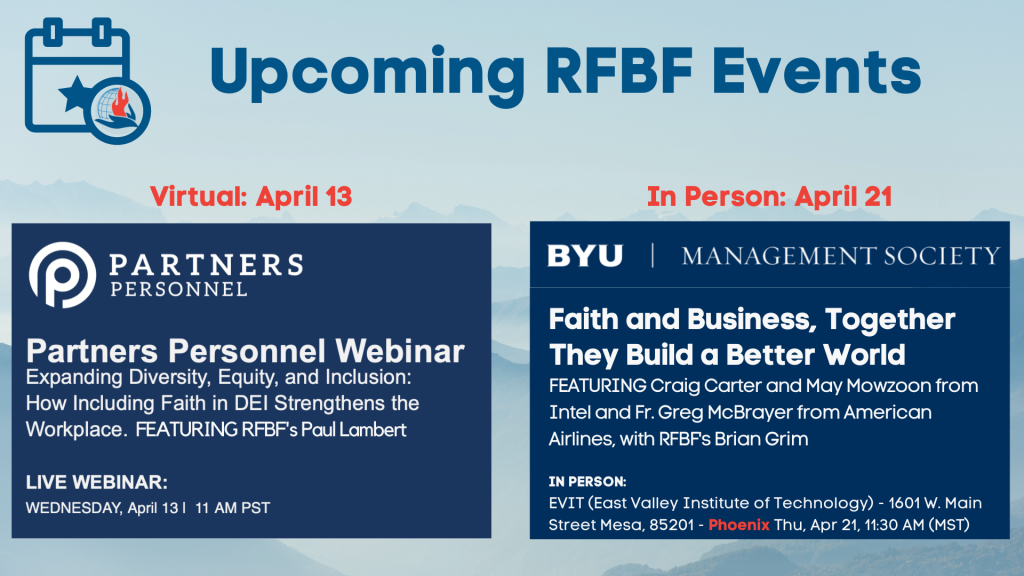 DEI has become a priority of companies across the world, and for good reason. There is a clear business case for building effective DEI initiatives in the workplace. But what about faith and belief? Are they part of DEI? How should faith and belief be addressed at work?
Paul Lambert, Senior Business Fellow at the Religious Freedom & Business Foundation, is a leading expert on the role of faith and belief in the workplace. He has worked with Fortune 500 companies across the country to build faith and belief accommodation within DEI.
In this Apr. 13 webinar, hosted by Partners Personnel, Paul will discuss what the data says about faith and belief in the workplace and share best practices and tools used by many of the world's most successful companies. REGISTER TODAY
Phoenix (Apr. 21)
Learn about the positive power faith and religion have on business and the economy. Our expert panel will share how their organizations are using Employee Resource Groups (ERGs) to recognize and allow people of faith to gather, discuss and honor their faith, at work.
Come hear a powerful discussion about how large businesses are embracing and being religiously inclusive at work. This panel, hosted by the BYU Management Society of Phoenix, will be lead by Dr. Brian Grim, president of the Religious Freedom and Business Foundation (RFBF).  He will be joined by:
— May Mowzoon, Associate Director Patent and Transaction Law at Intel, Chandler, AZ
— Craig Carter, Product Manager, Analytics Systems, Team/Corp Culture Advocate. Leader at Intel in Chandler, AZ
— Fr. Greg Mc Brayer, Chief Flight Controller at American Airlines, chaplain, and bi-vocational priest in the Anglican Church
Bring questions to understand how they are doing it and how you can introduce this in your organization. REGISTER TODAY
Finally, if you're interested to learn more about the faith@work diversity movement, join us in person at our May 23-25 Dare to Overcome annual faith@work ERG conference and awards.
Dare to Overcome's theme is "Better Together," which we mean in all senses of that phrase. With our partner, American Airlines, we hope you can join us in-person.