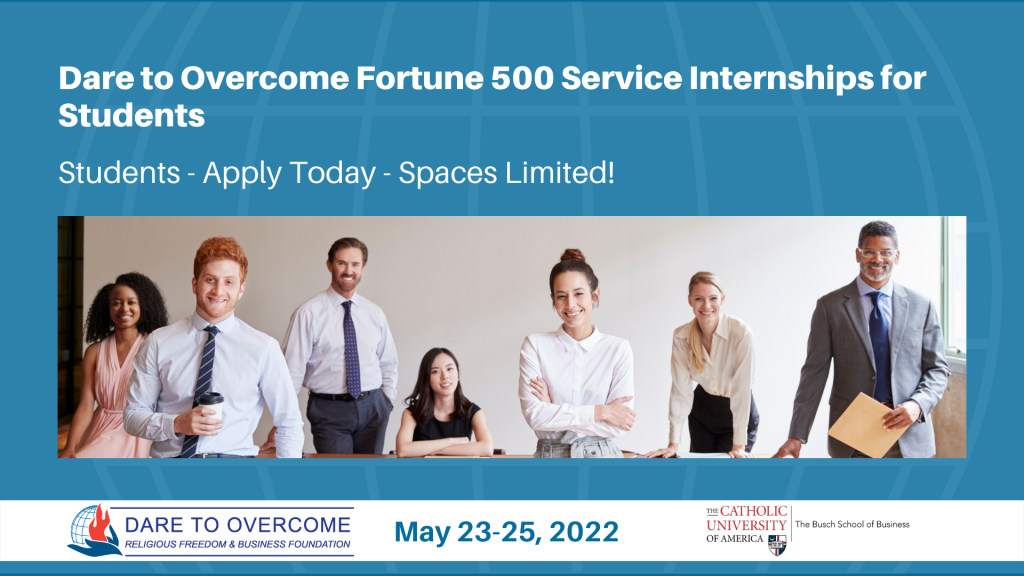 Students, have you ever wondered whether you have to leave your faith at the door when you come into work? You don't! As Ellyn Shook, the Chief People Officer of the global accounting and advising firm Accenture, says: "Stop wondering if Faith is a workplace issue. It is."
Come join us at the Religious Freedom & Business Foundation's 2022 National Faith@Work Conference "Dare to Overcome" (May 23-25) in Washington, DC, at the Busch School of Business, to learn how employees at some of America's best companies bring their whole selves to work, faith and all.
Students can register as regular individual participants and have the option to stay on the beautiful campus of The Catholic University of America, home to the Busch School of Business.
All faiths and beliefs are welcome!
---
Student Internship Opportunity
Alternatively, full student scholarships (including conference registration, on-campus room and board, but not including travel) are available for students volunteering for "Dare to Overcome Fortune 500 Service Internships". Interns will:
– Arrive on May 22 for special orientation and networking.
– Be part of welcome teams, staff meet-and-greet tables, and serve as VIP hosts for company representatives and speakers.
– Attend most sessions and learn how people of all backgrounds are able to bring their whole selves to work — faith and all — and what a huge difference that makes in workplace engagement, satisfaction and success.
– Have enhanced networking opportunities with businesses, speakers and other student leaders.
– Receive Dare to Overcome Fortune 500 Service Internship Certificate upon successful completion at the closing lunch on March 25.
– Be part of the pool for future opportunities to participate with RFBF and its partners.
---
If you'd like to support a student intern, you can donate here.
---
Highlights from 2020 Conference (short student testimony at 1:45)