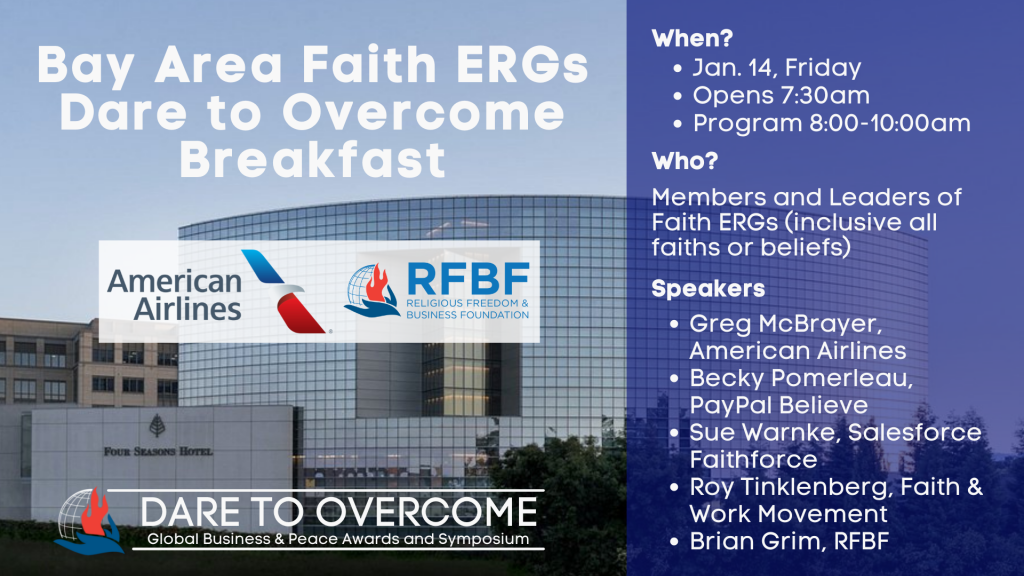 RFBF will host a January 14 breakfast discussion at the Four Seasons Silicon Valley in Palo Alto to hear how American Airlines, the world's largest carrier, partners with the Religious Freedom & Business Foundation on our annual faith-oriented employee resource group (ERG) conference, Dare to Overcome.
We will also discuss how Dare to Overcome can help faith@work initiatives have greater impact through allyship with other ERGs, including Dis/Abilities ERGs.
Breakfast opens at 7:30AM; program begins at 8:00AM. All faiths and beliefs welcome. To find out more, email Brian Grim, RFBF President.
Speakers:
– Fr. Greg McBrayer, American Airlines, Chief Flight Controller, Chaplain, Christian EBRG Global Lead
– Roy Tinklenberg, Faith and Work Movement Global, Co-Founder and Chief Vision Officer
– Becky Pomerleau, PayPal, Director SOX Program and Believe Interfaith ERG Co-founder
– Sue Warnke, Salesforce, Senior Director of Content Experience, and part of the team that started Faithforce
– Dr. Brian Grim, Religious Freedom & Business Foundation President and Dare to Overcome Global Chair
Host & Sponsor:
Religious Freedom & Business Foundation