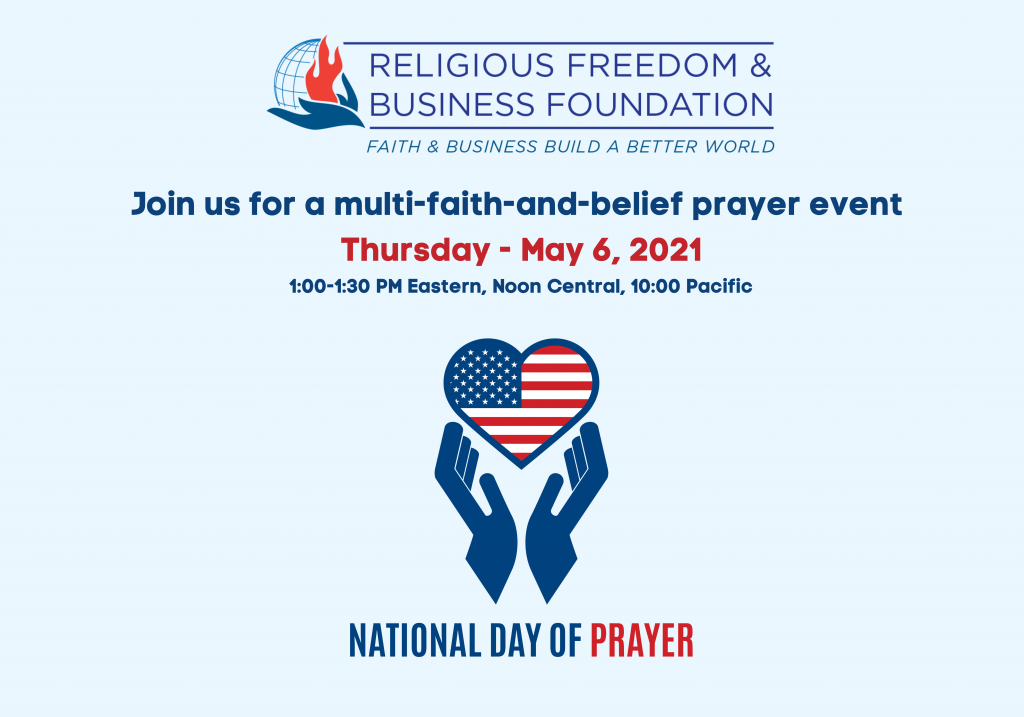 The Religious Freedom & Business Foundation invites members of employee resource groups  (ERGs) from corporations across America to come together for the 2021 National Day of Prayer.
Prayers and meditations for our nation will be offered by members of faith-and-belief  ERGs from multiple faiths, including the major faiths in America as well as aiming to include a variety of faiths ranging from Native American prayers to Humanist reflections.
People from each faith tradition represented will pray in their fully authentic way, i.e., this is a multi-faith event bringing the richness of each faith's identity for the common aim of praying for our nation.
To participate, register here. 
Corporate Partners for this event are welcome! Email with your company's interest.
The National Day of Prayer is an annual day of observance on the first Thursday of May designated by the U.S. Congress, when people are asked to turn to God in prayer and meditation. On April 17, 1952, President Harry S. Truman signed a Congressional bill proclaiming a National Day of Prayer be declared by each president at a date of his choice. On June 17, 1952, Pres. Truman issued a proclamation for the first Day of Prayer to be held on July 4, 1952. The law was later amended so the day would be on the first Thursday in May as it still continues.
---
For additional insights on the National Day of Prayer in a pluralistic society, see blog by Kent Johnson.