FOR IMMEDIATE RELEASE February 4, 2021
Workplace Religious Inclusion Highlighted in 2nd Annual Conference
Hosted by Religious Freedom & Business Foundation and Busch School of Business, Conference Highlights Successes at Google and new EEOC Guidelines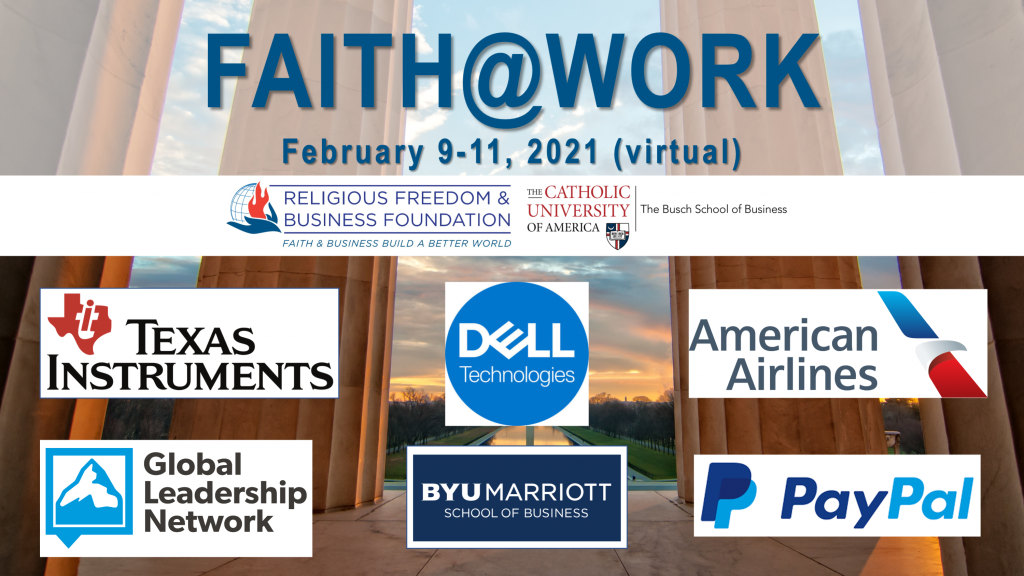 (WASHINGTON, D.C.) The Second National Faith@Work Employee Resource Group (ERG) Conference will bring together representatives of Fortune 500 companies who are members of faith-and-belief ERGs Feb. 9-11, 2021. The conference supports the growing movement of top companies that are making their workplaces religiously inclusive, and is a national convening point for workplace chaplains and those interested in faith, ethics and technology.
The conference, hosted by the Religious Freedom & Business Foundation and the Busch School of Business at The Catholic University of America in Washington, D.C., will be held virtually this year. It features best practices on religious inclusion in the workplace, shared by representatives of organizations including: the Intel Corporation, American Express, Tyson Foods, Accenture, Salesforce, SAP, and Equinix.
Sharon Fast Gustafson, general counsel of the U.S. Equal Employment Opportunity Commission (EEOC), will deliver a keynote presentation EEOC's General Counsel, will deliver a keynote presentation on why religious nondiscrimination is good for business. "We are honored to have General Counsel Gustafson participate in the Faith@Work conference. It is a wonderful opportunity for companies to hear directly from the EEOC General Counsel on the legal obligations relating to religious nondiscrimination and accommodation in the workplace," says Andrew Abela, dean of the business school.
Tomas Flier, Google's Global Diversity and Inclusion lead, will deliver a keynote presentation on how building a culture of belonging for all at Google includes religious inclusion. At the conference, Flier will premier Google's Inter Belief Network video. "We are excited to hear from Mr. Flier how religious inclusion benefits not only Google's global workforce but also all of us who rely on the many innovative products and services provided by Google every day," says Brian Grim, president of the Religious Freedom & Business Foundation.
Other speakers include:
Juliet Funt, CEO of WhiteSpace at Work, on banishing the thieves of productivity and recovering time to be creative.
Rear Admiral (ret.) Margaret Grun Kibben, chaplain of the US House of Representatives and retired chief of chaplains for the US Navy and Marine Corp, will discuss with Chaplain Karen Diefendorf (Tyson Foods) and Chaplain and Chief Flight Controller Fr. Greg McBrayer (American Airlines) how workplaces can build civility despite the challenges of a pandemic and social and political unrest.
The conference also features panels on faith, ethics and technology, and remarks by Frank Torres, director of public policy in Microsoft's Office of Responsible AI, part of the company's Technology and Corporate Responsibility group.
The conference will kick off with the results of the Second Annual Corporate Religious Equity, Diversity and Inclusion (REDI) Index being revealed. The REDI Index is the Religious Freedom & Business Foundation's annual benchmark of the state of Corporate America's inclusion of religion as an integral part of its diversity, equity and inclusion initiatives.
Major conference sponsors include American Airlines, PayPal, Texas Instruments, Dell Technologies, the Global Leadership Network and the BYU Marriott School of Business.
Click here to register for the 2nd National Faith@Work ERG Conference.
MEDIA: For more information, to attend the conference, or to schedule an interview, For Press Inquiries, contact: