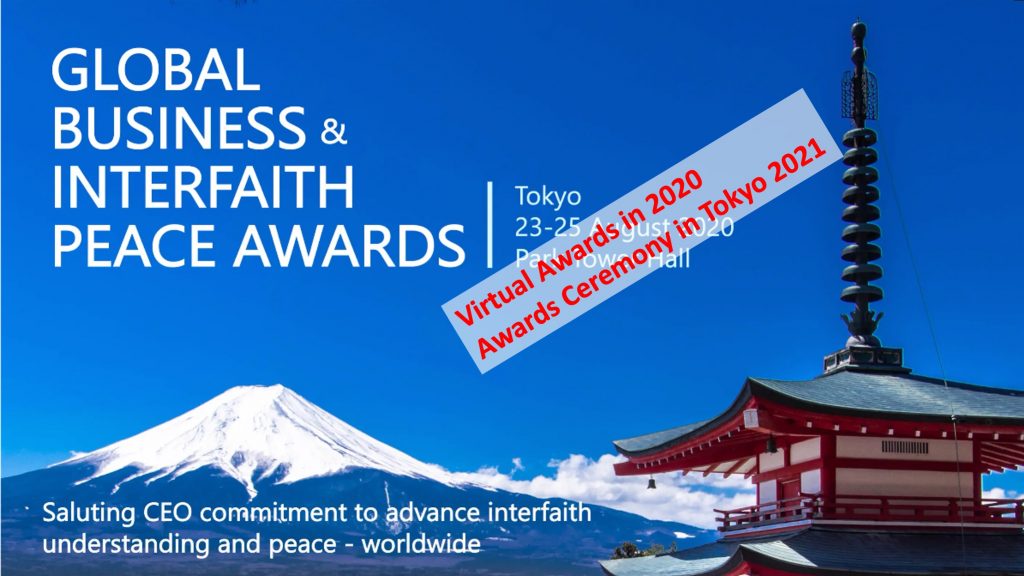 The Third Biennial Global Business & Interfaith Peace Awards — Held in Tandem With Paralympics —  Will Have Virtual Awards in 2020 and Tokyo Awards in 2021.
---
Veteran International Olympic Committee member Dick Pound told USA TODAY Sports on Monday afternoon that the 2020 Tokyo Olympic Games are going to be postponed amid the coronavirus pandemic.

"On the basis of the information the IOC has, postponement has been decided," Pound said in a phone interview. "The parameters going forward have not been determined, but the Games are not going to start on July 24, that much I know."

Pound, a Canadian who has been one of the most influential members of the IOC for decades, said the Games will likely be moved to 2021, with the details to be worked out in the next four weeks. He said he expects the IOC to announce its next steps soon. Read More.
---
Brian Grim, President of the Religious Freedom & Business Foundation, said, "Our Dare to Overcome business festival and peace awards in support of the Paralympic Movement, will go forward as planned whenever the Tokyo Paralympics are held. We stand in solidarity with Japan and the world in addressing this pandemic and emerging stronger on the other side."
Grim said that there will be a virtual ceremony for 2020 recipients. He added that additional nominees can compete for the peace prizes in 2021, with honorees from both years being honored in person in Tokyo at the start of the Paralympic Games, once rescheduled.
The same applies to the Empower Women Film Competition, Grim said.