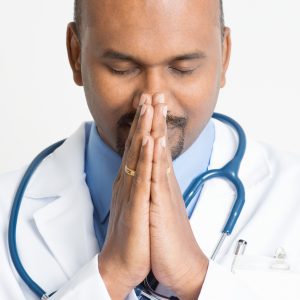 By Brian J. Grim, Ph.D.
We are in unprecedented times. The price tag on the Trump administration's proposed economic rescue package approached $1 trillion. It seeks to bail out not only industries and defer annual income tax collection but also to $1000 or more directly into the hands of each American adult.
And businesses themselves — reservoirs of resources and knowhow — face existential threats as commerce, trade and normal business are curtailed. McKinsey & Company now offer two scenarios, put simply, bad and worse. Others are looking for the U.S. economy to come back even stronger once the pandemic is stopped, including the COVIDxNOW initiative.
With this background, it is useful to look at a third sector – the faith-based sector – as an added source of national and global resilience.
Previously, our research has shown that religion annually contributes $1 trillion or more to the U.S. economy, with especially impactful contributions in areas such as substance abuse recovery ($316 billion), local congregational activities ($418 billion) and religious institutions ($303 billion).
Given these resources, how are faith-based communities responding?
First, many are foregoing and moving online their regular worship services and gatherings. Synagogues around the world are not holding services. The Vatican announced that all the Liturgical Celebrations of Holy Week will take place without the physical presence of the faithful, and that until April 12 the General Audiences and the Angelus presided over by Pope Francis will be available only in live streaming on the official Vatican News website. And it's not just at the Vatican. For example the Catholic Archdiocese of Baltimore suspended all Catholic masses across the diocese. Prayers at mosques and other places of worship have been suspended in the UAE.
Some have gone even further. For example, The Church of Jesus Christ of Latter-day Saints has cancelled all public gatherings worldwide. Church leaders announced on March 12 that worship services worldwide are temporarily suspended and that its twice yearly General Conference will be available only by video.
Second, faith groups are donating medical supplies and services at home and abroad, including to China. The Latter-day Saints donation to China, for example, included 220,000 respirator masks, 870 pairs of protective goggles and more than 6,500 pairs of protective coveralls sent on 79 pallets of protective medical equipment. And Samaritan's Purse, headed by Franklin Graham,  just sent a DC-8 aircraft carrying an emergency field hospital and a team of 32 technicians and medical personnel from Greensboro, North Carolina, on Tuesday (March 17) for Cremona, Italy, to set up a triage operation outside a hospital there.
Third, a huge chunk of global health services are provided by faith-based institutions. As John Allen points out, "Globally, the Catholic Church operates 18,000 health care clinics, 16,000 homes for the elderly and those with special needs, and 5,500 hospitals, with 65 percent of them located in developing countries. It's by far the largest non-governmental provider of health care in the world. Despite that staggering infrastructure, the reality is that relationships between those facilities and the institutional Church tends to be fairly loose, with leaders on either side often not thinking about, or talking to, their counterparts on the other."
On March 11, 2020, a meeting to launch an online platform to collect and communicate information related to religious actors responding to the COVID-19 pandemic was held at the Berkley Center at Georgetown University.
Click here for a summary of the discussion. 
The meeting highlighted that "Faith leaders and communities are critical actors in the current crisis and there is a rapidly growing set of actions and statements. The need to engage religious communities is quite well appreciated by public health officials (national and international) at a broad level. There is, however, much room for specific measures to translate that awareness to practice."