Enrique Shaw: the Argentine businessman whom Francis may soon beatify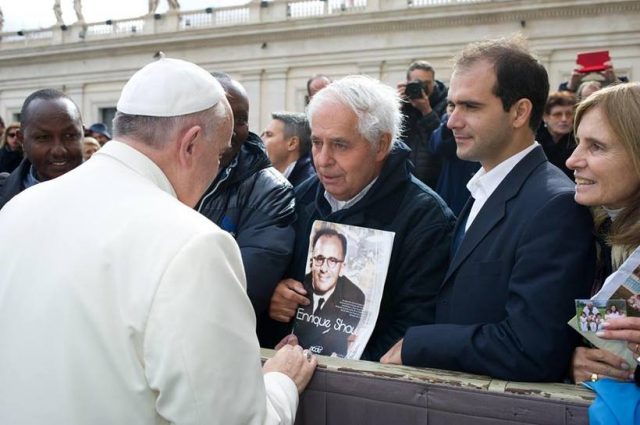 Fernán de Elizalde, an Argentinian businessman and member of the Christian Association of Business Executives (ACDE), told CNA he is "convinced Shaw was a man of outstanding holiness. We'll probably have in the future the first businessman saint in the world." Elizalde is also vice postulator – or presenter – of Shaw's cause for beatification.
CNA also reported an interview with Pope Francis on the Mexican TV station Televisa, in which the Pontiff said, "I've known rich people and I'm moving forward with the cause for beatification over there [in Argentina] of a rich Argentine businessman. Enrique Shaw was rich, yet saintly. A person can have money. God gives it to him so he can administer it well. And this man administered it well. Not with paternalism, but by fostering the [personal] growth of people who needed help."
Enrique Ernesto Shaw (1921 – 1962). Shaw was an Argentine Roman Catholic businessman. He was born in France and later emigrated to Argentina where he served in the marines. He promoted and encouraged business growth in accordance with the social doctrine of the faith and he founded both the Christian Association of Business Executives (ACDE). He was also a prolific writer and published a range of books. His cause of sainthood commenced in 2001 and he has been accorded the title Servant of God to recognize the commencement of the process.
---

ACDE is an association of business leaders, which aims to become an area of ​​analysis and reflection of the business theme in the light of Christian values; and of action, through its social commitment in a business work governed by ethical principles and at the service of the common good. ACDE is an association of people and not of companies, this being a distinctive element with respect to other organizations.
---
Writings & Resources by and on Enrique Shaw
Below are links to English versions of a short video introduction of Enrique Shaw and some of his speeches and writings.
– Shaw: The Business Company. It's nature – Goals and economic development
– Shaw: The Mission of Business Executives
– Shaw: Eucharist and Business Life
– Shaw: Memo to staff about work reduction due to lower demand
– Jesuit Business School speech by Dr. Thomas A. Bausch, including support for Shaw's beatification and canonization
– Pope Francis mentioning Enrique Shaw on EWTN
---
See recent talk by ACDE member Roberto Murchison at the G20 Interfaith Forum.