Workshop: Private sector's contribution in supporting interfaith understanding
The UN Global Compact Network Egypt hosted the 2018 Business for Peace Annual Event that took place on the 7th and 8th of November in Cairo, Egypt. About 300 leaders from the private sector, civil society, Governments and the United Nations came together to explore innovative approaches to, and opportunities for collaboration in, sustaining peace.
Nov. 7-8, 2018, Marriott Mena House

Hosted by Brian Grim, Religious Freedom & Business Foundation
In many countries around the world, sectarian conflicts can paralyze the society's potential to grow and to develop. However, Businesses can play a very effective role in promoting inter-faith understanding as a substantial condition for peaceful social coexistence. Business can often be at the forefront of creating space where people from different cultures and religions can meet and cooperate. When companies are sensitive to religious and cultural issues around them, they can strengthen their social license and increase employee morale and productivity, while addressing difficult social needs at the same time. Beside being a moral commitment, promoting interfaith understanding is also important for business in terms of financial profit because it makes the work environment healthier and more productive.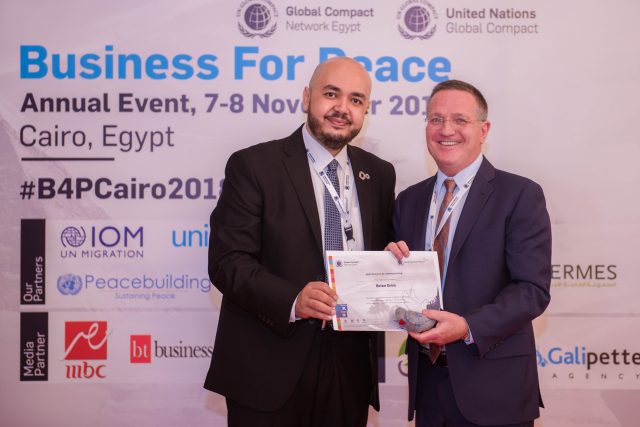 During this workshop, the audience will explore how businesses can effectively uphold interfaith understanding within the communities in which they operate by providing examples and best practices from different countries. 
---
BUSINESS FOR PEACE
Global Compact Network Egypt
The Business for Peace annual event serves as the main convening platform for the business and peace movement. Over the years, the Business for Peace annual event has convened more than 1,000 stakeholders in Istanbul, New York, Dubai and Colombia. Building on this momentum, the 2018 Annual Event will be hosted by the Global Compact Local Network in Egypt and bring together over 300 leaders from businesses, the investment industry, civil society, Governments, the United Nations and Global Compact Local Networks.
Conflict and instability not only impact people and the environment, but also pose risks to all parts of the business sector. Business for Peace is a platform of over 130 leading companies from 37 countries dedicated to catalyzing collaborative action to advance peace.
By joining Business for Peace, companies will be able to:
– Better identify and manage business risks and opportunities while reducing operational costs
– Engage in public-private dialogue to establish local priorities and implement projects
– Align business strategies and operations with good practice from across the globe
– Share best and emerging practices and learn from the experiences of peers
– Demonstrate leadership and receive recognition for advancing practical solutions
Companies who join Business for Peace commit to:
– Paying heightened attention to the implementation of the UN Global Compact Ten Principles in high-risk and conflict-affected areas
– Take action to advance peace, either individually or in collaboration with others
– Annually communicate on progress
Recognizing that local ownership and knowledge are vital to driving change, Business for Peace has adopted a locally-driven approach. Business for Peace works to develop the capacity of Global Compact Local Networks to support participants in their efforts to conduct responsible business practices and advance peace. 18 Local Networks have already joined this growing movement, including: Canada, Colombia, Egypt, Germany, India, Indonesia, Iraq, Israel, Mexico, Nigeria, Pakistan, Republic of Korea, Sri Lanka, Sudan, Turkey, Uganda, Ukraine and United Kingdom.
Learn more about the work of our Business for Peace Local Networks
---
Nominate Your CEO for the Global Business & Interfaith Peace Award
The UN Global Compact and Religious Freedom & Business Foundation invite you to nominate your company's CEO for the Global Business & Interfaith Peace Award. The Awards salute concrete and innovative actions taken to advance interfaith understanding and peace. Nominees must have launched or spearheaded policies, programmes or initiatives that contributed to increasing interfaith understanding and peace in the workplace, marketplace and/or local communities.
The awards recognize business leaders – current or past CEOs – who have demonstrated leadership in championing interfaith understanding and peace in one of the following categories:
– Core business
– Social investment and philanthropy
– Advocacy and public policy engagement
– Partnership and collective action
The Awards will be presented at the start of the Paralympic Games, where award recipients will have the opportunity to present their commitment to interfaith understanding and peace.