Find a Better Job for Refugees
The Religious Freedom & Business Foundation's Empowerment+ Initiative is reaching out to the fringes in Manchester, UK – to refugees and asylum seekers.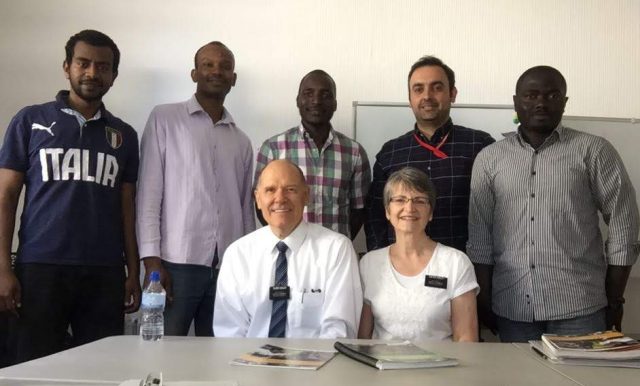 A ten-week training course, Find a Better Job,* was delivered to a small group of four participants at the Cornerstone Day Centre for Refugees, a project of Caritas of the Catholic diocese of Salford. The group comprised of one Catholic and three Muslim participants who successfully completed their training in July 2018.
The group was coordinated by Amir Raki (Caritas staff, pictured with participants and facilitators) and Hinna Maluch (Religious Freedom & Business Foundation's Empowerment+ Coordinator), and facilitated by a couple from The Church of Jesus Christ of Latter-day Saints, Alan and Janeth Dudley, who delighted in the group, "Even though we come from Canada, which prides itself on being multicultural, we had never experienced such diverse cultures as in the Manchester area. It was a highlight of our week to serve in Cornerstone and to feel the love that is so prominent."
One of the participants, Raouf Malik said, 'It was a great experience to be part of employability course in the UK. It merged the aspect of faith and hard work to deliver better results. I got the principle of networking – how to deal with people to achieve our goal'.
The Cornerstone team along with Amir Raki, Refugee Response Coordinator from Caritas Salford, supported us to pilot Find a Better Job for refugee group at Cornerstone Centre. Having observed the ten-week journey of the group Amir said,
"Find a Better Job course is a thought-provoking training, unlike other employability courses I had previously attended as university student, where the course providers mostly emphasized on their scientific and academia based evidence. Find a Better Job links up with religious books, scriptures and prominent faith leaders who have devised similar concepts, decades before academic syllabus or technical training came into existence."
Amir further added, "I believe Find a Better Job reintroduces us to faith as a great practical resource beyond worship and prayer even in our modern life issues which guide us through very mundane aspects of our lives in a down-to-earth fashion."
"I realized that the benefit of our group meetings was not only to help us to Find a better job, but also to understand our weaknesses, which was so helpful for me in learning the skill. During the course, I recognized the neglected aspects of my life and learnt their importance, for instance the use of 'Me in 30 seconds' and understanding the formula of success, 'Act in Faith + Work Hard + Work Smart = Success'," says participant Cyrille (pictured).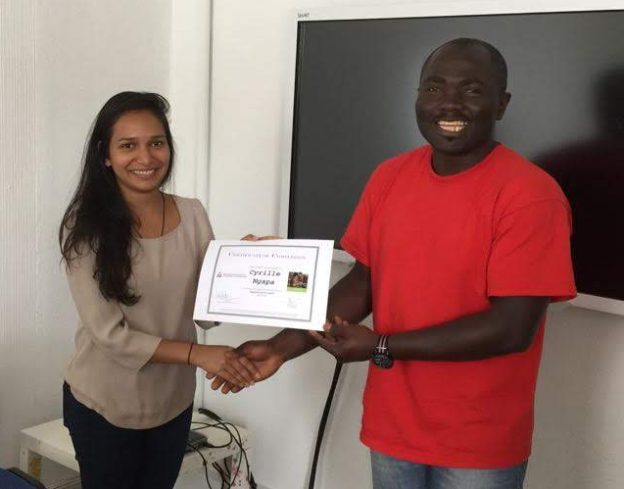 The Empowerment+ toolkit is indeed important for the personal development of refugees and asylum seekers, especially as they embark their journey to integration and settling in the UK. 
"As an asylum seeker you are laden with endless restrictions, which damages your self-esteem and capabilities for so long," said Hinna Maluch, Empowerment+ Coordinator.
"Working with the members of the Find a Better Job group, whose lives are mainly in the hands of others but who are eager to learn, has been enlightening and satisfying," said Hinna. "As they learn skills that increase their ability to communicate their value to employers, it gives them hope of a better future."
"Each one is eager to grow, progress, become more productive and, just as important, to assist each other in that process," said Alan and Janeth (Group Facilitators).
"I would strongly recommend Find a Better Job to other Cornerstone members to really take part in it as it's so important and will help you to get confident for your long term career plan," exclaimed Cyrille.
Learn more about Empowerment+. 
---
Find a Better Job is made possible by a license granted to the Religious Freedom & Business Foundation from The Church of Jesus Christ of Latter-day Saints to help produce and distribute an interfaith version of a successful self-reliance and empowerment program they have successfully pioneered worldwide.