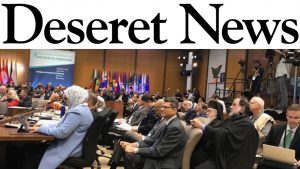 3 key takeaways from this week's first-of-its-kind State Department religious freedom event 
"At every event, there were senior U.S. government leaders and State Department officials," said Brian Grim, president of the Religious Freedom & Business Foundation.
Grim described attending a discussion led by Sam Brownback, the ambassador-at-large for international religious freedom, and John Sullivan, who serves as deputy secretary of state under Pompeo. The two men offered some comments and then turned over the microphone to the audience for comments, questions and recommendations.
"We had the number two guy in the State Department listening and taking notes on what people are seeing," said Grim, who has led and attended religious freedom conferences around the world.
Vice President Mike Pence, Ambassador Nikki Haley and Mick Mulvaney, who directs the Office of Management and Budget, also spoke at ministerial events. Read full article …